QR codes have become a core element of marketing campaigns across a wide variety of industries. But how are they being used by some of the world's leading artists and labels?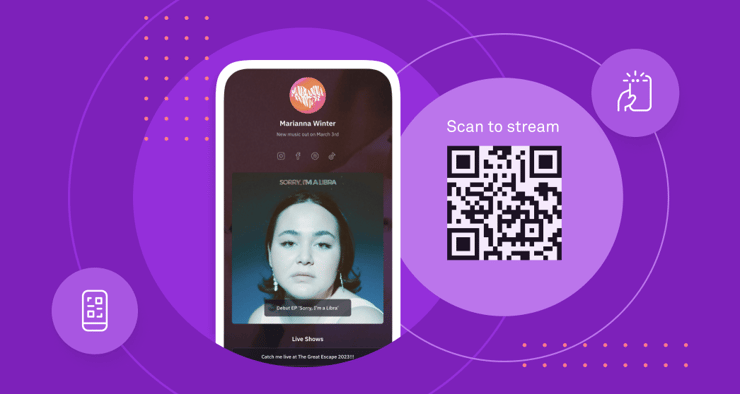 Here are our top four ways you can start using QR codes to promote your music and get to know your fanbase.
1. QR codes for tour promotion
Got an upcoming tour or gig? Then QR codes are a must!

Although social media is a great way to promote your upcoming tour, you might actually be limiting yourself by not marketing beyond your digital community.

This is why we're seeing Tolstoys and artists from The Upstate Sound using QR codes when promoting their upcoming tour dates offline.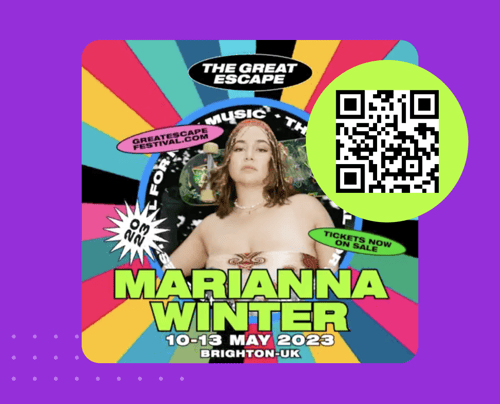 Simply add your QR code on promotional assets including, posters, billboards, and pamphlets. People can then easily scan the code and be taken directly to your chosen landing page where they can purchase tickets.
2. QR codes to promote your music
It's important to always start promoting your music well before release day, but have you considered using QR codes as part of your pre-release marketing mix?
We spoke with the Vice President of Digital Marketing & Fan Engagement at Warner Records, Jesse Ervin, who highlighted just how important QR codes were when promoting the Red Hot Chili Peppers' most recent album release, 'Return of the Dream Canteen'.
"We teased the album early at one of their shows in Denver, and we used QR codes tied to Linkfire. There were two different versions of it - one went to a tour edition that you could only get if you were at the show, and the others went to the standard version, but we used Linkfire to connect the dots. We had one of the most successful tour campaigns ever for a D2C product, and it was a big part of our first week numbers, as well as putting the music in the fans' hands." - Jesse Ervin
Even if you don't have a tour where you can showcase your QR code, how about exploring other promotional channels such as posters and digital pamphlets?
3. Grow your fanbase with QR codes
If you don't have an upcoming tour or release coming up, you should still look for ways to grow your following online and offline. Bio links are a great way of creating a single place where fans, both old and new, can access your content - all in the one place.

For example, with Linkfire's next-generation bio link, you can have a place where people can stream your music, watch your music videos, access your merch, and sign-up to your mailing list - all in the one place.

Bio links are most commonly found in artists' social bios on Instagram and TikTok, but with Linkfire's QR code generator, you can leverage the flexibility of bio links, and also share them (along with all of your amazing content) offline.
4. Insights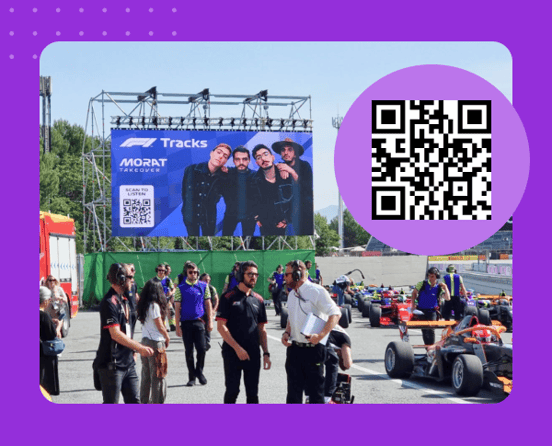 A Linkfire QR code in action at an F1 race

QR codes also offer a valuable way of gaining added insights into your fanbase and overall music promotion activities.

If you use Linkfire's QR code generator for example, you'll be able to access insights into:


Visits: the number of times your link has been visited by actual people. Bots, scrapers, and preloads are not counted.
Click-through rate: the percentage of click-throughs on your QR code link against the number of visits.
Source: the traffic sources based on channels, activity IDs, and referrals.
Click-throughs by service: a breakdown of how many times visitors clicked through to each service destination on your landing page.
Location: a breakdown of the cities and countries in which your link visitors are located.
Streams: the number of in-service streams that we can attribute to your link.
Sales and commissions: how much revenue you've earned through your link.
All of these are super valuable when evaluating your different marketing activities, as well as getting to know your fanbase even better.
How to create your own QR code using Linkfire
Generating a Linkfire QR code is super easy.
Create a Linkfire release, pre-release, bio, ticket, or reward link.
Go to your links dashboard and select 'Get' on your chosen link.
Select 'QR code to landing page' if you'd like to direct fans to your Linkfire landing page, where they can choose their preferred destination (e.g., the streaming service they subscribe to). OR if you want all link visitors going to the same destination (e.g., your music video on YouTube), then select 'QR code direct-to-service' and choose the service you want to link to.
We'll automatically generate your QR code, which you can download as a PNG or SVG. Select the format you prefer, then click 'Download QR code'.
Check out our Help Center article for step-by-step guidance.
Note: this feature is reserved for Business plans (Essential, Advanced, Premium, and Enterprise)
Create your first QR code in seconds
Sign up for a free trial today.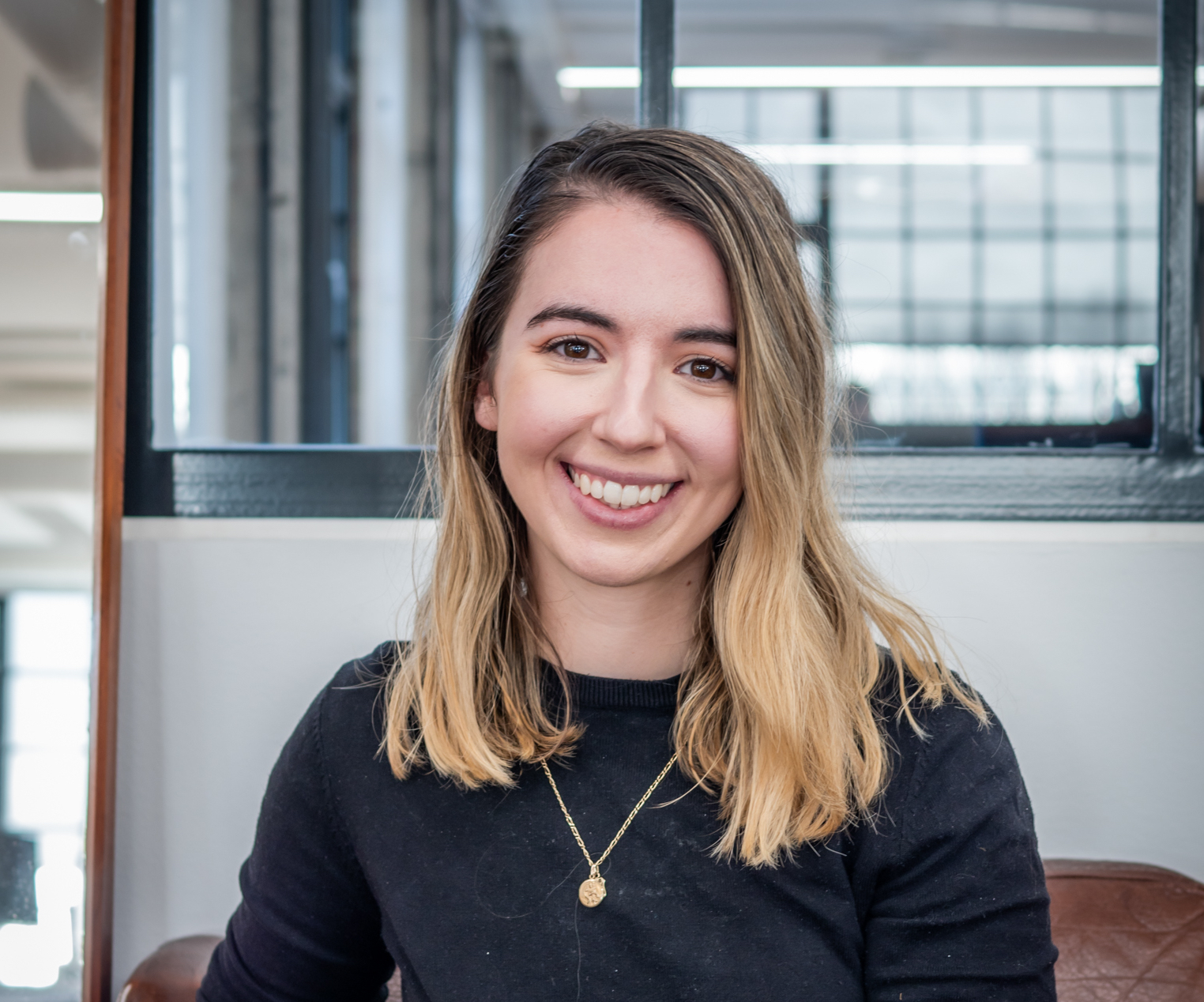 Jessica Golder
As Linkfire's Product & Customer Marketing Lead, Jessica works to ensure Linkfire customers are set-up for success.