A smartlink is a powerful upgrade on regular, everyday links. There are several different kinds of smartlinks out there, but they're essentially all URLs that you can share, track, and customize according to your needs.

Smartlinks can come with landing pages route visitors to many different destinations instead of just one. On top of that, smartlinks can automatically adjust the destinations based on criteria like visitor location and device. This creates a win-win all around: Link visitors get a tailored experience that matches their preferences, while you see better results from your marketing efforts.

A landing page is basically a microsite that's dedicated to a single purpose, goal, or campaign. For example, a smartlink promoting a new album will lead to a landing page with a list of different music services. Fans can then choose which service they prefer. And in just one click, they'll be listening to your music. Smartlink tools like Linkfire allow you to customize both the URL and landing page with your own branding, which is especially useful if you're an artist, band, or creator of any kind.
What does a smartlink look like?
Smartlinks are short, easy to remember, and use real words that are relevant to what you're promoting.
Once you create a smartlink, you can instantly share it anywhere online or offline with a QR code. Since the URL is branded, visitors will feel more confident that they're clicking through to trustworthy content.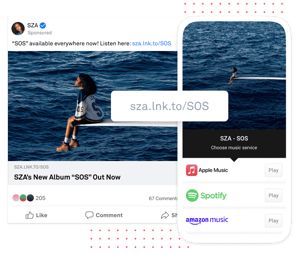 3 reasons why smartlinks are essential music promotion tool
Frictionless experience for your fans
Give your fans a custom experience based on their geographical location, device, and streaming service choice.
Customization to match your brand
Customize the domain, your album artwork, button text and services without any coding.
Identify what works best for your music promotion, improve and save money in your future activities.
Make your first smartlink now
Create a smartlink in seconds. Promote releases, merch, tours, and much more.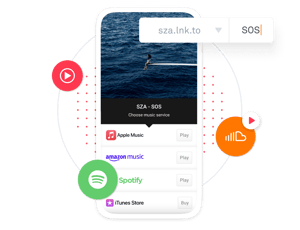 LEARN MORE ABOUT SMARTLINKS
What are the advantages of using smartlinks for music promotion
Frictionless experience - Higher conversion rates
Imagine you're posting on Facebook promoting your latest album. The problem is, which link do you use? Should you link to your album on Spotify, Apple Music, Tidal, or Boomplay? What about the dozens of other services that your fans might be using instead?
You can take a guess that the majority of your audience is using one service over another, but you still risk losing out on tons of engagement, streams, and potential revenue.
Smartlinks solve this problem by taking link visitors to a landing page that features a list of services to choose from. This list can be customized depending on your preferences and visitor location. For instance, Pandora is only available in the United States. So when you set up your smartlink, you can have Pandora appear as a service destination only for link visitors in the US. It won't be shown to anyone outside of the US because it's not relevant to them, which creates a better fan experience.
This means that the journey from clicking on your smartlink to the final destination is as frictionless as it gets for your fans. And you get one simple link that can service them all, and doesn't clutter up your promotions.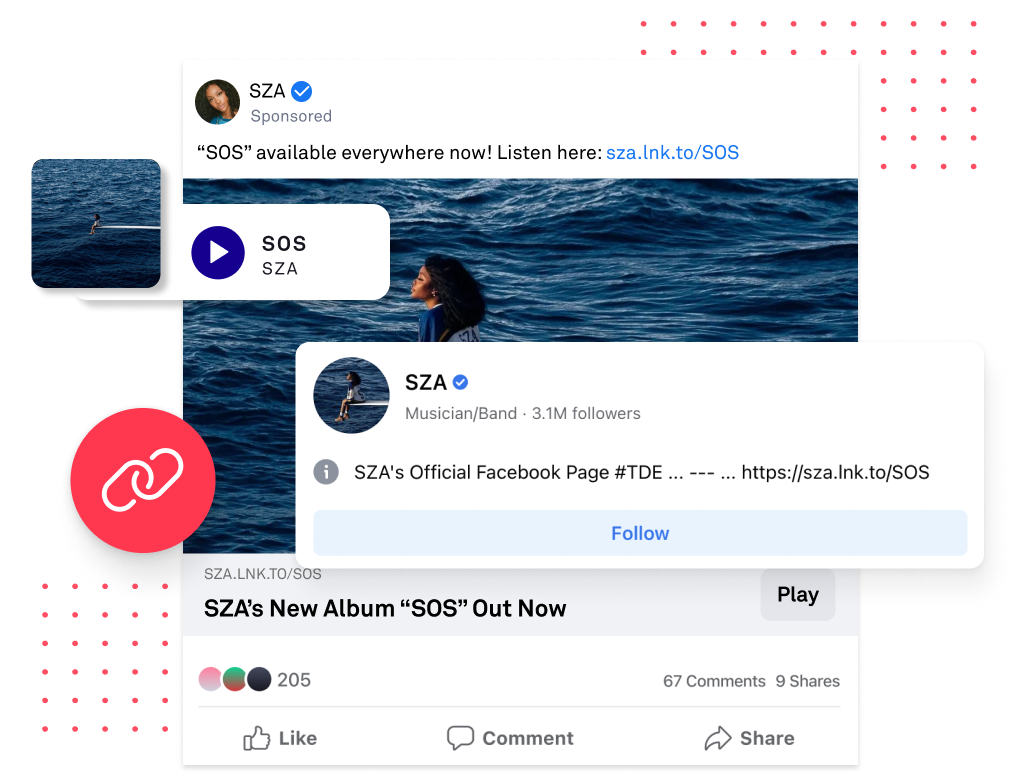 Customized smartlink - Brand recognition
Linkfire allows you to customize different elements of your smartlink. For example, you can add your subdomain and campaign name as part of the URL itself, like this: YourArtistName/lnk.to/NewAlbumTitle
You can even create your own custom domain name to use with all of your links, such as YourArtistName.co.
Once a fan clicks on your link, they're taken to a landing page (or redirected to the website of your choice, if you want all traffic going to the same place). The best part is that you don't need any coding or design knowledge to build your landing page. They work beautifully on both desktop and mobile, without any effort on your part. In just a few clicks, you can customize elements such as:
Artwork: Linkfire finds your album artwork automatically when you first create a link. You can also switch this artwork out for anything you want.
Text: This is usually the artist name and title of whatever you're promoting.
Video or audio: Add a play button over your artwork, which visitors can click to play an audio or video snippet.
List of destinations: These are the different service options that visitors can choose from. If you're promoting music, these destinations will be different music services. If you're promoting a tour, they'll be tour dates with "purchase" buttons.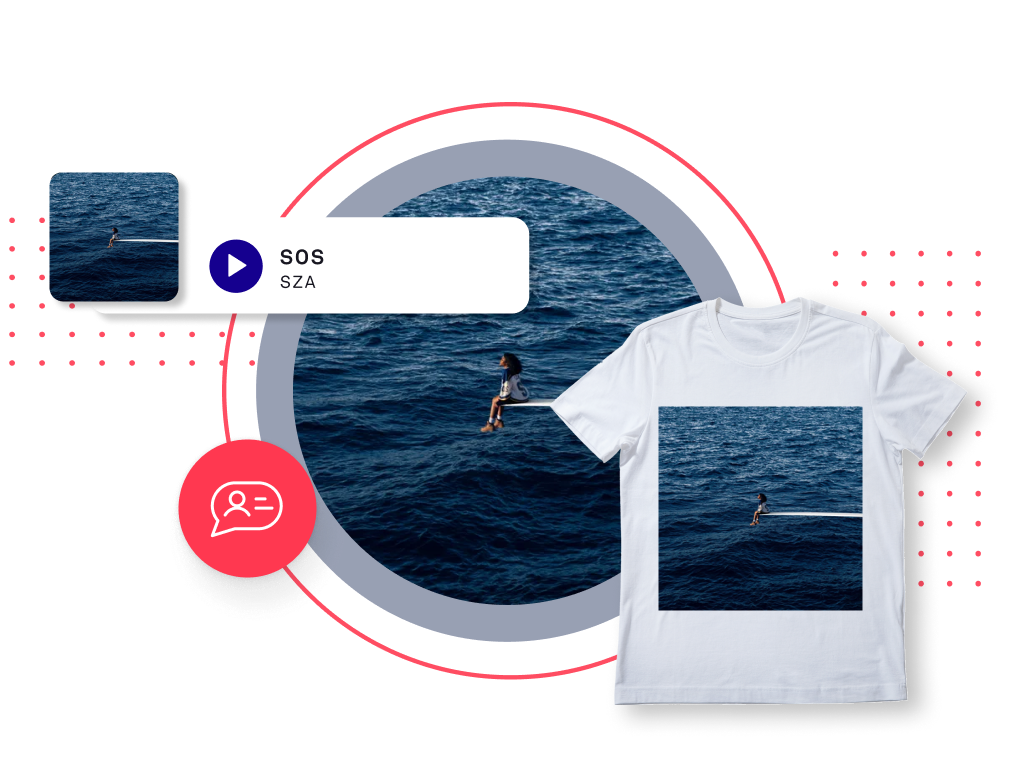 Fan data - smarter marketing decisions
Smartlinks provide you with invaluable fan insights. You can use this to optimize your marketing and ad spend, plan your tours, or even decide on a new songwriting direction. We'll get more into how to analyze smartlink data later in this article!
Learn more: How and why to create smartlinks for your music
What data can you get from smartlinks?
We're big believers in wrapping every link you publicly share in a smartlink, whether it's a pre-save campaign, Instagram bio link, podcast episode, YouTube video, or anything in between.
By doing this, you'll be able to maintain brand consistency, data consistency and keep everything you're promoting nicely organized in one dashboard. (Pro tip: If you don't need a landing page and just want to link directly to a website, use a simple content link.)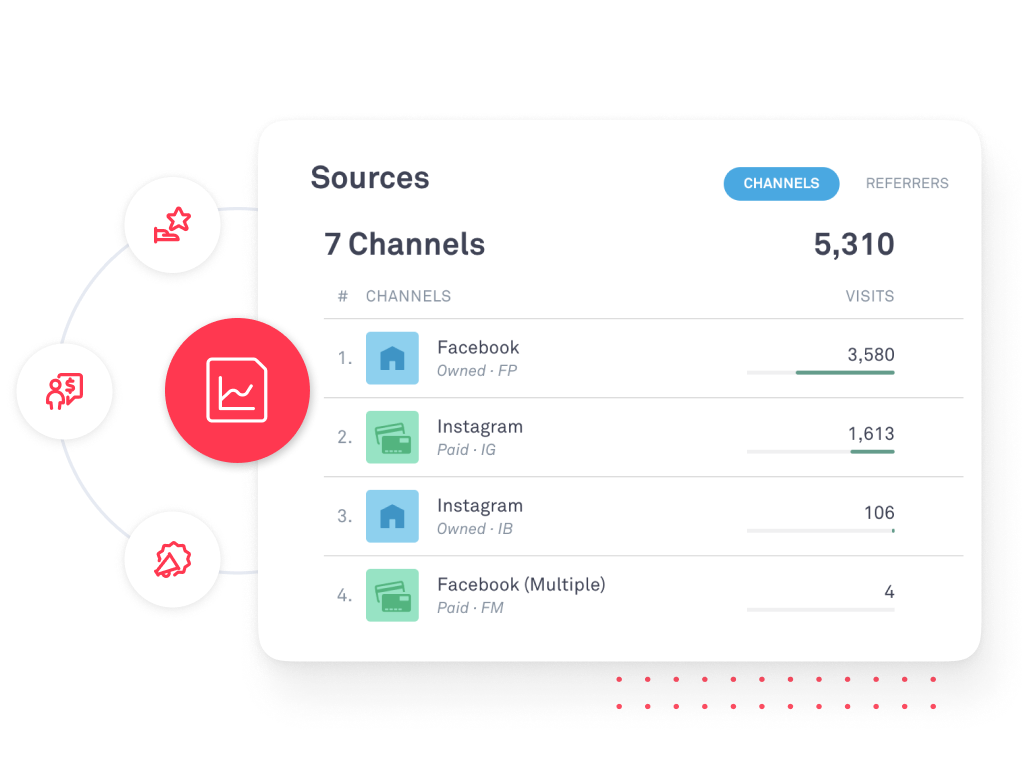 You'll have access to a ton of data points
Visits: the number of times your link has been visited by actual people. Bots, scrapers, and preloads are not counted.
Click-through rate: the percentage of click-throughs on your link against the number of visits.
Source: the traffic sources for your link based on channels, activity IDs, and referrals.
Click-throughs by service: a breakdown of how many times visitors clicked on each service destination listed on your landing page.
Location: a breakdown of the cities and countries in which your link visitors are located.
Streams: the number of in-service streams that we can attribute to your Linkfire link.
Sales and commissions: how much revenue you've earned through your links.
Smartlinks helps you measure your marketing performance in a more comprehensive way than if you were to use regular links.
How to analyze your smartlink data
Linkfire brings together data points that would otherwise be disconnected (or flat-out inaccessible), you get context around the entire fan journey, from the first click to the final conversion.
Everything you need to know about how your smartlinks are performing can be found in your Linkfire Insights dashboard. As soon as your links start getting traffic, you'll see the data populate on your Insights page. This allows you to analyze your link performance and optimize your marketing in real-time.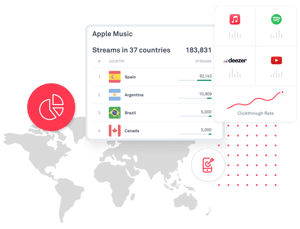 What is music attribution, and how does it work?
As a music marketer, you're constantly striving to understand which campaigns, channels, and fan profiles lead to conversions such as streams and follows. The process of determining which marketing activities are contributing to a conversion is known as attribution. It's an essential asset for music marketing campaigns—no matter how big or small.
Through exclusive partnerships with some of the largest digital service providers in the music industry, Linkfire has access to streaming attribution data that you can't get anywhere else. The behavior data we have varies by partnership, but includes events such as play, download, favorite, follow, and save/add to library. These data points can be broken down further by geographic and demographic segments like country, city, and device.
As soon as Linkfire receives the data, we pass it along to you. This allows you to better understand the relationship between your link performance and fan behavior.
Not only does this data help focus your decisions, it provides proof that your marketing spend is driving conversions. Without attribution data, it's virtually impossible to create a targeted campaign, or understand why certain campaigns are successful. As a Linkfire user, you can be sure that you'll never miss out on this crucial information.
You can use Linkfire Insights to answer questions like:
Do Instagram posts, Facebook posts, or emails perform best?
Which of my marketing channels drove the most streams on release day?
Which music services and devices do my fans prefer?
Do I have enough fans in European countries to schedule tour dates there?
Where are my merch sales coming from?
Are my affiliate links meaningfully contributing to my revenue goals?
Learn more about how to analyze your link insights and reports here.
Where can you share a smartlink?
Pretty much anywhere. Driving more traffic to your smartlinks will lead to more streams, fans, and revenue—which is why you should share your links in as many places as you can. the possibilities are truly endless. As a starting place, here are nine ways to get the most mileage out of them.
Social media bios
Smartlinks fit perfectly in your Instagram bio, Twitter bio, TikTok bio, Facebook "About" page, and YouTube channel description.
Linkfire bio links make it easy to turn social media attention into meaningful engagement. In just a few clicks, you can put together a beautiful, highly scrollable microsite that brings all of your content together. It's fully customizable, so you'll never have to swap out your bio link again. Update it anytime to include your latest single, upcoming shows, merch, playlist feature, or anything else you want to promote.
Social media posts
Smartlinks are ready to share across every social platform, for every type of post. it's always a good idea to use a smartlink with every post so that you can track engagement and better understand what kind of content resonates with your audience.
YouTube video descriptions
The descriptions under your YouTube videos are crucial. It's what the algorithm uses to determine what your video is about. A well-written video description will help organically boost your videos in search rankings.
Be sure to put your smartlink front and center, alongside relevant keywords. That way, people who discover you on YouTube will be able to quickly find more of your music on any platform they prefer.
SoundCloud track descriptions
SoundCloud is the place to experiment. Unlike other streaming services, you don't need a distributor to get your music on the platform, so it's great for sharing demos, remixes, and rough ideas with your fans.
But once you've hooked their attention, don't lose it! Include smartlinks in your track descriptions that direct people to your website, merch store, or other social media channels. Make it easy for them to check out your other tracks and albums on any music service.
Artist website
Every Linkfire link can be turned into an embeddable, eye-catching widget for your own website, with different sizes and types to choose from.
You can choose the showcase widget, which displays your album artwork and a play button. Or try out the clickthrough widget, which features a list of services for visitors to choose from (much like a release link landing page).
To get your widget, you'll need to add a small bit of HTML to your website—here's how.
Email newsletters
Your email subscribers are your most valuable online audience. Why? Because they've taken an active step to sign up for your latest news. Your emails land right in their inboxes, and they want to hear from you. It's a much more direct line of communication than social media posts, which can get lost in the endless scroll of their feeds.
Reserve your email newsletters for the important stuff. Make sure you always include smartlinks so that you can consistently measure interest in your new releases, merch, and upcoming shows.
Reddit
Reddit is one of the most popular sites in the world. It consists of millions of forums called subreddits that cover every topic imaginable. Many of them are devoted to music, and some specifically focus on giving independent artists a platform to share their work.
Whether you're looking for new fans or constructive feedback, sharing smartlinks on Reddit can help boost your music career.
Pitches and press releases
If you're sending out lots of music links to bloggers, editors, or playlist curators, make sure you're always using a smartlink. Between press releases, pitch submission forms, and emails, it's easy to lose track of your PR efforts. We'd recommend creating a channel specifically for PR so that you can easily see whether all those links you sent out are getting clicked on.
And if you have a publicist, manager, or other team member who sends pitches on your behalf, make sure they're using trackable smartlinks as well!
QR codes
Including QR codes in your online and offline campaigns will widen your reach and complete the insights about your fans behaviour. You can use smartlinks with QR codes on posters for your tours, wall murals, packing or even in ads. Learn more.
Share smartlinks with your fans now
Give your fans a frictionless experience and optimize your campaigns.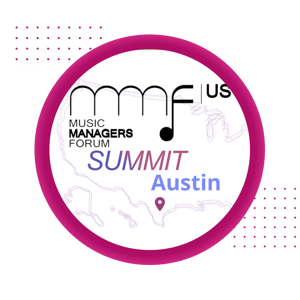 What's the best smartlink tool for music?
There are a few different smartlink platforms out there, but if you're specifically looking to create smartlinks for music and entertainment, you'll find that Linkfire is the industry standard. It's trusted by every major label and over 50,000 artists worldwide.
In comparison, generic smartlink solutions like Linktree and Lnk.bio aren't designed for music marketing. They don't give you a complete picture of the fan journey, and they don't provide the kind of fan and streaming insights that are crucial for music marketers.
Another benefit of using Linkfire is that fans can pre-save your music on Spotify, Apple Music, Amazon Music, and Deezer directly from your smartlinks. And then on release day, you get to enjoy trouble-free auto-scanning of over 250 music services—which means you don't have to lift a finger to update your landing page.
Pre-save tools such as Presave.io, on the other hand, don't have the technology to automatically find your new music across all services on release day. As a result, you have to manually update every music service on your landing page that day. It also doesn't provide any post-release streams, sales, or engagement insights like Linkfire does.
As you grow in your music career journey, Linkfire is flexible enough to adapt to your changing needs. You can track new channels as you grow your online presence, invite collaborators to your workspace as you bring on new team members, and add more advanced features to your account when the time is right.
Plus, Linkfire is the only smartlink platform with exclusive streaming data partnerships that help you understand what fans do after they click through your links. You have access to data from top streaming services like Apple Music, YouTube, Deezer, Pandora, and more, right from your Linkfire Insights page.
Transparent insights like these are essential for optimizing music promotions, reaching more fans, and measuring your overall success—while saving you time and money in the process.
You'll be in good company
Customer spotlight
"What Linkfire has been able to help us do is that it informs about how past campaigns have performed for our artists. That gives us some insight into how they're going to perform in the future for upcoming releases, whether they're singles albums or EPS."
"Linkfire made handling all our artist accounts much easier. Everything is in one place. With the Linkfire board feature, each artist essentially has their own account so our links don't get cluttered. It's brilliant!"
"Linkfire brings together the best of both worlds for artists and audiences. Artists can promote their releases with just one link. In addition, the platform is very simple and generates landing pages with beautiful designs! "
"Linkfire has helped my record label Where The Heart Is 's releases dramatically. Of course, it's nice to be able to share our releases across various networks all in one clean link, but the time it's saved me and my team is really the invaluable part. "
"My favorite part of Linkfire's bio link is that you can edit it, however, you'd like. Customizing it has been able to look really nice for fans to just go to one place and have every single thing that they want, whether it's streaming a song or YouTube video, or even buying merch."
"Linkfire has increased my streams and made it easier for fans to find my music on streaming platforms. It's also a great tool to keep track of visitors, and clicks and to identify where my fans are located."
"I've been using LInkfire for a few months and I am in love with the platform. I have seen a ton of growth since using it - my Spotify monthly listeners are now at 126K."
"With the Linkfire platform, we've put selling tour tickets on a higher level and made the way of buying them more effective for us and easier for our fans.
Thanks to the data and insights, which we got during the whole campaign were very helpful for our next steps in communication and optimization of the campaign budget."
"With the Linkfire platform, we've significantly improved our internal processes and simplified the communication for our touring artists.
Fans are now only two clicks away from buying a ticket to a show, and with insights, we know what works best - which varies quite a bit from artist to artist."
"With Linkfire, we are now able to create landing pages for all our releases faster than ever before. On top of that, the support team is responsive whenever we need them."
"We are very happy to use the bio link by Linkfire. It provides our Instagram followers with every info we need them to see in one place: recent releases, music videos, tour dates, as well as our merchandise. Plus, it's fully customizable. "
"I chose to use Linkfire because it's a very user-friendly platform. It's very quick and easy to get links to share my music with the world.
Linkfire provides my social media platforms on my website with that extra level of professionalism because my audience is able to be directed straight to the streaming service of their choice. So it's a win-win both for me and for them."
"Signing up for Linkfire has been one of the best decisions I've done for my music career.
I've tried all the other smartlink providers.
Linkfire has been really good with helping us optimize our creatives, what kind of visuals are shown, and how different demographics react to different visuals.

If you have a strong ad buying team and you're giving them these links, they can actually see where the traffic is coming from and retarget and double down on those platforms."
"Linkfire has made a huge difference. I've used other landing pages and they don't really report as well.
Linkfire shows a very strong analytic system. if you're running ads, it helps you because you don't want to see your money being wasted. My favorite Linkfire feature is the Apple Music Insights. You get a good amount of traps to Apple Music and how many streams you get."
"Linkfire saves much time and the links look professional.
My favorite Linkfire feature is that all service platforms are found by themselves on release day when you rescan your link."
"We use Linkfire to connect the dots, and we had one of the most successful tour campaigns ever. It was a big part of our first-week numbers, as well as putting the music in the fans' hands."
What type of smartlinks can you create with Linkfire?
Posting a variety of fresh content is key for any music marketing strategy. Here are the seven different types of smartlinks you can create with Linkfire:
How to create a smartlink for a new release
Here's how to create a smartlink for any release in five easy steps:
Log into your Linkfire account (or click here to sign up for a free trial), and hit the green "create link" button in the upper right-hand corner. Choose "Release" as your link type.
Paste in a link to your release on a streaming service. We'll automatically scan the URL and show you the details and services we've pulled in for your landing page.
Customize the URL so it includes your artist name, release name, campaign name, or any other key branding elements (e.g., artistname.lnk.to/albumtitle).
Customize your landing page design to make it look exactly the way you want by adding more services, updating the text description, uploading artwork, and more.
Hit "publish," and your new link will be ready to share!.
Use smartlinks for every phase of your music marketing campaign
Linkfire smartlinks are each tailored to an essential part of your release campaign. Let's take a look at some ideas for when and why to use each link type:
Remember that no matter what kind of content you share, it's always a good idea to wrap it in a trackable Linkfire link!