Since they couldn't play live last year, this indie band came up with an unconventional release strategy that landed them on the Times Square billboard. Here's how they pulled it off.
Last year we introduced you to Tolstoys, the Prague-based dream-pop quintet who ran a brilliant album release campaign. Instead of following the typical strategy of putting out a couple of singles and then dropping a full album, they decided to release their new album song by song every two months.
When we last checked in with the band, their campaign had garnered impressive streaming numbers and editorial playlist features. But did this unconventional release strategy turn out to be sustainable for them? Let's find out.
3 reasons why Tolstoys's album release was so successful
One year later, and we couldn't be more impressed with where Tolstoys has landed. The band has been touring Europe, getting ready to play summer festivals, and even made it to the iconic Times Square billboard.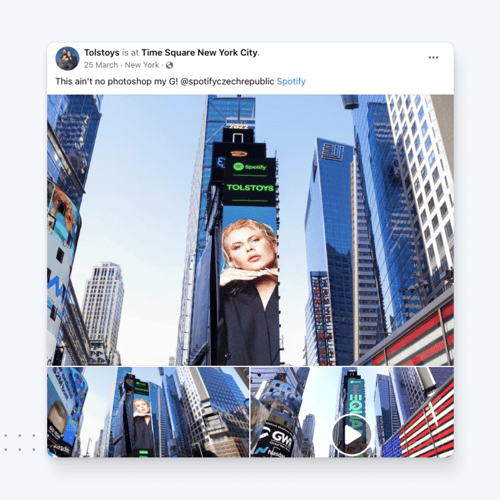 1. They broke away from the standard release formula
Instead of conforming to the traditional release cycle and trying to compete with the major labels, Tolstoys created their own unique strategy. They opted to deliver new songs to their fans over the course of an entire year.
Like all of us, the band had to adapt to the pandemic both personally and professionally. "There were no opportunities to play live, so that's why we chose to release new music every second month on the same date," explains Ela Tolstova, lead singer of Tolstoys. "It really worked! Our fans remembered that music videos were coming out, and we released the album on the 22nd of February 2022—so it was super obvious that we were arriving at this magical date, and people had it in their minds."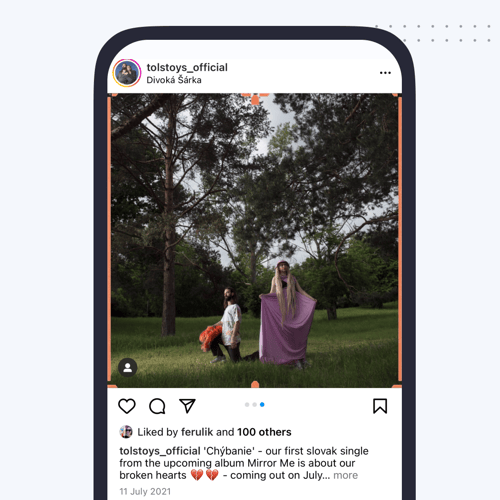 2. They communicated clearly and consistently
Releasing new tracks consistently over a longer period of time enabled the band to collaborate with several visual artists, filmmakers, and producers. As a result, they were able to give each song its own distinct visual identity, which further cemented their unconventional release strategy.
"When you're writing a song, it's a very intimate process, and sometimes it's hard to understand right away," Ela says. "So when we were releasing single after single, it was like every song was a different chapter. We were able to explain the intention behind each song, which is always super nice because then people can better connect with our music—and that's what it's about."
Tolstoys introduced the visuals for each single in the month leading up to release day. They used Linkfire pre-release links to build hype and increase engagement so that when the songs finally came out they were already pre-saved in fans' music libraries.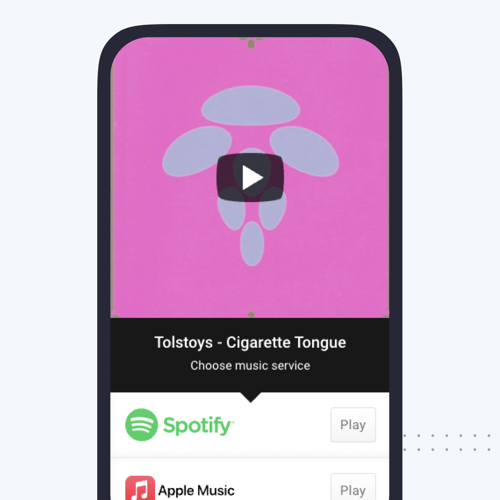 3. They used data to inform their marketing decisions
"Never say no to data points," says bassist Michal Smetana.
Tolstoys was diligent about using trackable Linkfire smart links for every step of their release strategy, from QR codes on tour posters to merch in their bio link. This not only created a seamless omnichannel experience for their fans but also gave the band comprehensive fan data.
They understand the importance of analyzing fan behavior across different platforms and building their own email list in preparation for a cookieless future. "With social media, you don't own anything, and it can break any day," says drummer Matej Herceg. "When you have fans' emails, you have something to work with."
"We have this database of people who already bought our merch online, so we know it's people who are really interested in our music," adds Ella.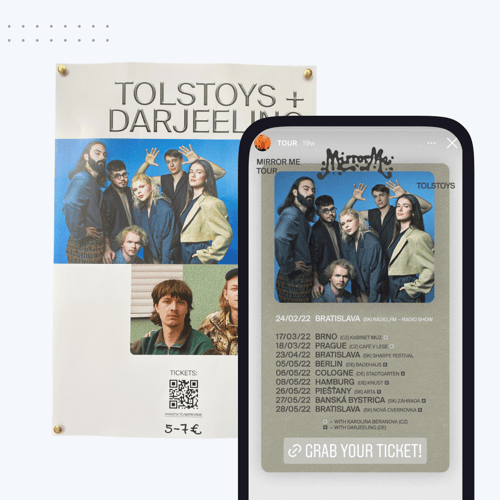 Final thoughts
Of course, this extended-release strategy may not work for every band. But we hope that by sharing this success story, you feel inspired to break the mold and experiment with different approaches to music marketing.
We'll leave you with one final piece of advice from Tolstoys: "It's very important to not leave everything to one person. I think that's why it's working for us and why we're not all burned out, because we're working together on it. It's also important to create a community of people who really believe in the project—and choose these people wisely."