Reach more fans
Optimize your campaigns to target the right fans. Increase engagement with personalized landing pages. Identify intent and see your media buys take off.
Promote
Enhance your campaign efficiency
Unleash your content everywhere, from artist websites to social and email campaigns.
Drive-up click-through rates with branded assets and domains
Choose between landing pages, widgets, and smart links
Use channel and action-specific links to track and benchmark performance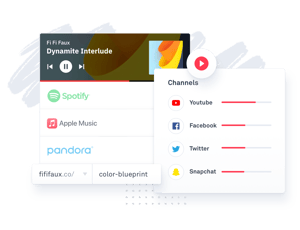 Promote
Invest smarter
Get the most out of your paid campaigns. Make use of all the touchpoints to reach the right fans.
Break down artist data silos between merch, tours, and recorded music
Create audiences in no time
Understand your fans' intent and retarget them accordingly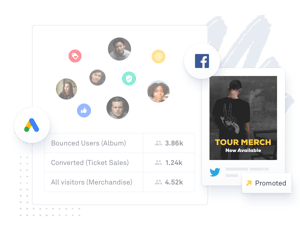 Promote
Delight your fans
Give your global fan base unique, location-based experiences. Direct all your fans to their most relevant service with just one link.
Hide or rearrange services depending on local popularity
Promote country-specific tours, competitions, and more
Learn about your fans' preferred music services, location, devices, and much more