The Upstate Sound's founder and CEO, David Mysliwiec, sheds light on the challenges of starting a new indie label in today's music industry landscape.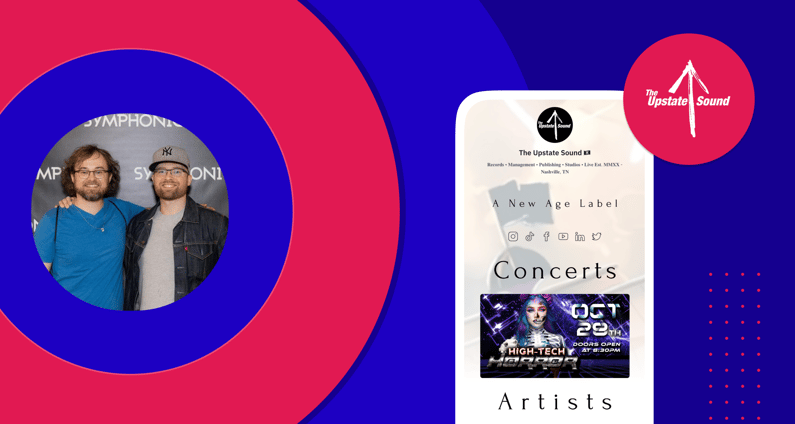 The Upstate Sound isn't your typical record label. Established in 2020, the Nashville-based company provides label, management, publishing, recording, and live event services for its clients. The parent label boasts an eclectic roster of artists, ranging from hyperpop to industrial rap to metal trap.
In this conversation between Linkfire's Customer Success Manager, Louis Pratt, and The Upstate Sound's founder and CEO, David Mysliwiec, we've gleaned insight on how he and his team are supporting their artists' career growth in an industry that's as noisy as ever.
Starting your own record label
The Upstate Sound has come a long way in just two years. How did you find the experience of launching your own label?
Gnarly! The company has gone through quite a few evolutionary changes.
It started as an artist name, and then it became a music production moniker for clients. Once it was legally established in 2020, it became a beat-making company representing local Nashville hip-hop producers. Then after an interview with Bleaux for our MC2MC Podcast, he showed us some records and one of the producers, ohtom, overheard and screamed, "Yo, we need to sign him!"
I said, "What do you mean? We aren't a label—we can't. Or can we?"
We went back to New York for Christmas and thought on it a bit more. From 8 a.m. to 2 a.m. for over a week straight, I studied record labels, publishing houses, and management firms. I read up on corporate structure, contracts, where the music industry is headed, music tech, and opinion pieces on how things could be better.
When we got back to Nashville, we scheduled meetings with an entertainment lawyer, established three more LLCs, and hired interns within the first two weeks of 2021. It's been a wild ride.
What was the biggest lesson you learned in your first year?
The main thing I learned in 2020 was that we have to become the person who can achieve our goals, and that I am not that man today—if I were, I would have everything already. So in order to grow, I threw myself into leadership positions, which forced me to step up and trust myself to make the right decisions, while also taking responsibility if I failed.
With that mindset, the label was built on the belief that no one is responsible for your dreams but you. Your life, your career, your success is your responsibility. So make it happen!
Standing out in the music industry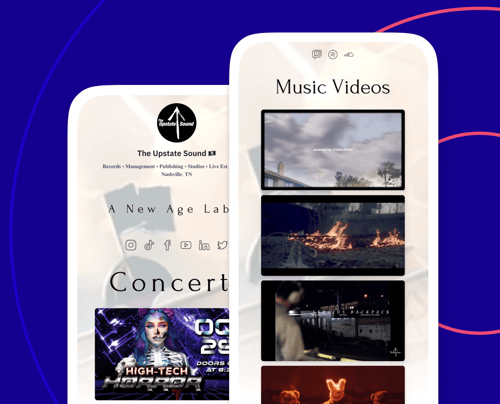 It's becoming increasingly difficult for labels and their artists to cut through the noise. What makes The Upstate Sound and your roster different?
The Upstate Sound is essentially a holding company now; it's both a brand and a label. We wanted to do something different in the way we structured the company. So we took a 360 deal and divided it into five separate parts that our signed artists could choose from: records, management, publishing, studios, and live events.
We also want to educate. That's why we do free artist consultations and have an open door policy, so anyone can come hang and ask questions about us or the industry. Being a part of the community is extremely important to us.
As for our artists, we sign drive, not talent. I'm a record producer by trade. I can make you sound good, but I can't make you want it—I can't make you obsessed with success. That's why we vet each of our artists for quite some time before signing. We want to make sure they have the right mindset, because it takes a strong will to be in this industry.
Even though we're based in Nashville, we're far from country music. We like to work with the misfits of Nashville, ranging from hyper rage, phonk, alt pop, industrial rap, and a folk song here and there.
What's your best advice for fellow indie labels?
A lot of the indies need to start acting like media companies. With everything getting more and more saturated, you need to maintain people's attention. You can't just do music; you have to be everywhere. Especially with Web3 on the rise, this is a crucial time to do your research.
What's your best advice for independent artists?
The biggest thing I see is a lack of education about the era we live in. The music industry has changed so much, and I know it's hard to keep up with. Artists can think of the majors as venture capitalists that invest in audiences. For the most part, they aren't developing artists anymore—that's what the smaller music companies do now.
Another thing artists need to realize is that there are nearly 8 billion people in the world. Most likely there are a few thousand people who look like you, sound like you, and are just as talented as you—maybe more talented. So how can you stand out? By being unapologetically you. It's the decisions we make in our lives that make us unique. Choices that people can relate to. This is essentially your brand, the authenticity people crave. And you can express it by creating content: talk about your interests, show your creative process, express your ideas and opinions, and most importantly, be active in your community.
I became an LL Cool J fan because of his platinum workout. I became a Travis Scott fan because of his shoes with Jordan. I became a Glen Hansard fan because of his beat-up Takamine guitar in the movie Once. These were all choices they made outside of music. That doesn't mean the music isn't important, but there has to be more to an artist for people to become true fans. There needs to be a story, a hero's journey. Something your fans will proudly tell others.
The final thing I think artists need to realize is that they can't just be in a cave and make music. That is not the music industry. You have to meet people, build meaningful relationships, and provide value to others.
For example, what some people call "gatekeepers," I see as: I've done business with company A for 10 years, and they get me results. I've worked with artist A for four years, and they get me results. Why would I spend money or time on random company/artist B emailing me about what I can do for them? No business would. So start small, build your skills, meet as many people as you can, be cool, and give first.
Gaining momentum with Linkfire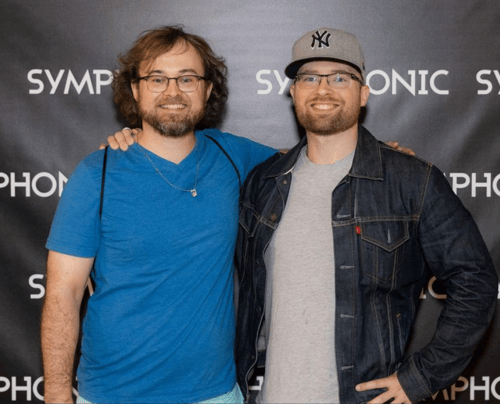 Dillon Mysliwiec, President of Upstate Management (left), with David Mysliwiec, CEO of The Upstate Sound (right)
Your artists have been using Linkfire for a few months now, and we also spotted The Upstate Sound using a Linkfire bio link on social media. Why did you decide to start using Linkfire?
As with everything I start, I do quite a bit of research before committing. Bio links are no different. I went through dozens of Instagram and TikTok bios to see what artists and businesses were using. There are a ton of bio link tools now, so I wanted to compare how they looked and how user-friendly they were.
Whenever I came across an artist who had their stuff together, they were always using Linkfire links, and they were almost always signed to a label that was making moves. Linkfire also has more smart link options than most competitors. And because of their deals with all the major labels, fans are familiar with the release link layout. That's important.
But what really sold me on Linkfire was my experience during the 14-day free trial. Our account manager, Louis, walked us through the entire platform, had great ideas on how to implement Linkfire into all our subsidiary companies, and was quick to respond to my emails. Customer service matters!
How has Linkfire helped you in your role as CEO?
It's made handling all of our artist accounts much easier. Everything is in one place. And with the Linkfire board feature, each artist essentially has their own account so our links don't get cluttered. It's brilliant!
What does it mean to you to be a part of the Linkfire community?
It's a great feeling! It feels like we signed an exclusive shoe deal with Nike. I like how involved Linkfire is in the music community—you have our backs as we navigate these waters. I like that I can schedule a call or email with our account manager and discuss a release plan. I get insight from the professionals at Linkfire that I just can't get anywhere else.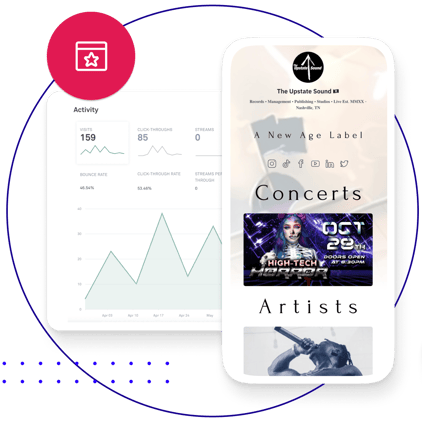 Want your own bio link?
All your content in one highly shareable link. Included in all Linkfire plans.
Get Linkfire's curated tips straight to your inbox and become smarter in music marketing. Subscribe to our newsletter.