Here at Linkfire, we're always looking for ways to help you level up your music marketing. We're thrilled to introduce you to our next-generation bio link, packed with fresh features that will bring your landing pages to life.

Why should you use a bio link?
If you promote music online in any capacity, it's essential that you work with an artist bio link. You can think of it as a highly engaging microsite that's designed to turn social media attention into meaningful engagement. A great bio link will allow you to take fans on a journey through all of your most important content, while tracking everything you can possibly think of.
Unlike sharing a direct link to your latest single, the main value of bio links is that you can promote multiple assets at once—no need to prioritize one over the other. For example, on a single Linkfire landing page, you can showcase your latest music videos, releases, merch, tour dates, and social media profiles.
When you use Linkfire to create your branded bio link, you'll never have to compromise on marketing insights, speedy cross-team collaboration, or the story you want to tell.
What's new with Linkfire's bio link?


As a music marketer, it's crucial that every link you share represents your brand and contributes positively to your marketing efforts. Linkfire's next-generation bio link is jam-packed with thoughtfully designed new features and customizations, so that you can elevate your landing page without any coding or design skills.
Here's a rundown of just a few of the upgrades that we can't wait for you to try out.
Design customizations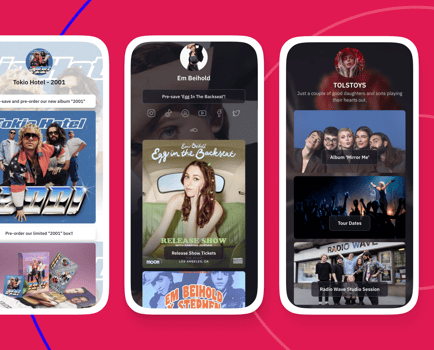 Before you start experimenting with all the new content blocks, think about how you want your landing page to look as a whole. What do you want fans to feel as soon as they click on your bio link? Where do you want to draw their attention the most?
Here are a few new ways you can customize your Linkfire bio link to match your artist brand:
Choose your color scheme. Whether you're team light mode or team dark mode, we've got you covered.
Add a custom background image to elevate the overall design of your landing page.
Apply new background effects

like fade and blur to get the perfect vibe you're after.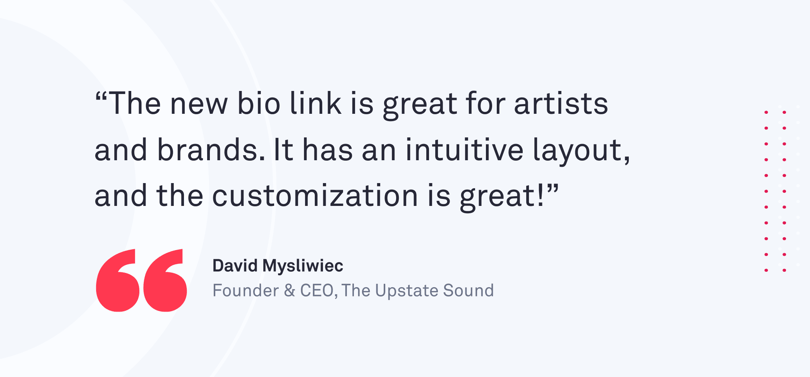 Live preview
Want to see exactly what your bio link landing page will look like before it's published? No more jumping between different browser windows. Our new live preview feature lets you see all of your edits in real time, right on the same page.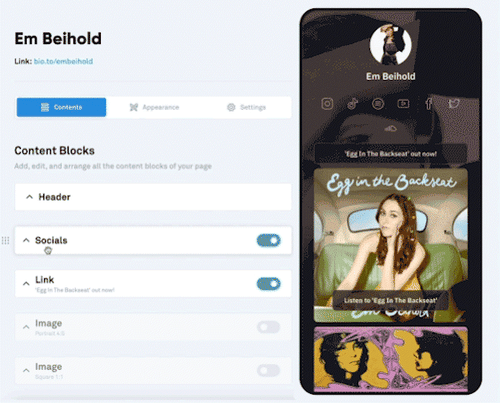 Image blocks
Our new image blocks are designed to better suit your creative needs and introduce more engaging visual elements to your landing pages. You can now add URLs to make images clickable and take advantage of several new formatting options.
From showcasing your tour dates to promoting your new release, the possibilities are endless with our upgraded image blocks.
Video blocks
It's no surprise that video blocks have been one of our most requested features. Showcase your latest music video, interview clip, or tour highlights in just a few clicks.
Link blocks
Want to track clicks and drive more traffic to your website, giveaway, or merch store? Our link block is the perfect addition to your bio link landing page, and a great way to increase your click-through rate.
Social blocks
Do your Instagram followers know that you have even more great content on TikTok? It's always a smart idea to cross-promote your social media channels.
Our social blocks make it super easy for fans to follow you on their favorite platforms. Choose from 16 different channels and simply add your corresponding profile URL.
Email blocks
Email is one of the most valuable channels you can have in your music marketing strategy because it's a direct line to your fans. And since you own the audience, it puts you in the best position possible to grow a healthy, engaged fanbase.
Building your email list is now a whole lot easier with our new email block. Your fans can directly share their emails with you in just one click on your bio link landing page, without having to redirect them anywhere else.
Why choose Linkfire's bio link instead of other smart link tools?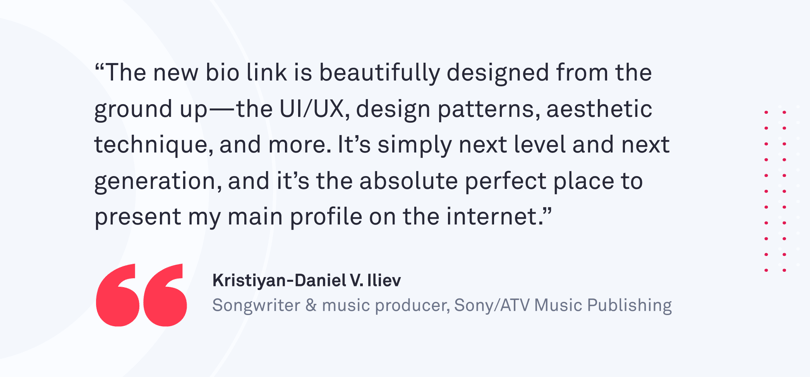 A key advantage of using Linkfire's bio link is that it's truly an all-in-one solution. With several different smart link types at your fingertips and custom branded domains, you don't need to pay for separate URL shorteners or landing page builders. And thanks to our best-in-class insights, you'll never have to painstakingly stitch together data from various music marketing platforms.
You and your team can measure real-time campaign performance and drill down on channels, geographical data, devices, and so much more—all in one easy-to-use dashboard. No more screenshots and PDFs getting lost in never-ending email threads. Reach out to your dedicated customer success manager to discuss best practices for sharing bio link insights with your artist manager, publicist, or anyone else on your artist team.
Linkfire's next-generation bio link is now available to all Linkfire users. Check out our Help Center article for a detailed breakdown of all the new features and customizations.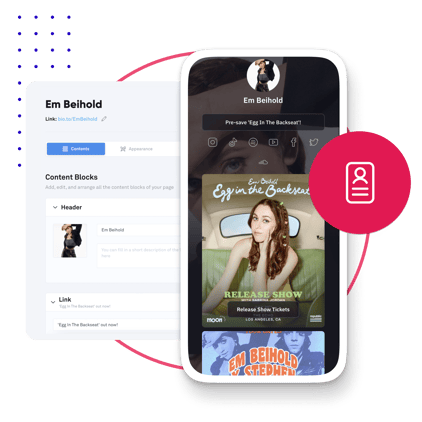 Level up your bio link in just a few clicks with Linkfire
Sign up for a free Linkfire trial today.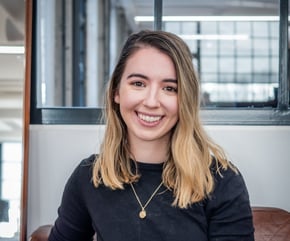 Jessica Golder
As Linkfire's Product & Customer Marketing Lead, Jessica works to ensure Linkfire customers are set-up for success.