A good social media bio can grab people's attention. Add a link in bio, and you can turn that attention into meaningful engagement.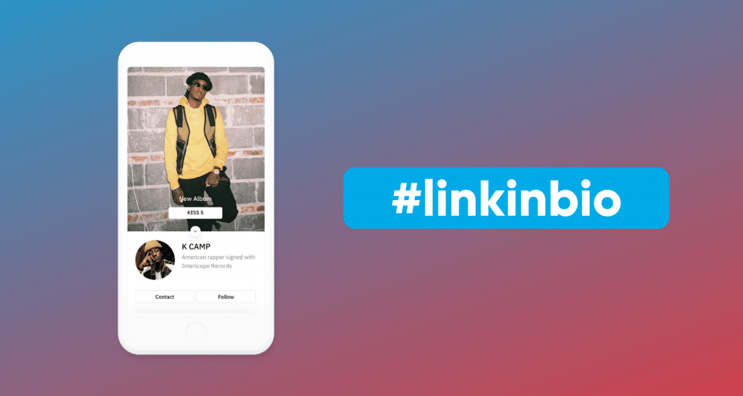 If you're on social media, you'll be familiar with the phrase "link in bio." This humble link has quickly become an essential tool for anyone promoting their content online. This article dives into why the link in bio is so important, and how musicians can use it successfully.
What does link in bio mean?
"Link in bio" is most prominently used on Instagram. That's because, unlike most other social services, Instagram doesn't allow the widespread posting of links to other sites. Unless you have over 10k followers or are a verified user, you can only share one single link anywhere on the platform—in your profile's bio section.
If you want to route visitors to an external site, you have to direct people to your bio, where they can find the link. Hence "link in bio".
Link in bio Instagram—how does it work?
Instagram's one link rule poses certain problems for a lot of its users. For instance, if you're a musician, you might want to link your followers to your tour dates one week, but then your latest release on streaming services the next.
One solution is to constantly update the link in your bio. But this is time-consuming, and means that all of your previous posts go immediately out of date.
A bio link can solve this problem. When fans click on this type of link, they're taken to a landing page—a kind of scrollable microsite—full of the content you're promoting. This could include tour dates, links to your other socials, and options to stream your latest album. You can update this content whenever you want, to keep it fresh and focused on what's most important to you. So it's just one link, but it's always changing!
How to put a link in Instagram bio
Here's the steps to take if you want to add a link to your Instagram bio.
Link in bio Instagram tool
Unless you're a skilled developer, making your own bio link isn't really an option. So you have to find a tool which does it for you. There are numerous apps and services out there which do just that.
At Linkfire, we offer bio links as part of all our subscriptions. So, as well as bio links, you can create all sorts of other smart links.
Link in bio Instagram—how to make one
Once you've found the tool you want to use, actually creating a bio link should be fairly easy. Generating a link will take no time at all, and then you'll have the option to customize it. You can then copy the link and paste it into your social bios and profiles.
If you're using Linkfire, simply click on the green "Create link" button and choose the link type "Bio". You'll then be taken to the edit link screen. This is where you can get to customizing! Change up your bio link title, and image, and select which sections you want to be displayed. Once you're finished, you're ready to share it on any of your socials and get your fans clicking through!
What to promote in a bio link?
This will depend on what industry you're working in. Every bio link tool is different, but at Linkfire we've built a bio link tool optimized for musicians.
Here are the different sections (or "tiles") which you can customize when you make a bio link tool with us. If you don't want to include any of these tiles, you can just leave them blank, and they won't be displayed on your bio link.
Promoted
This tile takes pride of place on your bio link—right at the top. It's made to showcase the piece of content that you're most proud of, and the destination to which you want to drive the most traffic.
Music
Add a maximum of 10 Linkfire release, pre-release, or playlist links. Concentrate on your most recent material, or include older music you'd like new fans to check out.
Tour
Heading out on the road? Give fans an easy way to find the tour date that's nearest to them. Paste in a Linkfire ticket link to get started.
Store
If you've got apparel on a merch store (or your own site), this carousel is the perfect way to display it. Choose images, items names, and your currency of choice.
Favorites
Everything not covered in the previous sections you can add in here. Add links to your website, blog, socials, articles, and more.
What to consider when choosing a bio link tool?
There are lots of factors to think about before you pick one bio link service or another.
Design and customization of your bio link
If you want to make your bio link fit to your brand, you need a certain level of customization. This can be everything from the link's domain, to the header image on the landing page. Be aware that your ability to edit your bio link may also be influenced by which price plan you choose. Free or low-priced bio link tools may come packaged with the service's branding or advertisements.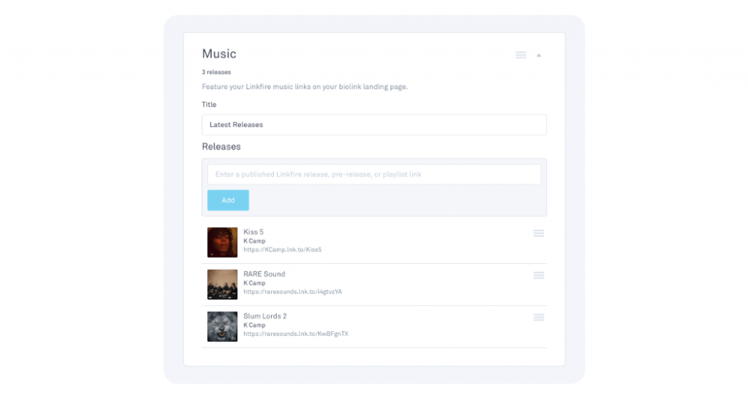 Content blocks included in your bio link tool
Not everyone needs the same kind of bio link tool. A fashion influencer won't be sharing the same kind of things with her followers as a musician. If you are a musical artist, you'll want a tool that works for the content you're pushing, such as:
New releases—tracks, albums, and EPs
Your upcoming tour
Merchandise
Playlists
Your website and other social profiles
Reviews or articles about your music
Audience insights
Not only do bio links look great, but they can also collect valuable stats about your audience. For anyone promoting content online, learning more about your fans is hugely important when it comes to optimizing your marketing efforts.
Different bio link tools offer varying degrees of analytics. At Linkfire, we've been giving our customers the chance to explore their audience Insights for a long time. This applies to our bio links too! That means our bio link analytics are comprehensive and easy-to-navigate. In your bio link Insights dashboard, you can discover a host of stats, from click-through rates to fan locations, and much more.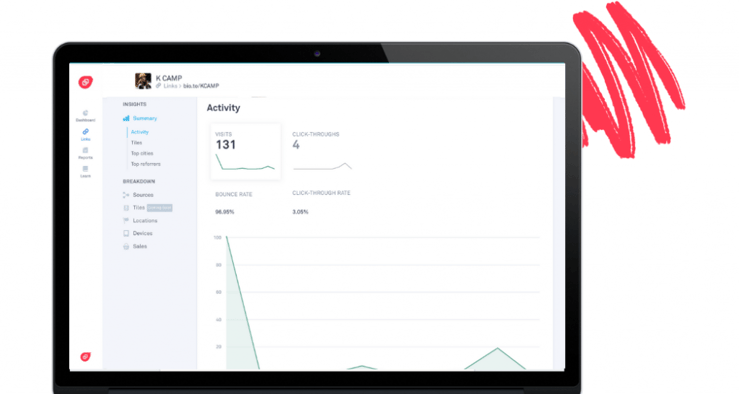 Integrations with other tools
A bio link that works with other services gives you more options. If you're promoting an upcoming tour, you'll need your bio link to integrate with ticket providers. That means that all your tour dates can be displayed beautifully on your landing page, alongside buttons to take users to the right site to purchase tickets.
The fewer integrations a bio link tool has, the more limited its landing page options will be.
Link in bio pricing
It's a good idea to compare different tools, and what they offer in their subscriptions. Most bio link tools have a free tier, and then paid plans that increase in price the more features that they include. Consider what aspects of bio links will prove valuable for your social media marketing.
Linkfire's bio links are included in all of our subscription plans. So they can be utilized by everyone from independent artists to more experienced marketers. Check out our Creator plans.
Get Linkfire's curated tips straight to your inbox and become smarter in music marketing.
Subscribe to our newsletter.
Frequently Asked Questions


How to put a clickable link in Instagram bio?


Sign in to your Instagram account and click the profile icon in the bottom right of the screen.

On your profile page, click "Edit Profile"
You'll see a field called "Website." This is where you add your link.

How to find a link in bio


So you've clicked on a post on Instagram and you see the words "link in bio" in the image caption. So where is the link in bio exactly? You'll need to head to the poster's profile.
Click on the poster's username. This can be found above the post's image—alongside the user's profile icon. It's also at the beginning of the post's caption, in bold.
Once you're on their profile, you'll see their bio section, just below their username. This typically contains a description, as well as contact information, and maybe even some hashtags and emojis. At the bottom of the bio section, you'll see a clickable link. This is the famous "link in bio!"