A good social media bio can grab people's attention. Add a link in bio, and you can turn that attention into meaningful engagement.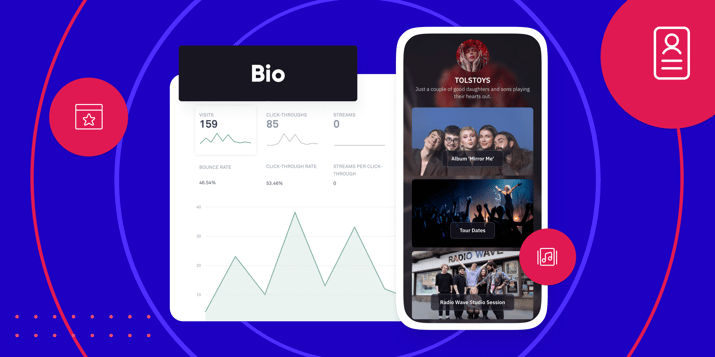 If you're on social media, you're probably familiar with the term "link in bio." This humble link has quickly become an essential tool for anyone promoting their music or other content online.
So, why exactly is your link in bio so important as an artist or creator? And how can you successfully integrate it into your marketing strategy?
What does "link in bio" mean?
Let's start with the basics. When people say "link in bio" on social media, they're asking their followers to navigate to their bio and click on the link that's featured there. "Link in bio" is most prominently used on Instagram and TikTok because, unlike other social media platforms, they don't allow the widespread posting of links to other sites. So the only effective way to route visitors to off-site content is by directing them to your bio link.
What should I put in my Instagram bio link?
Instagram's one-link rule poses certain problems for a lot of its users. For instance, if you're a musician, you might want to link to your tour dates one week, but then your latest release on streaming services the next.
One solution is to constantly update the link in your bio. But this is time consuming, and immediately makes all of your previous posts out of date.
A Linkfire bio link can solve this problem. When fans click on this type of link, they're taken to a landing page full of the content you're promoting. This microsite could include your tour dates, social media links, new music video, and options to stream your latest album. You can easily update the content anytime to keep it fresh and focused on what's most important to you. So it's just one link, but it's always changing!
How to put a smart link in your TikTok or Instagram bio
Unless you're a skilled developer and web designer, creating your own bio link landing page from scratch isn't a viable option. Fortunately, there are plenty of tools out there that make bio links accessible to everyone, even if you don't have coding or design skills.
Linkfire offers unlimited bio links with every plan, along with several other types of smart links and best-in-class music marketing insights. Our bio link builder is ​​packed with thoughtfully designed features and customizations that will help you look professional and on brand.
Learn more: Introducing Linkfire's next-generation bio link
When you use Linkfire to create your custom bio link, you'll never have to compromise on marketing analytics, speedy cross-team collaboration, or the story you want to tell as an artist.
No matter which tool you decide to go with, creating your bio link should be easy. It'll take just a couple of clicks to generate your branded link, and then you can go in and customize the landing page. Once your link is published, simply copy the URL and paste it into your social bios, profiles, YouTube descriptions, email signature, or anywhere else you want to promote your content.
How to create a bio link using Linkfire
Already have a Linkfire account? Just log in, click on the green "create link" button, and choose the "bio" link type. You'll then be taken to a page where you can edit your bio link landing page.
First, think about how you want your landing page to look as a whole. You can customize the color scheme, add a background image, and even apply a background effect like fade or blur to get the perfect vibe you're after.
Next, you'll want to check out all of the different block options. Get as creative as you'd like! Our image blocks, video blocks, link blocks, social blocks, and email blocks can be used in countless ways (more on that below).
Don't forget to hit the "publish" button when you're done. Now you're ready to share your bio link, get fans clicking through, and watch your engagement grow!
What to promote in a bio link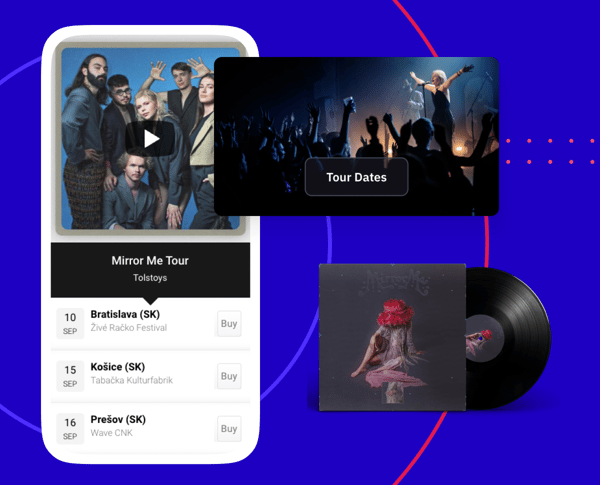 What you promote in your bio link will of course depend on which industry you're working in. If you want to make sure you're using a bio link tool that's optimized for musicians, artists, and bands, Linkfire is the most popular solution.
Here's a quick rundown of some of the features you'll have at your fingertips with a Linkfire bio link.
Image blocks
Use an image block to introduce engaging visual elements to your bio link landing page. You can add URLs to make images clickable and take advantage of several different formatting options. From showcasing your tour dates to promoting your new release, the possibilities are endless.
Video blocks
Have a new music video you want to feature? Maybe an interview clip that does a great job of showing off your artist brand? How about a highlight reel of your live shows to encourage more ticket sales for your upcoming tour? Just add a video block to your landing page, and you're good to go.
Link blocks
Link blocks are the perfect way to track clicks and drive more traffic to your music, merch store, giveaway, or any other website. By making these links easily accessible in your bio link, you'll have a great shot at increasing your click-through rate and improving your overall marketing performance.
Social blocks
Do your Instagram followers know that you have even more great content on TikTok? It's always a smart idea to cross-promote your social media channels. Our social blocks make it super easy for fans to follow you on their favorite platforms. Choose from 15 different channels and simply add your corresponding profile URL.
Email blocks
Email is one of the most valuable channels you can have in your music marketing strategy because it's a direct line to your fans. And since you own the audience, it puts you in the best position possible to grow a healthy, engaged fanbase. Add an email block to your bio link so that fans can directly share their email addresses in just one click, without having to redirect them anywhere else.
Live preview
Want to see exactly what your bio link landing page will look like before it's published? No more jumping between different browser windows. Our live preview feature lets you see all of your edits in real time, right on the same page.
What to consider when choosing a bio link tool
With so many different bio link builders out there, it's worth taking a moment to evaluate your needs and goals as an artist. Free tools may seem appealing on the surface, but they tend to be extremely limited in what they actually offer.
Customization and branding
The extent to which you can edit, brand, and customize your bio link will be affected by both the platform and pricing plan you choose. Free or low-priced bio link tools may be ad-supported or prominently feature their branding. This not only looks less professional, but it also detracts from your own artist brand and calls-to-action.
Audience insights
For anyone promoting music online, learning as much as possible about your fans is essential to your success. Some smart link platforms only offer basic stats like visits and clicks, while others go much deeper.
Linkfire's audience insights are considered the gold standard in the music industry, and are easy to navigate from your Insights dashboard. You can break out data by location, devices, channels, and much more, while measuring everything from engagements to conversions.
Linkfire is also the only smart link platform to provide exclusive streaming insights from top services like Apple Music, YouTube, Deezer, and Pandora. By learning what fans do after they click through your links, you get a more complete picture of the fan journey. This kind of data is crucial for measuring the success of your marketing campaigns, getting the most out of your budget, and getting deeper insights about your fans.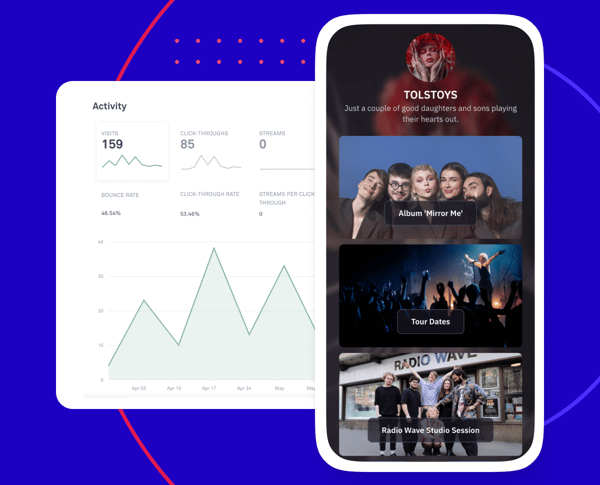 Third-party integrations
A good bio link tool becomes even better when it works seamlessly with other platforms. Some bio link tools, like Linkfire, allow you to connect with your existing tech stack. That means you can send data sets to Google Analytics, integrate with your preferred retargeting programs, and build audiences across platforms.