Linkfire's new email capture feature is one of the easiest ways to grow your email list, and makes it a no-brainer for your fans to sign up. Turn your fans into superfans with these email marketing tips and best practices.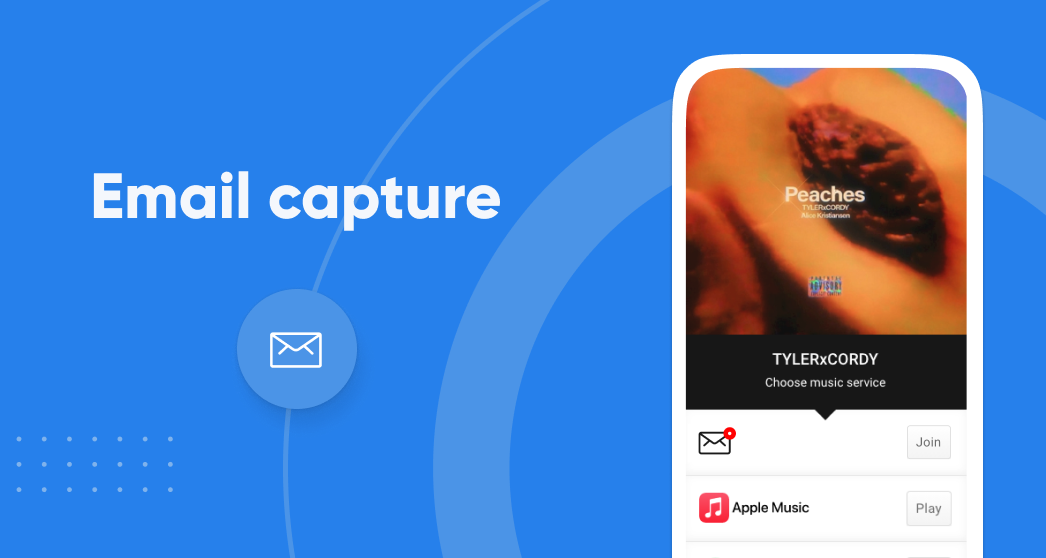 Email marketing may not be the newest form of fan communication, but it's still one of the most valuable channels you can have in your music marketing strategy.
As social media apps come and go, email is here to stay. Your email list is a direct line to your fans, with no algorithms or ads drowning you out. You own the audience, which puts you in the best position possible to grow a healthy, engaged fanbase.
Email is the most effective way to get fans to take action because anyone who signs up for your list wants to hear from you. In fact, email marketing has been shown to be nearly 40 times more effective at acquiring customers than Facebook and Twitter combined. While social media is great for attracting new fans, email is where you solidify those relationships and generate the revenue you need for a sustainable music career.
Instead of thinking of your newsletter as a chore, think of it as just another way to express yourself and create deeper, long-term connections with your fans. Armed with some knowledge about your audience and these email marketing tips, you'll be turning fans into superfans in no time.
How to grow your email list as an independent artist or label
1. Add email capture to your Linkfire landing pages.
Linkfire's new email capture feature is one of the easiest ways to grow your email list, and makes it a no-brainer for your fans to subscribe. Why? Because if they've already clicked through to your Linkfire landing page, you know they're curious about your music—and you can capitalize on that moment of attention right when they're most likely to take action.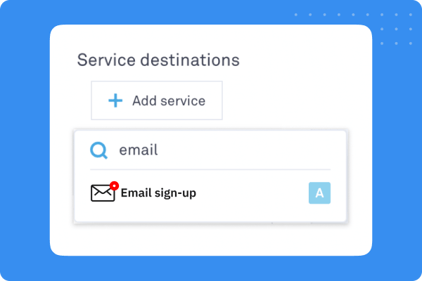 As you set up your release link, pre-release link, or bio link, simply choose "Email sign-up" under your list of services to add the email capture feature to your landing page. This will allow your fans to directly share their email address with you in just one click, without having to redirect them anywhere else.
Unlike other marketing platforms, you can collect and export an unlimited number of email addresses with Linkfire's built-in email capture tool. You can even add it to your default board settings, so that it's automatically included in every new link you create.
Pro tip: Linkfire customers who use reward links to offer an incentive in exchange for email addresses see opt-in rates six times higher than on regular artist websites.
2. Keep your list engaged with relevant, timely, and exclusive content.
Retention is a huge and often overlooked part of growing your email list. Building a list that's constantly losing subscribers is a painful uphill battle.
The more relevant and engaging your newsletters are, the more likely you are to retain and grow your list. With every email you send out, ask yourself: What value are my subscribers getting from this? How does this benefit them? When you focus on sending content that's actually worth sharing and talking about, there's a good chance your fans will hit that "forward" button.
If you haven't already, set up an account with an email service such as MailChimp, Constant Contact, ConvertKit, or Klaviyo. Many of them offer free plans if you're starting out with a fairly small list, but you can also upgrade if you're looking for more robust email marketing features.
First, set up an automated welcome email that every new subscriber receives upon joining your list. This email should thank them for signing up, give them an idea of what to expect from your emails, and perhaps include a small thank-you gift such as a free track download or merch discount code.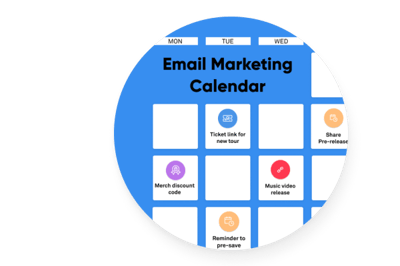 Your next goal should be to nurture your subscribers. Tell a captivating story about your music career journey, share behind-the-scenes content that you've never posted publicly, or anything else along those lines to deepen the artist-fan relationship.
Finally, you can go in for the big ask: buy concert tickets, contribute to a crowdfunding campaign, join your Patreon community, order limited-edition merch, or whatever happens to be top priority for you at the moment.
Pro tip: Every time you include links in your emails, wrap them in Linkfire links. This will help you track and compare the performance of your content against other channels so that you can make smarter marketing decisions.


3. Create a lookalike audience to target people who are similar to your current email subscribers.
Once your email list has picked up steam, you can upload it to ad networks and use that custom audience to build lookalike campaigns. These campaigns will target people who are similar to your current email subscribers, which you can use to gain even more subscribers.
If it's your first time setting up Facebook ads or Google ads, you'll find that there's a bit of a learning curve. But even with a tiny budget, you can test and tweak your way to success.
As always, make sure you offer something of value and craft a compelling story around it. These two components are especially crucial when you're trying to reach people who are just casual fans, or who may have never even heard of you before.
Pro tip: Linkfire supports several retargeting integrations. If you're a more advanced music marketer, be sure to sign up for a plan with retargeting management.
Ready to grow your email list with Linkfire?
Head over to the step-by-step guide in our Help Center, or log in and add the "Email sign-up" service to your landing pages right away.