Pre-save campaigns are a favorite amongst the world's leading labels and artists. In fact, in 2022 we saw a 164% increase in the use of pre-release links amongst Linkfire customers, showcasing just how important they've become to release strategies.
But how can independent artists use this tool to their advantage? Linkfire's Customer Success Manager, Lígia Pereira, shares three reasons why pre-save links are a must for independent artists.
What are pre-save links?
A pre-save or a pre-release link is the streaming equivalent of a pre-order. Unlike CDs and vinyl, digital music doesn't need to be physically delivered. But music on streaming services does still have release dates.

A pre-save lets fans place a "virtual order" on an upcoming release. It's then added to their streaming libraries the moment it goes live on release day.

With Linkfire, you have the ability to create a pre-release link, which combines multiple pre-saves from Spotify, Amazon Music, Apple Music, and Deezer into one shareable link.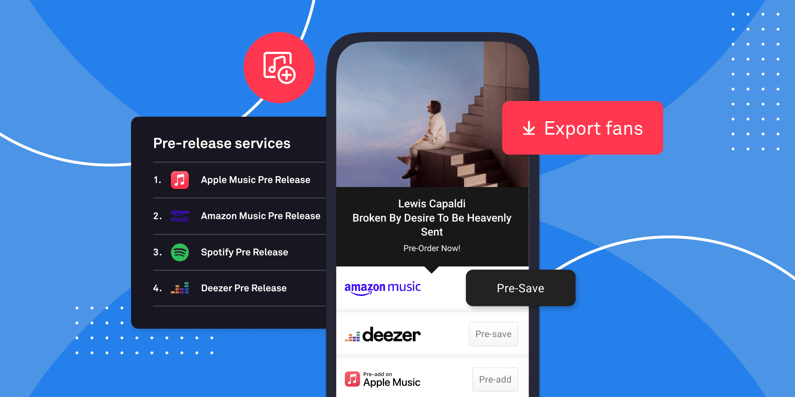 The benefits of using pre-save links
Pre-save links offer an array of benefits, including;
1. Increase streams
By creating a pre-save link, you significantly increase your chances of additional streams on release day as your song will be automatically added to your fans' library on their chosen streaming service. There's no risk of your fans forgetting that your new release is out as your song or album will be right there, ready to be listened to.
2. Get playlisted
By using pre-save links, your chances of boosting your streams upon your release date also increase, and therefore significantly improving your chances of getting noticed by streaming platforms, and being added to playlists such as Spotify's Viral 50 or Apple Music's Top Charts.
Being added to a streaming playlist can be a huge boost for any artist's career. We've even seen the likes of Lewis Capaldi being catapulted into the spotlight and signing with Capitol Music after his track 'Bruises' was added to Spotify's 'New Music Friday' playlist (and making him the fastest-ever unsigned artist to reach 25 million plays on the platform in the process).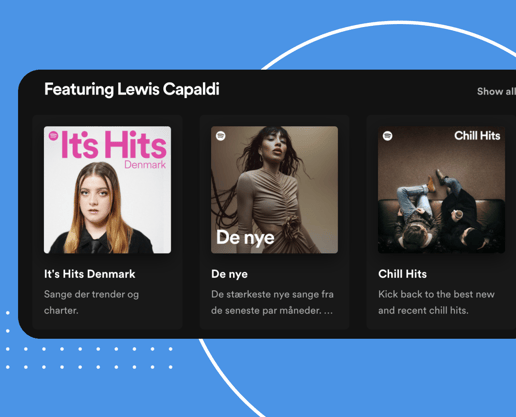 3. Build your email list
Pre-save links are also a great way to build your email list. When fans authorize pre-saves with some services (currently these include Spotify pre-save, Amazon Music pre-save, and Deezer pre-save), they actually also grant permission for being notified about the release by email. This is a great chance to invite fans to join your mailing list.

With questions around the reliability of social platforms gaining momentum, email marketing is becoming increasingly popular amongst industry professionals and artists, with many looking for ways to build a more engaged email list. In fact, email marketing has been shown to be 40 times more effective than Facebook and Twitter combined when acquiring new customers.

With pre-save links, not only do you have the option of growing your mailing list, you're also building a database of your most engaged fans, which you can use for future marketing activities.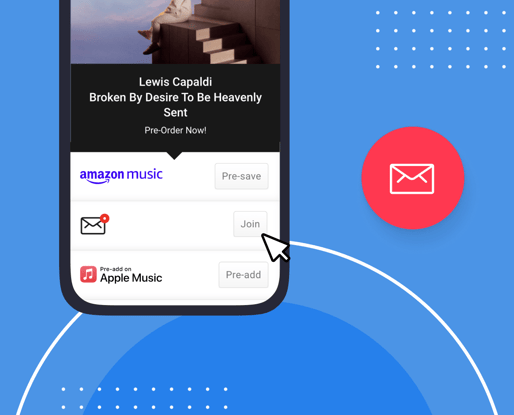 Where to share your pre-save links
A Linkfire pre-release link is designed to be shared across your different social and music channels. To help you get the most streams on release day, we recommend sharing your pre-save links across the below platforms:
1. Social media bios and bio links
You share your pre-release link directly in your Instagram or TikTok bio, but we recommend including your pre-release link in your Linkfire bio link. This means that all of your assets are in one place.
2. Social media posts and stories
In the lead-up to release day, be sure to share your pre-release link across your social channels in both your general feed and in your stories to increase engagement.

For more tips on social media marketing, check out "How to promote your music on social media."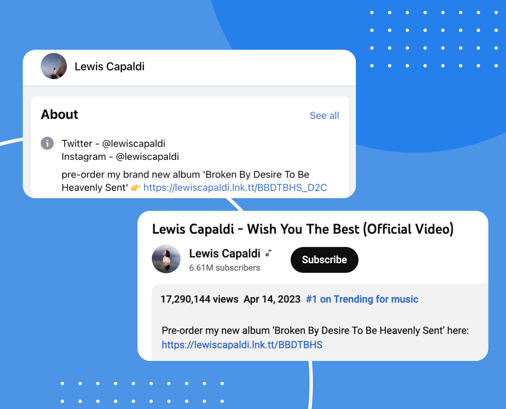 3. Email newsletters
Email is consistently regarded as one of the best ways to connect and communicate with your fans. Be sure to share your pre-release link as part of a newsletter to your existing email database, so they are ready to listen come release day.
4. Reddit
Reddit is one of the most popular sites in the world. It consists of millions of forums called subreddits that cover every topic imaginable. Many of them are devoted to music, and some specifically focus on giving independent artists a platform to share their work, making it a great place to share your pre-release links.

For more tips on where you can share your pre-save and other Linkfire links, check out this article.
How to make a Linkfire pre-release link
Our pre-release link brings together numerous pre-save services into one smart link. Fans can then choose their preferred service from our current pre-save integrations—Spotify, Apple Music, Amazon Music, and Deezer.

Making a pre-release in Linkfire is just as easy as our other links. You can customize the landing pages' artwork and text, and choose which pre-save services you want to activate. And don't worry if you don't have your release UPC code or URL yet—this can be added closer to the time of release.

To learn more, check out our Help Center article 'Creating pre-release links.'
Please note that pre-release links are available on Pro, Essential, Advanced, and Enterprise plans.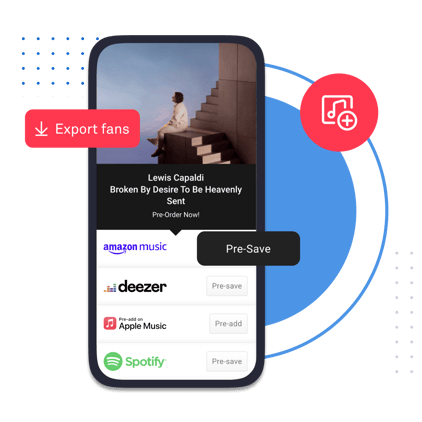 Ready to promote your music?
Sign up for a free trial today.
Get Linkfire's curated tips straight to your inbox and become smarter in music marketing. Subscribe to our newsletter.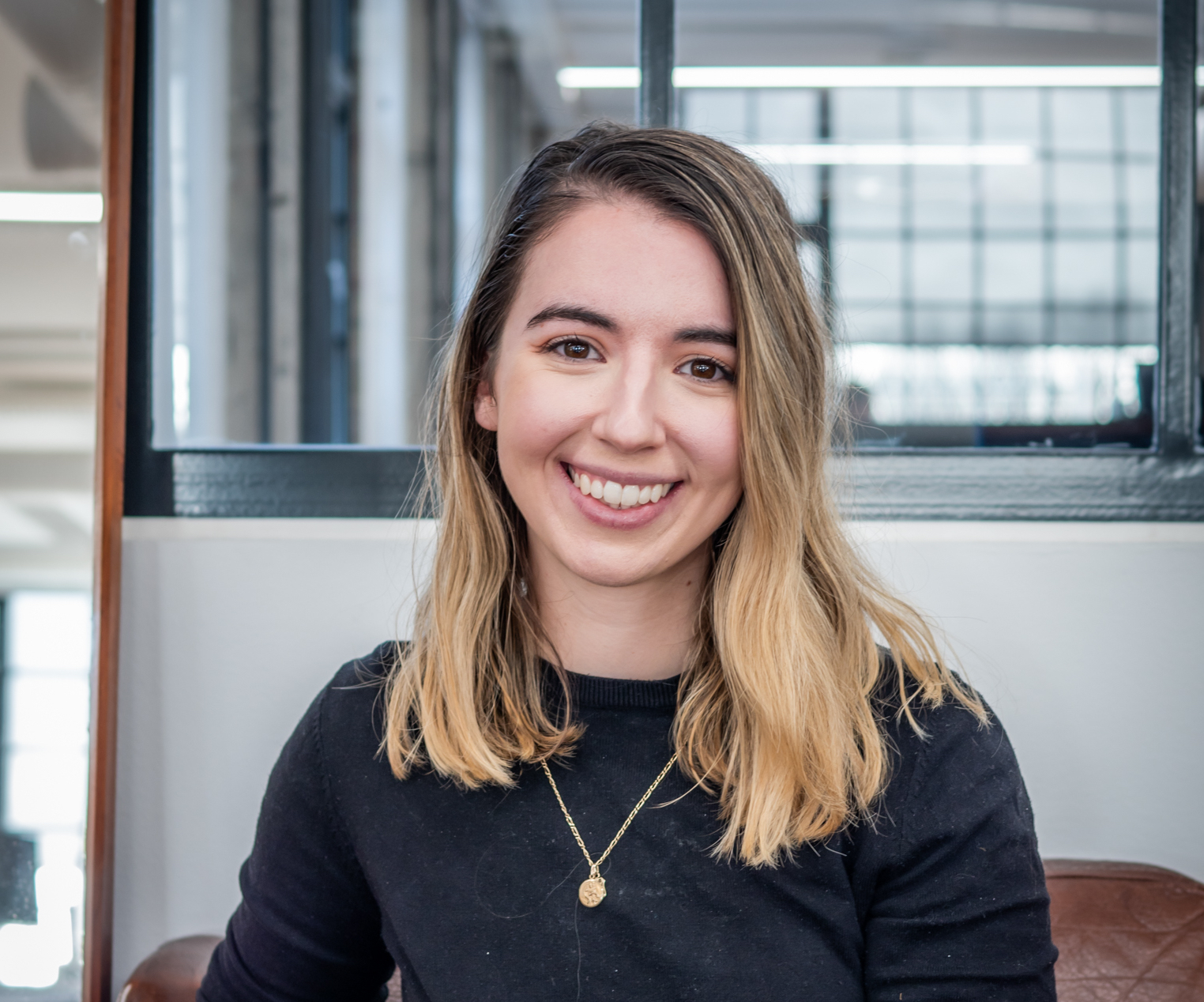 Jessica Golder
As Linkfire's Product & Customer Marketing Lead, Jessica works to ensure Linkfire customers are set-up for success.