Warner Records' Vice President of Digital Marketing, Jesse Ervin, sheds light on how the music industry has evolved over his 20 year career and what we can expect in the years ahead.
With a career spanning over 20 years working for the likes of EMI Records, House of Blues Entertainment, Capitol Records, and now Warner Records, Jesse Ervin has seen the music industry evolve into the dynamic powerhouse it is today.

We recently sat down with Jesse to discuss some of his biggest artist campaigns, what are some of the industry's biggest opportunities and challenges, as well as his biggest prediction for the industry.
Getting started in the music industry
How did you get started in the music industry?
I've wanted to work in music my whole life. My first job was at a record store when I was 13. From there, that led me to a college position at EMI Records, which then slowly led me to House of Blues Entertainment where I did digital marketing and webcast production.

From there I headed to Capitol Records, where I spent eight years - six years on the catalog side working on digital strategy for the Beatles, Pink Floyd, Rolling Stones, NWA, Frank Sinatra, and artists like that before I went to the new music side where I worked on a bunch of different artists from Neil Diamond, Elton John, Counting Crows, and bands like that.

I then left the tower over at Capitol and headed to Warner Records. Ever since, I've been working on campaigns for artists like Red Hot Chili Peppers, Green Day, Neil Young, Anitta, and a whole bunch of others.

What I love about music marketing is we're able to connect directly with the fans and let them know about the music and engage with them.
What keeps you excited about the music industry?
What keeps me excited about the music industry is really the music. I'm a fan first and I love hearing new music and getting to be part of a campaign from the beginning to the end is super exciting for me.

You can go to a record store and see a bunch of records that you actually worked on, that you had something to do with putting it in the hands of the fans. And that's the best part – really being part of a project. Obviously not making the music, but connecting the marketing to the fans and being part of a successful campaign.

The evolution of music marketing
How has the music industry evolved since you first started?
I've been doing this for about 20 years. The internet was really new when I first started when I was at House of Blues, and I remember we were doing webcasting and it just wasn't the right time. It was way too early. Now it's the standard.

A lot of things that I've done in the past just needed to catch up with the audience and catch up with the consumer, and now that it's definitely caught up, especially with social media, which was not even around at all when I first started. I've seen the beginning of social media all the way to where it is now with TikTok. And now at Warner we have TikTok sound specialists, we have TikTok strategy specialists. It's a whole different ball game, but the best part of it is the music, and it is still in the center of it all.

So even though there are new ways to discover music and there are new ways to listen to music with Spotify and others, it's still all about the music and it's actually exciting to see vinyl coming back and things like that, that are really important because at the end of the day, people just want to have music and put their hands on it. So it's evolved quite a bit, but it's still evolving and it's gonna keep on going, and I'm really happy and excited to be part of it.
Can you take us through a recent launch strategy for one of your artists?
Yeah, sure. I'd love to talk a little bit about the Red Hot Chili Peppers and working on their two back-to-back double albums, Unlimited Love and Return of the Dream Canteen. Linkfire was actually really important in both of those. If we just look at our Return of the Dream Canteen campaign, we teased the album early at one of their shows in Denver, and we used QR codes tied to a Linkfire link.

There were two different versions of it and one went to a tour edition that you could only get if you were at the show, and the others went to the standard version, but we used Linkfire to connect the dots. We had one of the most successful tour campaigns ever for a D2C product, and it was a big part of our first week number, as well as really putting the music in the fans' hands.

Return of the Dream Canteen actually debuted at number three on the charts, which is really exciting and reached number one in the album charts, and was the band's first back-to-back number one album ever, which is really, really exciting. So, being a big part of that campaign and other campaigns like it is the whole reason why I do this.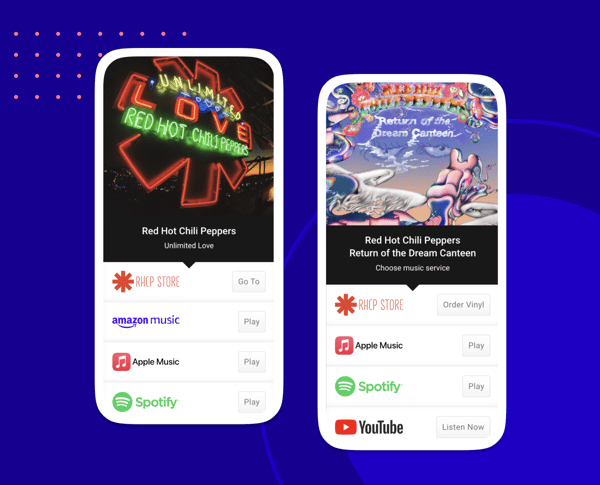 The current state of the music industry - opportunities and challenges
What do you think is the biggest opportunity in the music industry right now?
I think the biggest opportunity in the music industry right now is finding new fans. Every day there's a person that wakes up that doesn't know about the Red Hot Chili Peppers, and they find them on their phone that day. We're seeing younger and younger fans come to some of these well known artists that we've never seen before. For example, if you go to a Chili Peppers or Green Day show today, it's a lot of kids. People are finding it for the first time just cruising Spotify the way that you would have done it at a record store years ago.

Then also, discovering new artists too through some of these platforms. We've signed a number of artists through TikTok and other platforms, so I think it's really exciting to see people are finding their platforms to be discovered as well.
What do you think is the biggest challenge in the music industry right now?
Finding an audience. I think there are so many great artists that just have not found the right audience yet. They're starting to as TikTok and Instagram Reels develop more, and people are becoming famous for being creators. I think that once artists continue to find their voice, the audience will happen, and that's really what my job is – to connect an audience to an artist.

We've been very successful and I've been successful in doing that, but it is definitely a challenge to know that there are music fans out there that have not found their next favorite band yet. And so it's up to me and up to our awesome team to connect the dots and help fans find their next favorite band.
What is your prediction for the music industry?



My biggest prediction for the music industry is all centered around content. It's still really important, and obviously that's how people are connecting to music, but I think it's going to get more and more important and you're gonna see new platforms evolve, new things come up that will really expand on the idea of content and how to consume content and how that leads to a sale.

I think we're gonna see a lot more social networks apps like TikTok or BeReal start to dominate, and people start leaving some of the other social platforms. So I think that we're gonna see a lot more of that - it's just gonna keep on changing because if you had a time machine that went back to 20 years ago, you'd have no idea what a TikTok is, and that will be the same in five years from now.
Get Linkfire's curated tips straight to your inbox and become smarter in music marketing. Subscribe to our newsletter.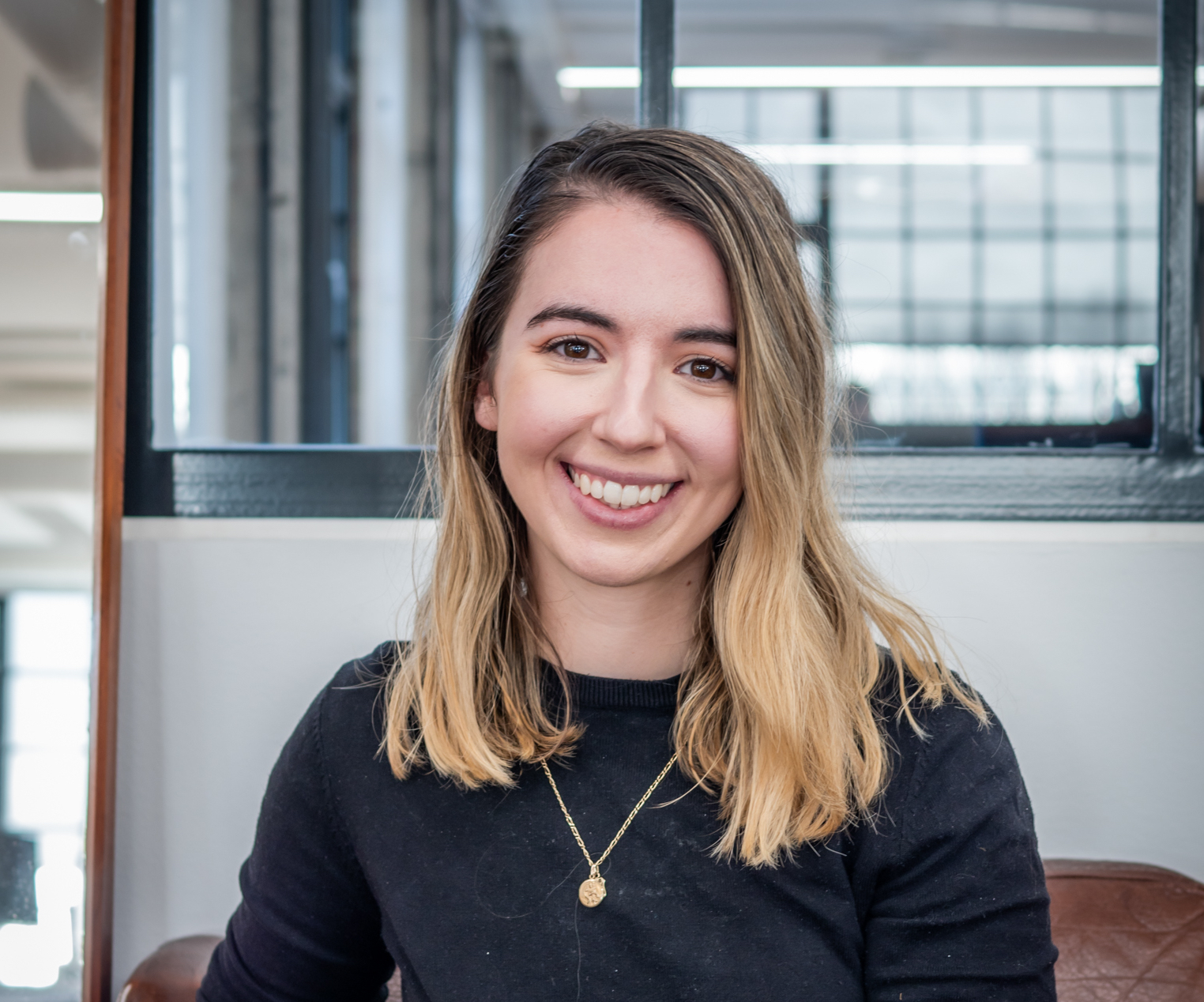 Jessica Golder
As Linkfire's Product & Customer Marketing Lead, Jessica works to ensure Linkfire customers are set-up for success.