When it comes to promoting, growing, and engaging with your fanbase, social media has long reigned supreme, but it seems the tide has begun to shift.

2022 saw Twitter change ownership, leaving many artists and labels concerned about the future reliability of one of the world's biggest social platforms. We also saw Instagram outages, which affected many artists' music promotion, and increasing concerns around data ownership, which has since led industry leaders to reconsider which marketing channels they should be targeting.

So where are artists, label marketers, and artist managers shifting their focus to?

The answer: Email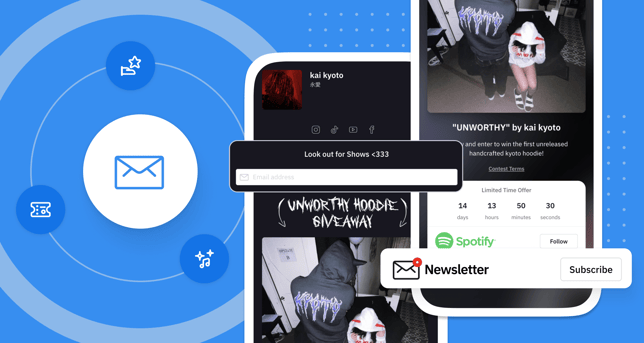 The benefits of email marketing for musicians
Email marketing is definitely not new to those in the music industry. But with so much uncertainty around social platforms and the increasing amount of noise and congestion on the platforms themselves, artists and their teams are becoming increasingly focused on their owned channels, including email marketing - and it seems to be paying off.

In fact, email marketing has been shown to be 40 times more effective than Facebook and Twitter combined when acquiring new customers, and 79% of marketers list email marketing as one of their top 3 most effective marketing channels.

We're even seeing examples of artists completely turning their backs on social media, and solely relying on building an email list to engage with their fans.
"A good example of somebody who has literally no social media is Lorde, and she keeps in contact with her fans by sending a mailing list once or twice a month. And that's all that she has. She's not on Instagram, not on Twitter or anything like that. It just creates this really genuine experience and she'll respond back to fans." – Emily Antonicci, Digital Marketing Manager at Crush Music
So what are the key benefits of email marketing that's driving this shift?
1. Channel ownership
"It is very important to drive fans to the platforms that the artist owns, like email lists and websites." – Missy Querry, Director of Digital Marketing at Select-O-Hits

Having proper oversight over your fanbase is crucial. There are increasing concerns around changes to some of the world's biggest social platforms, their overall reliability, and future access to valuable insights into your social communities.

With email, you have ownership over your fanbase, and will be able to talk directly with your most engaged fans, without needing to rely on social platforms.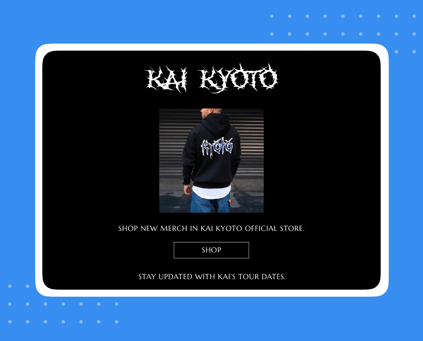 2. More effective
"When you have fans' emails, you have something to work with. We have this database of people who already bought our merch online, so we know it's people who are really interested in our music." – Ela Tolstova, lead singer of Tolstoys

When promoting your music across different channels, it can sometimes feel like you're shouting into the void. Social media channels for example, can be quite noisy with new content constantly being shared and re-shared, and in turn, making it difficult for artists to cut through the noise. In fact, in 2022 Instagram's average organic reach rate was just 13.51% (29% lower than in 2021), while email open rates for Arts and Artists were at 26.27%.

Email marketing allows you to get right in front of your fans when you want to, and do so in a way that is efficient, genuine, and effective. In fact, according to a Bluecore survey, 72% of Gen X, 64% of Millennials, and 60% of Gen Z consider email the most personal channel to receive brand communications, making email a trusted channel across different generations of fans.

"You can leverage more having a really strong mailing list than you can with a viral moment." – Louis Pratt, Senior Marketing Manager at Linkfire
3. Insights
"Through email, you're not relying on social channels to potentially share your content. Instead you know that you're talking to people who are interested in what you have to say." – Lígia Pereira, Customer Success Manager at Linkfire

You can get valuable demographic insights about your fanbase from your email marketing activities, as well as what content they're most engaged with, which can not only influence the content you share through that platform, but can also provide value when building your marketing strategy across other channels.
How to build your email list
So we know that email is an effective promotional tool. But how do you actually build your email list?

Here are two effective strategies:
1. Email capture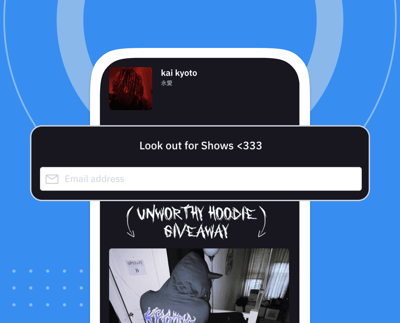 Linkfire's email capture feature is one of the easiest ways to grow your email list, and makes it super easy for your fans to subscribe.

But how does it work?

As you set up your Linkfire release link, pre-release link, or bio links, simply choose "Email sign-up" under your list of services to add the email capture feature to your landing page. This will allow your fans to directly share their email address with you in just one click, without having to redirect them anywhere else.

Not only is this a seamless process for your fans, which in turn increases the likelihood they will input their email, it's also super easy for you. In just a few clicks you can begin collecting email addresses of your most engaged fans.

2. Giveaways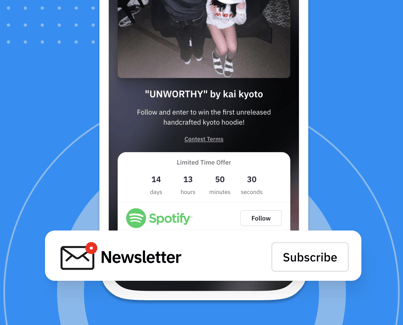 Giveaways are a great way to build your mailing list, and a strategy that is quite popular amongst artists.

Most giveaways are run across social platforms, where artists offer prizes such as merch or tickets to an upcoming gig, in exchange for competition entries where you request for fan's email addresses and permission to send them future comms.

If you're looking for an easy way to run a giveaway and build your email list at the same time, make sure you're using reward links. In just a few clicks you can set up your giveaway, and enable your fans to enter the competition with ease.

For other ways to build your email list, make sure to check out this useful article.

How to grow your email list


1. Get to know your audience
You've probably heard us say this before (we even mentioned it just a few paragraphs ago 😉), but we simply can't emphasize enough how important it is to get to know your fans before you begin any marketing activities. And things are no different when engaging with your mailing list.

By combining insights you've gathered from both your Linkfire Insights and your email analytics, you can start to piece together who your email audience is and answer questions like:

Where are they based?

How frequently do they engage with my content?

What content do they engage with the most?
Answers to these questions can be super valuable when it comes to creating the content for your mailing list…

2. Curate the content for your audience
There's no point building an email list if you don't create content that your fans want to see, and it's also delivered in a way that's tailored to them. Knowing where your audience is based for example, can help influence whether you should localize your content and for whom. An example of this could be translating your emails from English into South Korean if you see a vast majority of your email contacts being based there.

Location can also influence whether you send your emails out at specific times to maximize engagement. For example, if you're based in the U.S, but you notice over 60% of your mailing lists comprises of people based in Australia and New Zealand, there's no point in sending your emails out first thing U.S. time, as a majority of your audience will be asleep, and your email will likely become lost in the email backlog people receive overnight.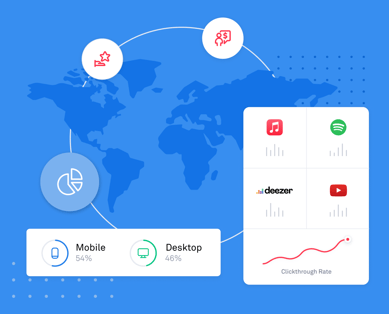 Top tip: Depending on your email platform, you can segment your email send times based on your audiences' location to help maximize open and click rates. You can also use this feature to ensure different regions receive different versions of your email (e.g. your South Korean audience receives the translated South Korean email, while the rest of the world receives the English version).
And in terms of frequency, if you're sending emails out 3-4 times a week and you're not seeing high engagement in terms of open and click rates, try scaling back your frequency to once a week or twice a month to see if this improves your overall engagement.

Overall, there are definitely a few factors to consider when it comes to creating the right content for your fans and how you can best engage with them, but our biggest advice would be to not be afraid to test a few different things and see how your emails perform. From localizing content, to frequency of emails - test different approaches for a month or two at a time and see which way works best for you and your fans.

3. Provide value and be authentic
When we asked industry experts what was their biggest prediction was for the year ahead, creating authentic content was repeatedly mentioned as a core focus for artists, artist managers, and label marketers alike.

"Leaning into authenticity and being real, and understanding that's the best way to show up, is the foundation for any artist." – Margaret Jacobi Lee, Head of Marketing at AMFM Management

Email marketing gives you the opportunity to arrive directly in the inboxes of your biggest and most loyal fans. You can therefore use it as an opportunity to show a side of you and provide value to your fans beyond the music. This could include some exclusive behind-the-scenes content, early access to upcoming releases or merch, or exclusive offers.

Whatever it may be, don't be afraid to show your true self through email and always ensure you're providing added value to your fans, which they can't access elsewhere.


Ready to grow your email list with Linkfire?
Head over to the step-by-step guide in our Help Center, or log in and add the "Email sign-up" service to your landing pages right away.
Sign up for a free trial
Email capture for bio links is included in all Linkfire plans. Email capture for release and pre-release links is included in Linkfire Pro and up.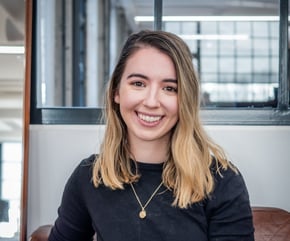 Jessica Golder
As Linkfire's Product & Customer Marketing Lead, Jessica works to ensure Linkfire customers are set-up for success.