Every successful music marketing campaign needs a killer music landing page. Follow these 10 tips to create a seamless fan experience and drive up your conversion rate.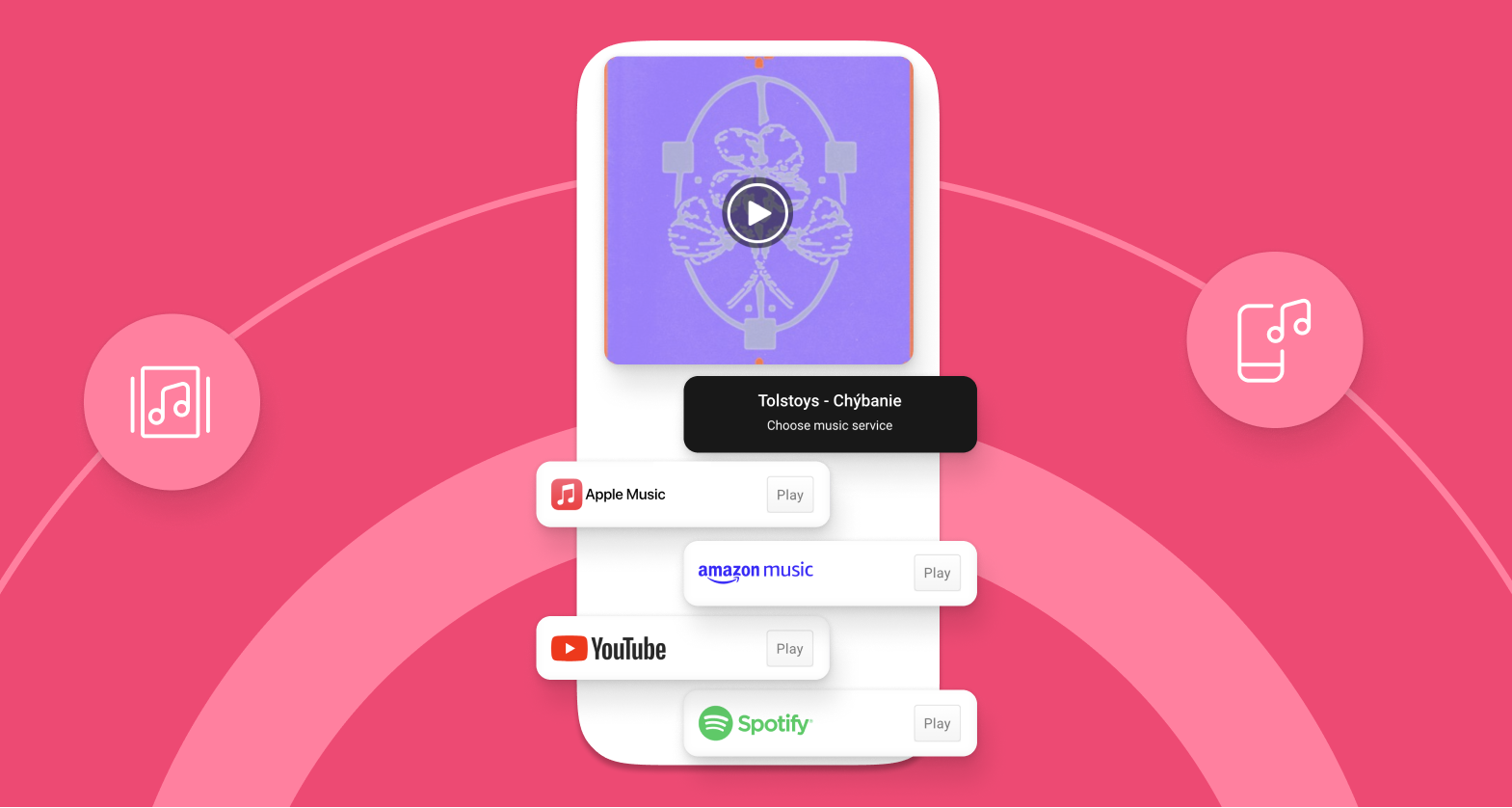 A music landing page is an essential touchpoint in any music marketing campaign. Unlike an artist website that serves as your central hub on the internet, a landing page is a web page that's designed to stand on its own with a single purpose.
A great music landing page will reduce friction in the fan journey, align with your artist brand, help you save time, and lead to conversions that matter. Ideally, it'll also provide you with valuable music marketing insights that help you benchmark performance across campaigns, and ultimately build a stronger fanbase.
So, how do you actually create a killer music landing page? Let's get into it.
Part 1: Optimize your music landing page

1. Clearly define the goal of your landing page.
The most effective music landing pages have one clear goal. It should directly relate to your campaign and align with your broader music marketing strategy.
Start by asking yourself what single action you want someone to take after visiting your landing page. Perhaps your goal is to:
Drive streams or sales to a new release
Maximize reach on release day
Drive ticket sales for an upcoming tour
Grow your YouTube subscribers
Increase your Spotify followers
Grow your email list
As long as it's something you can measure, you can make it your landing page goal.
For this article, let's work with the goal of driving streams to a new single. Here's an example of a music release landing page that you can create in just a few clicks with Linkfire (visit lnk.to/chybanie to see a smart link in action):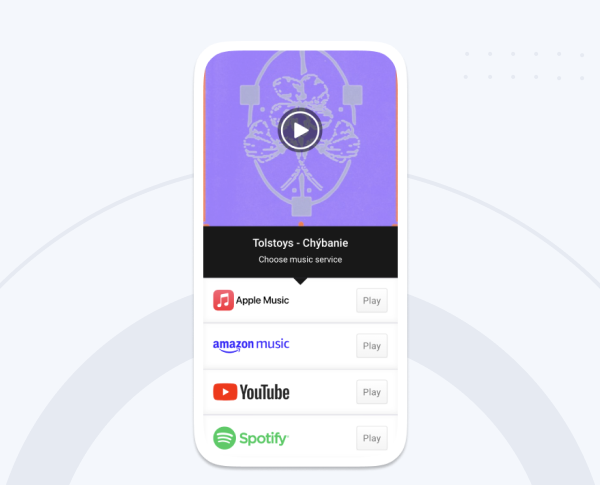 2. Consider the entire fan journey.
When creating a music landing page, it's important to think about not only what you want people to do after visiting your landing page, but also where they came from before.
Let's say you've published the music release landing page pictured above, and you've shared the smart link in social media posts, email newsletters, and ads. Even before someone clicks the link, they're already forming expectations about your landing page. Factors such as the surrounding copy, the anchor (clickable) text, the link preview (thumbnail image and caption), and the URL itself all contribute to the instantaneous decision of whether or not to click.
If the landing page experience doesn't match up with what someone was expecting, they're likely to drop off. But when you properly set expectations from the get-go, the quality of your link traffic will improve, which will lead to a stronger conversion rate.
Coming back to our example of driving more streams to a new single, a social media post might look something like this: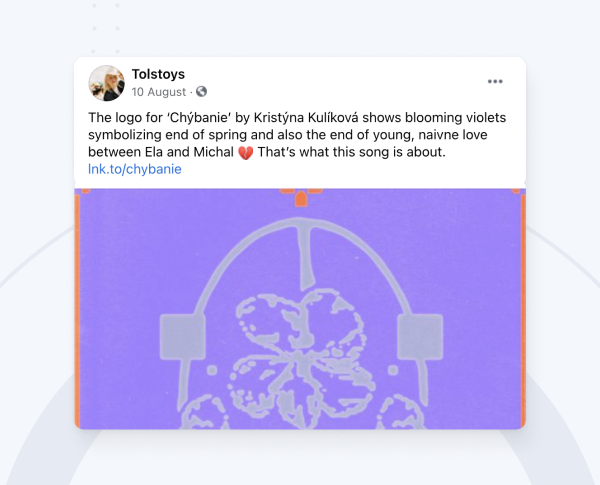 Learn more: how to customize your URL with Linkfire
3. Keep the design consistent with your artist brand.
Your artist brand plays a major role in how you communicate; it's how fans come to recognize and remember you. If you want to build a strong following, then everything you put out into the world—from your onstage persona to your landing pages—has to align with your brand.
As important as your landing page design is, it doesn't have to be a huge undertaking. By using a smart link platform like Linkfire, your design will be clean and consistent every time—no coding skills needed. Simply upload your album artwork or another captivating image that you want to feature front and center, and the tool will automatically use those same elements for the page background.
4. Let fans select their preferred music service.
The music streaming business has become remarkably fragmented. A service that seems ubiquitous in your country might be nonexistent in another. And if a fan already pays for Apple Music, they're not going to also start paying for Spotify just to listen to your new song.
So when you have a goal of driving streams from your landing page, you can't just list one or two music service options. You'll miss out on a ton of click-throughs that way, and your campaign results will suffer.
Fortunately, there's an easy solution to this problem. Part of what makes Linkfire smart links "smart" is that the tool automatically scans over 250 music services for your release, and lets you list them in any order you want on your landing page. Linkfire landing pages are also geolocalized for each visitor's country and language. This ensures that they only see music service options that are actually available to them, and that they understand what's on the page.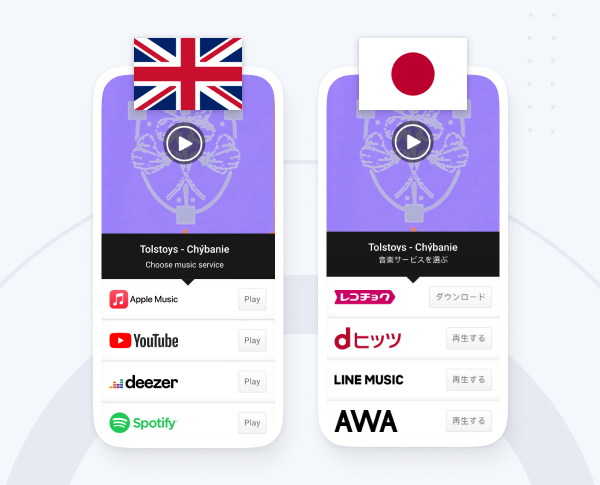 By personalizing the landing page experience and making it frictionless, you'll see a much stronger conversion rate compared to a static landing page without any automations.
Learn more: how to distribute your music on all streaming services
5. Have a strong call to action.
The call to action (CTA) is what you're encouraging people to do upon visiting your landing page. Everything else on the page exists to support your CTA. It's what moves link visitors along in the fan journey, leading to some sort of conversion that you can measure as part of your campaign.
Let's go back to our sample goal of getting people to click through and listen to a new single. Since we have several music services listed on the landing page, we need to include a clickable button next to each one: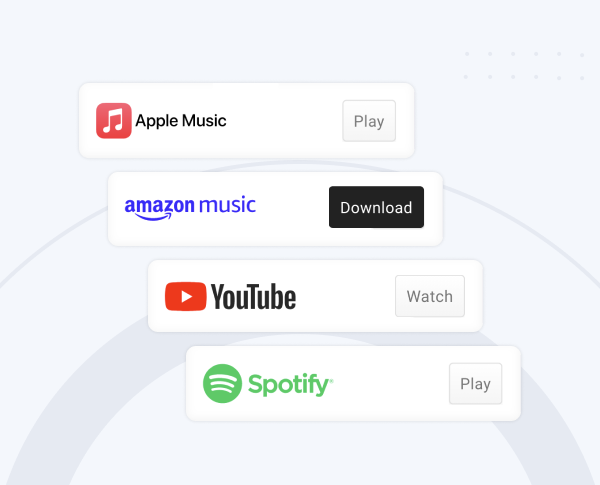 You can customize the CTA text to say whatever you want on Linkfire landing pages, but we recommend using one strong action word per button, such as "listen," "play," or "download." By keeping it short and direct, there won't be any room for confusion around what you want the visitor to do next.
6. Make it mobile friendly.
More than half of global website traffic happens on mobile devices, so it's crucial that your music landing page is responsive. A responsive design will automatically adjust how the page elements are displayed based on the screen size. This ensures that nothing on the page gets cut off, the text is easily readable, and the CTA buttons are large enough to tap.
When choosing a landing page builder, make sure the mobile experience is just as good as (if not better than) the desktop experience. All Linkfire landing pages are responsive and optimized for mobile, so you never have to worry about missing out on conversions.
7. Ensure that your landing page loads in 1-2 seconds.
It may not seem like a couple of extra seconds makes a big difference, but it does. Nearly 70% of consumers admit that page speed impacts their willingness to buy from an online retailer. Just a two-second delay in load time results in abandonment rates of up to 87%—a massive missed opportunity. Plus, if you're trying to move up in search rankings or run Google ads for your campaign, a slow-loading landing page will actively work against you.
Your music landing pages should load within 1-2 seconds, especially on mobile. Consistent performance across all devices and browsers is ideal.
Part 2: Level up your music marketing
8. Use integrations to get more out of your landing pages.
So far, we've been discussing how to optimize your music landing pages for a frictionless fan experience and a high conversion rate. But you can get so much more out of your landing pages with a few simple integrations.
Linkfire integrates with a wide array of platforms that you probably already have in your music marketing toolkit, such as Google Analytics and Bandsintown. You can also easily add Facebook pixels to your Linkfire landing pages, which allow you to retarget your link visitors later on. Set it up once, and you're done!
Learn more: Linkfire retargeting and affiliate management
9. Strengthen your campaigns with marketing insights.
Without a clear understanding of which music marketing efforts are driving visits, clicks, and streams, your campaigns will quickly become expensive and time consuming. The solution? Get cozy with your data.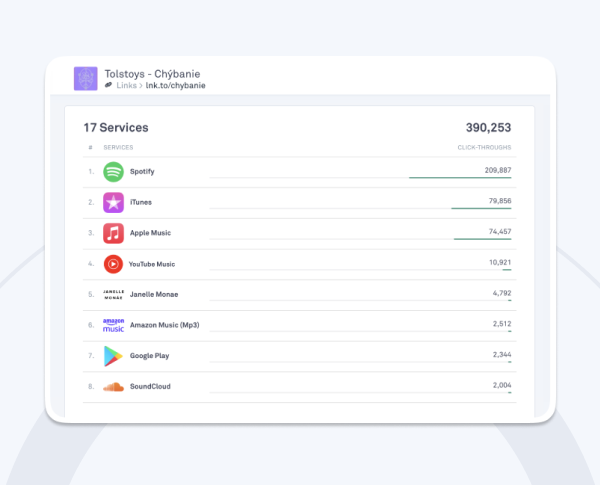 Through exclusive partnerships with some of the largest digital service providers in the music industry, Linkfire has access to streaming attribution data that you can't get anywhere else. This powerful data allows you to better understand the relationship between your landing page performance, marketing channels, and fan behavior. All of this leads to more successful campaigns and helps you make smarter marketing decisions along the way.
10. Capture fans' email addresses right on your landing page.
If your goal is to grow your email list, Linkfire's email capture feature makes it a no-brainer for fans to subscribe. Why? Because if they've already clicked through to your landing page, you know they're curious about you as an artist—and you can capitalize on that moment of attention right when they're most likely to take action.
Want to give your fans a little extra incentive to subscribe, and boost your conversion rate even more? Set up a Linkfire reward link to sweeten the deal—they'll get instant access to secret content, a coupon code, or a contest entry.
Learn more: 3 smart ways to grow your email list
More into texting than emailing? Here's how to add text services like Community and WhatsApp to your landing page.
Get Linkfire's curated tips straight to your inbox and become smarter in music marketing. Subscribe to our newsletter.