Linkfire's Nikolas Schriefer was recently promoted to Vice President (VP) of Product and Data and below shares his view on how to build and lead a genuinely data-driven organization.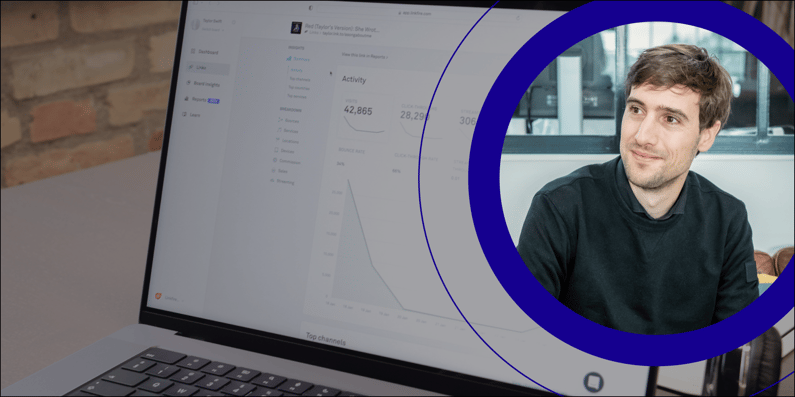 Q: Nik, what will you focus on in your new role?
Our Product & Data team's mission is to leverage data to create valuable product experiences and grow the business. To achieve that, we focus on establishing a product-led and data-centric organization and an outcomes-driven culture. You could say that the product and data management and operations team is creating process-as-a-product.
Q: How common is it that both product and data are combined in the same role?
All products we are developing at Linkfire are data products, meaning data is at the core of their value creation for our customers and partners. I believe all data should be treated as a product, too, following customer and user needs. Besides, I have an educational and professional background in both areas, which is why this is a very natural combination for me.
Q: What are your thoughts on data privacy?
We want to create the best product experiences for our users, and we, of course, need data to achieve that. At the same time, we respect their individual privacy and do not, for example, require any personally identifiable information (PII) or web cookies to create relevant content recommendations for consumers on our discovery network and unique insights for our customers and partners.

Q: When did you join Linkfire and what achievement at Linkfire makes you most proud?

I joined Linkfire in May 2021 as Head of Product. Besides connecting more and more consumers with relevant entertainment content and rapidly growing the size of our discovery network, I am proud of the faster time to insight and increased decision-making efficiency we achieved by redesigning our data platform and domain mapping, as well as standardizing and automating many processes.

I'm even happier about some of the organizational improvements our department has driven. We've established cross-functional value streams with clear missions and ownership, as well as professional functional communities of practice integrated into a holistic product and data strategy. All of the above is based on a culture of empowerment, learning, and action.

Q: What is your leadership style and what motivates you?
I am motivated by the same drivers I use to lead my team: autonomy, mastery, and purpose (credits to Daniel Pink). I believe in empowered teams and individuals who require context and not control, are curious by nature, and want our work to have a positive impact on our company, teams, and society.

Q: Linkfire's SaaS marketing platform transformed music marketing, and we're now building a global recommendation network for audio entertainment discovery to connect even more fans to the content they love. What's your favorite audio entertainment?
That's easy: I can highly recommend the Lex Fridman podcast if you want to be inspired by captivating, long-form conversations about the nature of intelligence, consciousness, love, and power.
Q: Where can people connect with you and follow your work?
I am mostly active on LinkedIn, where I share my thoughts on product leadership, data science, software development, and decision intelligence.