To some artists, the word "marketing" can be daunting. But mastering the concept is not only essential to spreading the word about your music—it can also be a whole other creative avenue.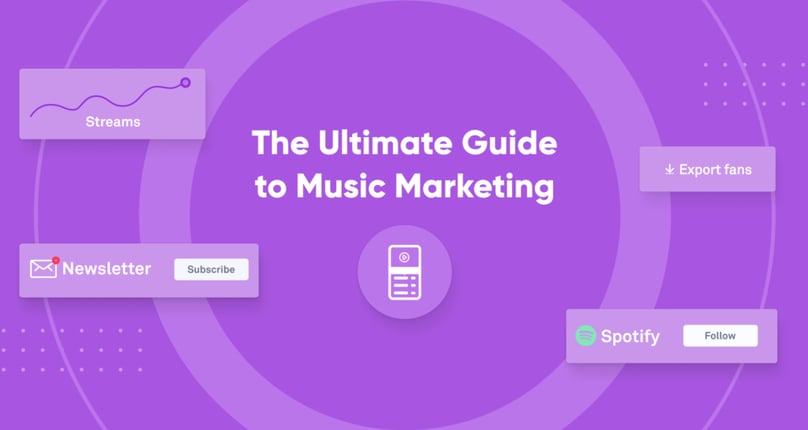 In this comprehensive guide, we'll walk you through everything you need to know about music marketing. First, we'll get you up to speed with a few basic definitions and an overview of the music industry landscape. Then, we'll move into some of the fun stuff like creating a strategy, building your artist brand, and launching a campaign. Finally, we'll share what to look for when evaluating the myriad of music marketing tools out there—and most importantly, how to measure success.
Jump to a section:
1. What is music marketing?
You've probably been promoting your music ever since you started releasing your own tunes. But music promotion is just one piece of the puzzle.
The aim of music marketing is to grow as an artist (gain listeners, fans, and get your music noticed) while ultimately monetizing that growth in some way.
Your music marketing goals can be as broad and long-term or specific and short-term as you want. Some artists want to get signed to a major label, while others want to score a review on an indie music blog. Some want to sell out a headlining tour, and others want to sell a certain number of copies of their EP.
As your music career evolves, so will your music marketing goals. No matter which stage you're at right now, there are tons of ways to get the wheels spinning.
Before we dive into that, let's continue building our foundation of essential music marketing terms and concepts.
Traditional vs. digital music marketing
For years, traditional marketing embraced the notion of the 4 Ps:
Product: what you're selling
Price: how much you charge for the product
Place: where customers can buy your product
Promotion: how you get the word out about the product
While this model has worked well for physical products, it falls short for digital products and experiences—including the way we consume music today. That's where the 4 Es come in:
Experience: instead of focusing on a product (e.g., a new single), create an entire experience around it to attract listeners and get your fans excited
Exchange: instead of focusing solely on monetization, consider how you can create value and help fans feel more connected to what they're buying (e.g., allowing fans to download your new track in exchange for their email address—instant way to communicate in the future!)
Everyplace: think digitally and globally rather than focusing on a single place (e.g., a brick-and-mortar indie record store)
Evangelism: word of mouth now spreads farther and faster than ever before—let your passion shine through and ignite fans to share your music
There's room for both traditional and digital music marketing in your campaigns—the 4 Ps and 4 Es can happily coexist! Your strategy will need to bend and evolve depending on what and how you're marketing, and both concepts can be great frameworks for guiding your campaign. The key is to get a good understanding of these core ideas to help you plan your marketing.
The marketing funnel
Let's focus on your fans for a moment—specifically, the folks who don't know they're your fans yet. Your goal is to move them through something called the marketing funnel, which is just a colorful way of describing their journey to becoming your fan.
The funnel generally has five stages: attract → engage → convert → delight → retain.

Here's an example of the funnel in action:
You decide to run a Facebook advertising campaign for your upcoming 7" vinyl single targeting fans of Coldplay, because you think they'd like your sound (attract). It earns your Facebook Page 100 new fans. Now, you ask your Facebook fans to respond to a post with their favorite color; the winning hue will become the vinyl color for your new single (engage).
When the single comes out, fans buy it (convert). But in the meantime, you keep up the engagement by building hype and getting these new fans invested in your music, which earns you 30% more Spotify streams (convert).
When the vinyl single arrives to your fans, they discover that the sleeves are signed! (An easy and classic way to delight.) At this stage, you've got some happy customers, who you'll be able to retain as long as you keep them engaged with you and your music.
The above scenario is just one example of how the funnel could work. It's easily moldable to most every music marketing plan and a solid map for achieving your end goal.
2. The music industry landscape
It's definitely not news to you that the music industry is evolving faster than ever. Streaming has completely changed the landscape for everyone, artists and listeners alike. Today, there's more competition, more artists, and more music, thanks to the internet and the many ways we consume it. This presents a lot of challenges, but also many new opportunities.
In some important ways, the music industry is being democratized more than ever before; suddenly, artists have more power than labels. Because you're now able to become your own distributor, your music can land on a hot Spotify playlist without any label involvement at all!
The flipside is that because of our collective digital riches, people's attention spans are getting lower and lower every year. With over 60,000 new tracks added to Spotify per day (that's one per every 1.4 seconds!), it's no wonder we're flitting from song to song almost constantly.
We get it—this highly competitive, highly evolving world can be intimidating. But the important thing is to still treat the music industry like a business—your business. Start with a commercial mindset (alongside your creative one), keep up on industry trends, and understand how the key players can help you in your own music career.
3. The key players of music marketing
Because marketing is such an important area to focus on within your music career, the key players you'll work with are probably going to be similar to the team you may already have around you. Here are a few examples of those folks, their roles, and how they can help your campaign.

Labels
The pros and cons of working with a label deserve a whole separate article. But in regards to your music marketing, labels often come with a built-in team and abundant resources to power your marketing machine. (After all, since you're their artist, it's in their best interest to market you well.)
While it's obviously helpful to have those options and tools at your fingertips, it often means giving up a lot of control over your marketing campaigns and, sometimes, even your artist branding (we'll discuss that more in a bit).
The good news is that, even as a DIY artist, you can assemble your own team of music marketing superheroes to help you design and execute campaigns. Staying independent truly doesn't mean you have to do it all yourself! Hiring a publicist, a manager, and more means that you can focus on your area of expertise (making music!) and let them focus on theirs.
Learn more: How to market your music independently
Distributor
The role of a distributor is conveniently in its name. If you're a signed artist, the label will have distribution services built in. But as an independent artist, you'll work with a company like CD Baby, TuneCore, or DistroKid to get your music on streaming services like Spotify and Apple Music. Some distributors can also help facilitate the creation of physical releases.
Some distributors will even offer music marketing services, depending on your budget or where you are in your career. It's worth doing some research and consulting with your team to see what the best fit is for you.
Artist manager
Your manager handles all aspects of your career and is also there to advise you along the way. This person has a vested interest in your success. They should understand the landscape and current trends of the music industry enough to guide you in making solid decisions in regards to your music marketing.
If you don't currently have an artist manager, perhaps you're still comfortable handling those logistical aspects of your career yourself. But if the time comes where you feel overwhelmed by the "business side" of music, then it's time to find someone who can give you a hand.
Publicist
A good music publicist will not only take the press-related parts of your music marketing strategy off your hands, but also use their own expertise and contacts to supercharge your PR strategy. So, if your marketing goals include reviews, articles, interviews, appearances on podcasts, etc., hiring a publicist might be a way to get that process started with a bang.
Notice that not all members of an artist's team are included here. For example, your live agent will touch certain points of your music marketing strategy, but their role will mainly focus on bookings and touring. Remember that all of your team is there to support you in whichever ways you feel comfortable.


4. How to create a music marketing strategy
Your music marketing strategy can be as simple or as complex as you want it to be, depending on what you're trying to achieve.
A few things to consider before you start getting down to the nitty gritty of planning:
Goals: Try to be as specific as possible, whether they're qualitative or quantitative (e.g., "I want my new music video to get 1,000 views on YouTube in its first 24 hours," "I want to land my new track on a Spotify playlist," etc.).
Branding: We'll dive into this more in the next section, but make sure your strategy aligns with who you truly are as an artist.
Target audience: Your marketing strategy will encompass both attracting new fans and engaging with existing ones. Try profiling who you're targeting in a specific way (more on that below).
Budget/resources: What can you realistically afford to spend on a music marketing campaign, in terms of both time and money?
Team: Clearly establish what roles will your team members play in your music marketing strategy.
Fan personas
Creating fan personas makes it easier to hone in on who you're targeting with your music marketing. Basically, you're creating a fictional character that's based off of what you know about your fans. Then, you'll give that character a little back story. For example:
Amelia: mid-20s, lives in New York City, longtime fan since first single, goes to 10+ concerts a year, avid merch buyer, engages regularly with your social media posts
Sean: early 30s, lives in the Midwest, new fan (<6 months), follows your social media accounts but doesn't interact, mostly streams music, doesn't attend concerts
Olivia: late teens, lives on the West Coast, attached to her iPhone, just discovered your music via her Spotify Discover Weekly, and is at the top of your marketing funnel
How you market to Olivia is going to be very different from how you market to Amelia; they're both at different levels of familiarity and engagement with your music. When crafting your music marketing strategy, get to know these fan personas in your planning. Making a goal of reaching "Sean," rather than a random list of qualities, will give you a better mental picture of who you're targeting. This makes it much easier to communicate in a way that will actually resonate with people.
Music marketing with the SOSTAC method
If you've ever used a good ol' SWOT analysis (strengths, weaknesses, opportunities, threats) to guide your music marketing, it's time to level up. The SOSTAC method goes further in depth on a series of steps to really dig into your strategy.
Situation: Where are you now in regards to what you want to accomplish with your marketing plan?
Objectives: Where do you want to be in your music career? What do you want to be the end result of your plan?
Strategy: How will you achieve your objectives, generally?
Tactics: What are the specific actions you can use to get your strategy rolling?
Action: Create a plan based on your strategy and tactics.
Control: Did you achieve your goals based on everything listed above?
The last step of SOSTAC is incredibly important. Make sure you measure the success of your music marketing campaign to keep fine-tuning your strategies. We'll come back to this at the end of the article.
Read more: What every indie artist can learn from Tolstoys's release strategy
5. Define your artist brand
Now that you know the basic ingredients of a solid music marketing strategy, let's turn our attention to artist branding.
Branding isn't just for companies and superstars. Even if you're in the earliest stages of your music career, it's crucial to start thinking about the specifics of your artist brand. As you define it, you'll figure out exactly how to communicate in all aspects of your music marketing.
Your unique artist brand should encompass:
Your artist story: Why do you make music? What's your backstory? Who inspired you to become an artist?
Your visual identity: Design a personalized logo for your music that you can use across everything from your website to your merch.
Your values: What things matter most to you? Are you a contributor to a particular charity? Is your lifelong goal to remain an independent artist? If you're still having trouble defining your values after giving it some thought, make a list of things you're passionate about that trigger an emotional response in you.
The 3-hour brand sprint
Here's an exercise that companies like Google have used to define their own brand. The roughly three-hour process, or sprint, is broken down into six exercises with distinct purposes.
Your motivation as an artist:
20-year roadmap: set some long-term goals for your career
What, how, and why: define the reasons you're an artist
Break it down in detail:
Top three values: what three things or ideas do you care about most?
Top three audiences: who are you making music for?
Position yourself within the music industry landscape:
Personality sliders: compare and contrast adjectives that describe you as an artist, then decide which you more closely identify with
Competitive landscape: find other artists who are on your level or a step ahead of you, and analyze their paths
If you're still having trouble defining your artist brand, you can hire or lean on your team members for help and guidance.
6. What goes into a music marketing plan?
After you've fleshed out your strategy and brand, you can start digging into tactics for accomplishing your goals. A simple way to get started is by making an outline of your marketing plan with some specific actions and considerations, including:
Target audience: Who do you want to speak to with your marketing campaign? Ideally, you should engage all audiences, so think of what messaging is effective for:
Strangers
Passive fans
Casual fans
Engaged fans
Super fans
Specific campaign elements: These can be run and timed throughout your campaign. Try integrating things like giveaways and contests, playlists, video messages, and more to keep the excitement and engagement rolling. (Hint: Smart links help you track clicks, engagement, and more across all of your marketing channels.)
Design evergreen plans: What happens when this marketing campaign ends? Start thinking in the long term about how you'll continue to hype your project and music beyond the initial drop.
Decide how to measure success: What might count as success for a single release (number of sales or streams) might be different from what counts for a giveaway (number of entries or email addresses collected). Choose which metrics matter to you most, and stick to them. Seek to understand why they matter to you and how you'll use them in your overall marketing strategy.
7. How to run a music release campaign
Although it's part of music marketing, a music release campaign is actually a whole different animal. While music marketing encompasses your entire strategy for growing your fanbase, leveling up your career, and more, a music release campaign is very short-term—usually only about 30-60 days.
During the campaign you're only focusing on promoting one product: your new track, album, EP—basically, whatever new music you're releasing. Music marketing is about the long game and will be an omnipresent part of your music career.
Your music marketing strategies, however, should be in full play during your music release campaign. They can take the form of:
Pre-release teaser music videos or song clips
A single release
Streaming pre-save incentives and instant grat tracks
Social media giveaways
A huge in-person or virtual release party on the big day
Live shows or touring after release
Those are just a few examples you might want to consider for your music release. Notice how they're hyper-specific to the occasion, and the campaign doesn't end on release day! Meanwhile, your overall music marketing plan is more general, but still drives those milestones in your career.
8. Establish your key music marketing channels
Music marketing can and does happen on every platform—virtually or otherwise. As an independent artist, the key is to focus on just a handful of channels at a time where you think you can make the biggest impact. It's better to do a couple of platforms really well than to spread yourself too thin and not gain traction anywhere.
Here's a short list of channels to consider, and a few examples of how to get started.
Use this as your music marketing hub where your promo materials like photos, bio, electronic press kit (EPK), and more live. Also, think of it as home base for running giveaways and contests—entries are a great way to collect email addresses for your engaged fans.
Tip: If you don't have the time or experience to set up a full website right now, try a Linkfire bio link or reward link. You can have a beautiful, trackable landing page up and running in minutes!
Speaking of your EPK, you do have one of those, right? Making a digital EPK means you can quickly and easily send everything from full album audio and press pics to tour dates and videos with just a quick link.
Social media is pretty much synonymous with marketing for most artists today. Make sure you create official accounts on Facebook, Instagram, Twitter, YouTube, and TikTok for starters. Then make sure to keep them current and updated; social media is typically the first place people go to find out more about you and your music.
Vary your content depending on what you're promoting, and don't be afraid to jump on trends—your fans will most likely engage with and share your posts—and you never know, you might wind up going viral.
Read more: How to promote your music on social media
Alongside your social media marketing, you should set aside a budget for paid advertising across platforms like Instagram, Facebook, and even TikTok. This may be something you save for short-term campaigns (like a music release announcement or music video launch) or run long-term in a more generic way (e.g., for an entire summer tour or a months-long album roll-out campaign).
Many artists stumble into the pitfall of assuming social media suffices when it comes to directly communicating with their fans, but email newsletters are still crucial. By building a robust email list, you can not only directly communicate but easily track clicks, engagement, open rates, and more to understand what triggers your fans to act. It's also a simple way to personalize the fan-artist experience (think: sending weekly tour diaries, exclusive video updates, music previews, etc.).
Learn more: Email marketing for musicians: 3 smart ways to grow your list
SEO, or search engine optimization, helps your website rise in search results for certain terms. To figure out what terms you should focus on integrating in your website, try using an SEO tool like Google Ads Keyword Planner, or plug different terms into Google Trends if you want to see the bigger picture. Obviously, it's harder to rise in the search results for something like "music," but if you get hyper-specific (like "stomp-folk music"), you'll have a better shot at appearing higher in search results.
Depending on where you are in your career, you may or may not need a music publicist. However, you should be seeking out opportunities like interviews, album/single reviews, and even podcast appearances to share your story and promote your music. If you find yourself getting bogged down with that side of your career, then you may need the help of a professional.
It's no secret that playlisting leads to music discovery, fan engagement, and so much more. Winding up on the right playlist can elevate your career virtually overnight. Unfortunately, playlists edited by influencers are hard to control, but there are still ways to boost your streams enough to get your music heard and hopefully added to a popular playlist.
In the meantime, why not create your own? Try making a themed playlist with some of your favorite tracks, and throw one or two of your own songs into the mix.
Live shows (in-person concerts and/or live streams)
In today's unpredictable landscape, live concerts aren't always a given. But live streaming can be a more intimate and special way to reach fans who might not be able to see you in person.
Wherever your live show happens, it's a chance to market to fans by mentioning your merch for sale, giving them a heads up about a new album and a pre-save campaign, or simply showing off your new logo or branding.
Landing a sync (a song placed in a TV show, movie, or commercial) is a killer way to market your music and grow your revenue. Most people who hear a song they like fire up Shazam to identify and save songs they like. Just this year, Shazam has surpassed one billion song matches per month, which shows that a ton of people regularly use the app. In fact, some music marketers use "Shazams" as an important marketing metric.
Getting your music synced can be a complicated process, but working with a company or partner who has connections to sync agencies, music supervisors, or production folks can help you get your songs to the right people.
Likewise, collaborating with another artist who has a more substantial following can introduce new ears to your music. You'll also be part of that artist's marketing campaigns around the release, so it's a great way to amplify your own efforts.
Partnerships and sponsorships
At a certain level of your career, you can start seeking out partnerships and sponsorships with companies, organizations, or charities. Make sure that your partners align with your brand as a musician, and that you're clear about how your music and image will be used in their campaigns. Generally, these types of deals are a great way to get your music heard by a wider audience, and potentially even add another revenue stream as well.
Keep in mind that these channels aren't just for when you release new music; they should also be in play in your day-to-day career. You can always mine your back catalog to breathe new life into old content or reinvigorate the hype around a previous release.


9. How to choose the right music marketing tools
There's no shortage of music marketing tools available to artists today. It's easy to get totally lost in the whirlwind. Focus on tools and services that:
Accomplish a specific goal for you (editing videos, sending out newsletters automatically)
Help you become more efficient (cross-posting your music video, pre-planning social media posts)
Raise awareness of your music (hiring a team member who has relationships with playlisting influencers or music journalists)
For specific ideas of platforms to use, check out our roundup of 9 music marketing tools that every artist should use.


10. How to measure music marketing success
Just like there are seemingly limitless music marketing tools out there, data from those tools is virtually infinite. There's a way to measure most everything you do as an artist.
But not all data is created equal. And if you focus on all of it, you run the risk of analysis paralysis—being so overwhelmed that it's impossible to decide which data to use to make a decision.
Here are a few important and easily measurable metrics to use when analyzing your music marketing:
Email list subscribers
Followers across DSPs
Social media engagement rates
Overall streaming numbers
Merch and ticket sales
Just like success might look different for different aspects of your music marketing, your measurement tools might also differ. Decide what's important to focus on for specific campaigns, and make note of it when you outline your marketing plan.
Read more: Music analytics 101
Final thoughts
Music marketing is crucial to your success as an artist, but it's also a process of trial and error. The more campaigns you run, the more you can hone your strategies and create more specific and detailed plans. Remember to always review and reflect on what went well and what could have gone better in your campaign to make your next one that much better.
It's easy to fall into the trap of thinking you need to do and try everything to market your music, but it's important to not burn yourself out with every single marketing tactic under the sun. Try out a few different strategies, see what works, and then adjust your plans and prioritize. Also consider your own bandwidth and resources; being realistic about what you can accomplish will take you far.
If you're looking for a way to simplify your music marketing efforts effectively and efficiently, Linkfire offers a ton of ways to automate, customize, and easily measure the results of your marketing campaigns. It brings together elements like bio links, pre-save campaigns, contest landing pages, and much more—no more hunting for different platforms to host different types of content.
Whatever your goals or career level, Linkfire can support your music marketing as you grow. Track new channels as you expand your online presence, invite collaborators to your workspace as you bring on new team members, and add more advanced features to your account when the time is right.
Since all Linkfire plans come with a free trial (no credit card needed), you can give it a test drive before committing to make sure it has all the features that are important to you.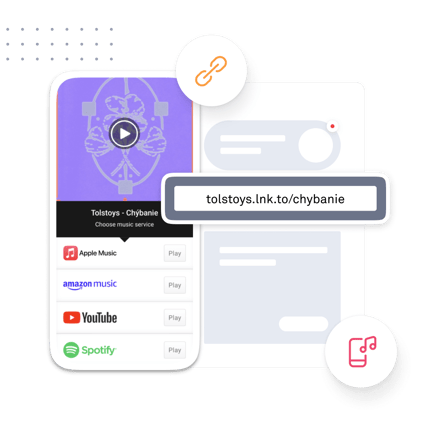 Ready to put these tips to use?
Get eye-catching smart links and landing pages to use in all your music marketing efforts with Linkfire.
Get Linkfire's curated tips straight to your inbox and become smarter in music marketing. Subscribe to our newsletter.