Smart links do all the heavy lifting for your music marketing, so you can refocus your time and energy on what matters most to you. Read on to learn about the seven types of smart links and how to create them.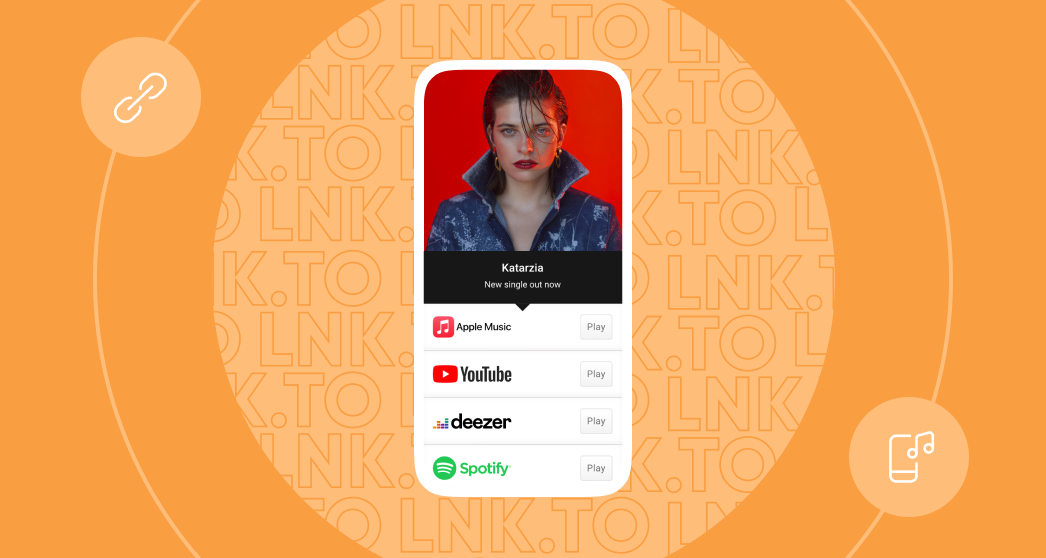 Gone are the days of sharing long, ugly links that route fans to music services they may not even have. Savvy artists know to always use smart links—branded, customizable, trackable links that drastically simplify online music promotion.
In just a few clicks, you can create beautiful landing pages for your music, shows, and other content that automatically adjust to your link visitor's location and device. And of course, a better experience for your fans means more successful music marketing for you—it's a win-win all around that deepens the artist-fan connection.
What does a smart link look like in action?
When we talk about smart links, we're usually talking about two components: the URL and the landing page.
The URL is what you share across all your different channels to promote your music. Here's an example of what it looks like: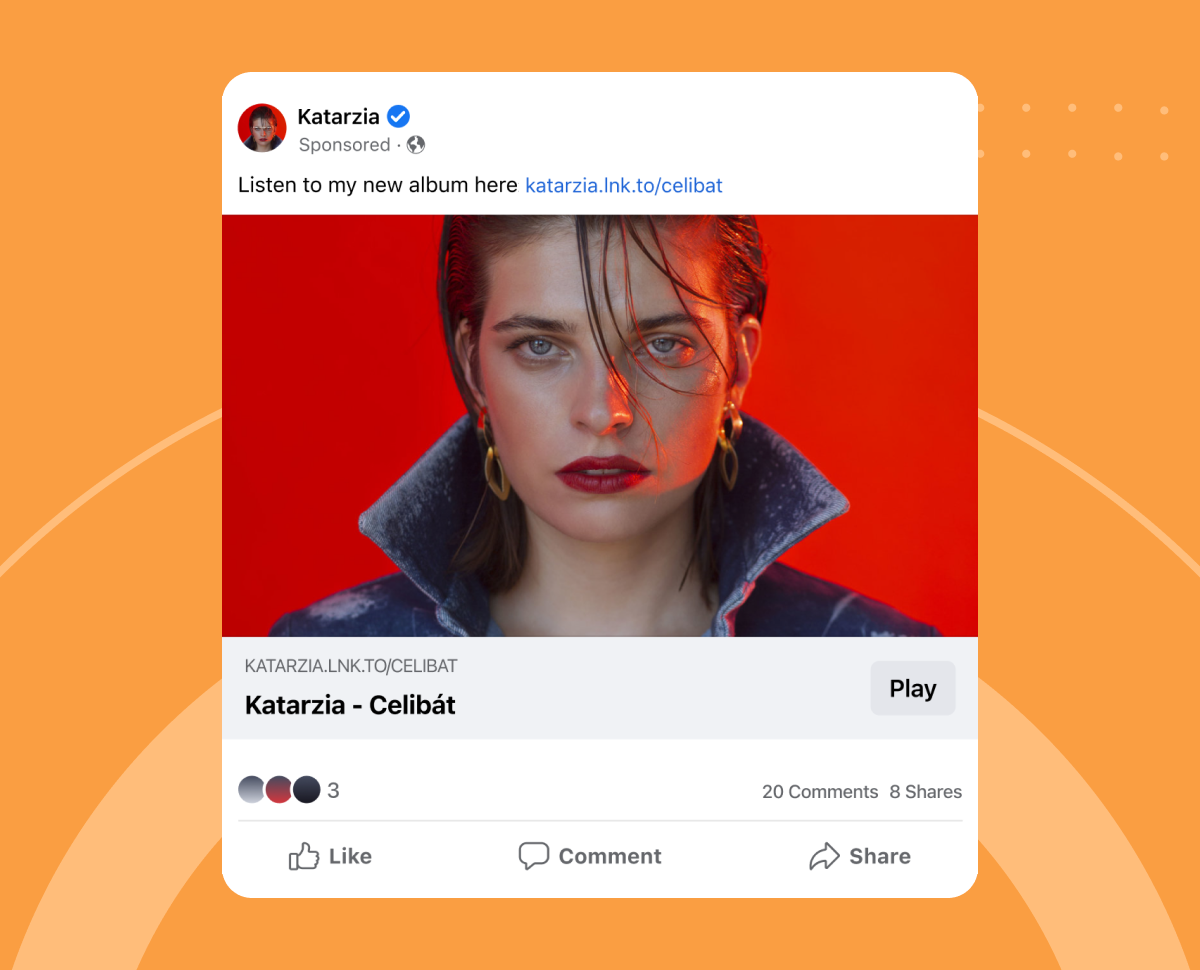 Unlike regular links with random characters, you can customize the URL of a smart link so that it includes your artist name, release name, campaign name, or any other key branding elements. This lets your fans know exactly what to expect when they click, which increases the likelihood that they'll engage with your content.
The landing page is what people see right after clicking on the URL. You can think of it as a highly customizable microsite with your own visuals, descriptions, and over 250 services to choose from. By listing several services and letting fans select their favorites, you can be sure that you're not leaving any clicks, streams, or purchases on the table.
Here's what a typical album release landing page looks like: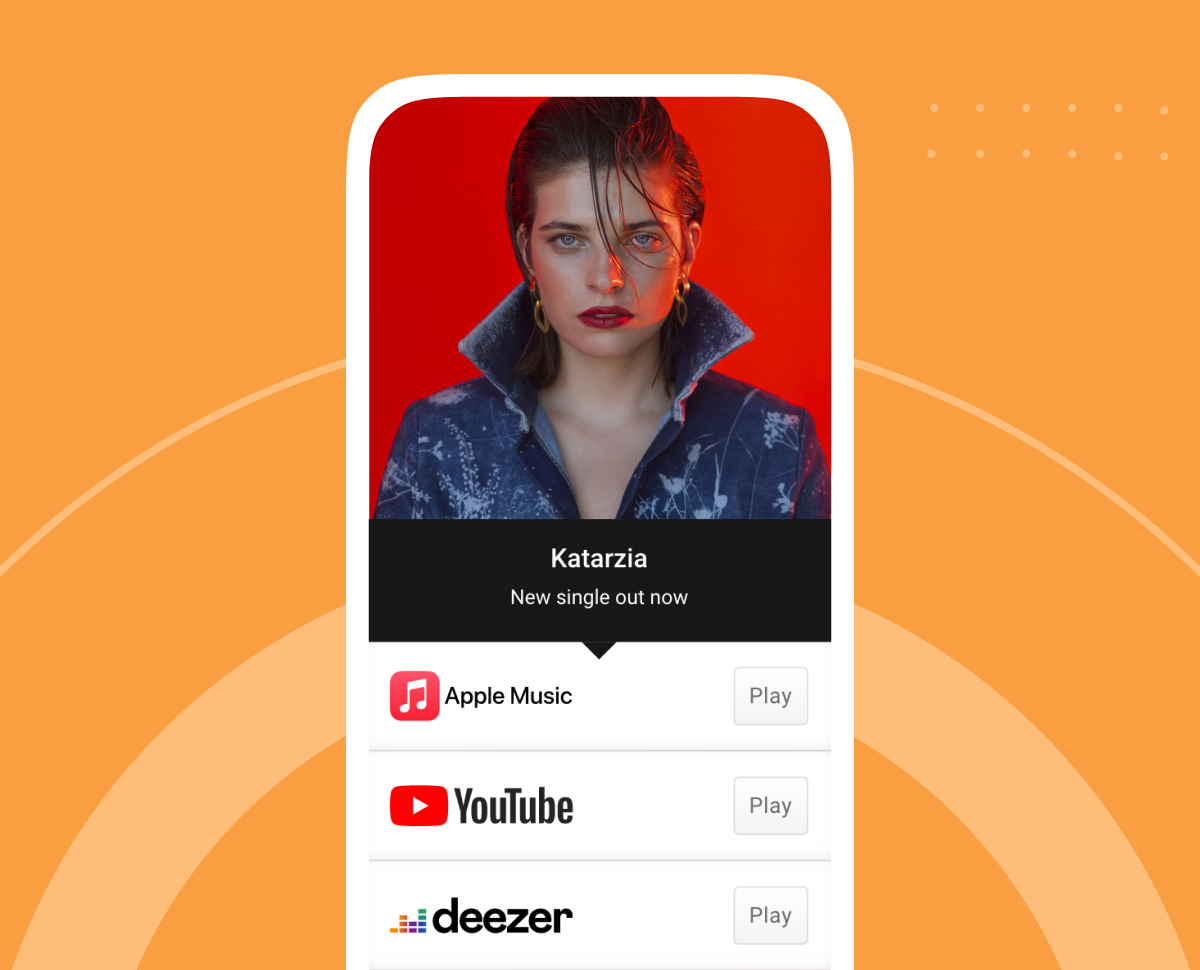 These smart link landing pages generally convert better than standard website pages because they're clean, responsive, and focused on a specific call-to-action. Plus, they're way easier to set up than a typical website. You can generate a professional-looking landing page like the one above in no time, with zero coding or design skills.
Certain smart link platforms like Linkfire will take a single URL, scan it, and instantly identify matches across other services, so that you don't have to waste time finding and adding each service manually. The landing page will automatically display a list of relevant service destinations tailored to the link visitor's location.
Can you use smart links for other things besides music releases?
Absolutely! Smart links are a perfect fit for your pre-save campaigns, Instagram bio link, upcoming shows, merch coupon codes, podcast episodes, and everything in between.
In fact, we're big believers in wrapping every link you publicly share in a smart link. That way, you'll be able to maintain brand consistency, measure visits and click-throughs, gain deeper insights about your audience, and keep everything you're promoting nicely organized in one dashboard. (Pro tip: If you don't need a landing page and just want to link directly to a website, use a content link.)
There are a few different smart link platforms out there, but if you're specifically looking to create smart links for music, you'll find that Linkfire is the industry standard. It's trusted by every major label and over 50,000 artists worldwide.
As you grow in your music career journey, Linkfire is flexible enough to adapt to your changing needs. You can track new channels as you grow your online presence, invite collaborators to your workspace as you bring on new team members, and add more advanced features to your account when the time is right.
Plus, Linkfire is the only smart link platform with exclusive streaming data partnerships that give you a more complete picture of the fan journey.
Learn more:
What kind of smart links can I create to promote my music?
Linkfire offers seven different link types, each tailored to an essential component of modern music marketing:
How do I create a smart link?
When you use Linkfire to create smart links, you'll get access to a dashboard filled with all the intuitive design tools, effortless automations, and unparalleled insights you need.
If you don't already have a Linkfire account, you can sign up for a free trial here and create your first smart link in seconds. Once you're logged in, here's what to do:
Hit the green "create link" button in the upper right-hand corner.
Choose the type of link you want to create.
Paste in a link to your album on a streaming service, a playlist link, or a direct link to any website. We'll automatically scan the URL and show you the details and services we've pulled in for your landing page.
Customize your landing page to make it look exactly the way you want, then hit "publish."
More of a visual learner? Here's a step-by-step video tutorial:
I made a smart link! What's next?
Congrats! It's time to share your shiny new smart link with the world. We'd recommend starting with your social media channels, email newsletters, and YouTube video descriptions, but the possibilities are endless. Here are a bunch of ideas to get the most mileage out of your smart links.
Be sure to keep your bio link up to date with everything you're promoting. You'll also want to regularly check your Linkfire Insights page to keep track of your progress, measure your success, and understand your fans' preferences.
The more Linkfire links you create, the better you'll get at making smart marketing decisions for your music!
Get Linkfire's curated tips straight to your inbox and become smarter in music marketing.Subscribe to our newsletter.