We had an inspiring couple of days learning from the top thinkers in music tech. Here's a recap of our takeaways from the second annual Music Tectonics conference.
Music Tectonics 2020 was the latest in a string of conferences this year to reimagine the experience in a virtual environment. Thought leaders across the entire music and tech landscape offered unique perspectives on how music intersects with mixed reality, social video, gaming, fitness, and other industries—with plenty of opportunities for networking sprinkled between sessions.
We particularly enjoyed the thought-provoking keynotes from Cherie Hu (Water and Music), Mark Mulligan (MIDiA Research), and Scott Cohen (Warner Music Group). And we'd be remiss if we didn't mention Music Tectonics Director Dmitri Vietze's rotating costume selection that kept all of us on our toes: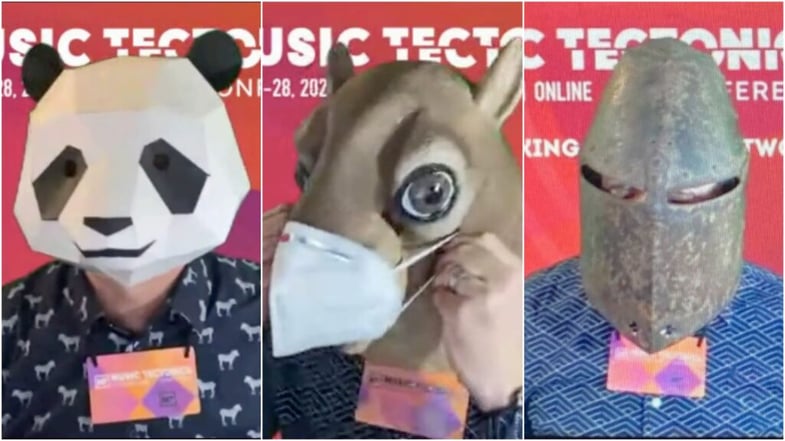 Safe to say the bar has been set.
Day one of the conference featured our very own Carlo Biagioni, head of sales & channel partnerships. He presented a detailed rundown of Linkfire, gave some great pointers on music marketing, and showcased some of our newest features.
"Bio links are the latest edition to our platform," Carlo explained in his demo. "An artist can use one link to promote everything they've created." Other types of smart links are useful when you want to drive all of your traffic to one place, such as a new release or an event page. But bio links were designed with social media channels like Instagram in mind, where it's crucial to make one click count.
"One of the key points that makes us quite powerful in your music marketing strategy is that music crosses borders," Carlo continued. "You can design landing pages to speak more than one language. You're able to get the correct match in each country's store, hyper-localize, and make sure every fan is getting the right experience and goes to the right place when they click on your link."
Carlo went on to explain how, unlike other smart link platforms, Linkfire's Insights dashboard lets you see beyond just link click-throughs. "Understanding your audiences means understanding their tendencies," he said. "As the discovery starts to happen, we start to track it. Every link has its own insights, and we also have Board insights to give you a holistic view of the business and the audiences you're collecting…. Our partners provide attribution data exclusive to Linkfire, giving you a true vision of what's coming through your pipes." More specifically, those partnerships are what allow you to see streams, sales, and other invaluable data about your fans' listening behavior and preferences.
On the final day of the conference, Linkfire's Chief Business Development Officer Andrea Arcari spoke on a panel called "The Future of Monetization Is Fandom." Seth Schachner (managing director, Strat Americas) moderated a lively discussion with Andrea, Jacquelle Amankonah Horton (product manager, Google), and Tom McNeill (creator partnerships manager, Patreon) about how artists can capture additional revenue through new forms of fan engagement. The panelists touched on everything from the future of subscriptions to digital merch to VIP experiences.
A large part of the session was centered around how artists should "look beyond the pristine product that ends up on a streaming service, and look at what else you can create of value," as Tom put it. Jacquelle added that anything outside of the "normal transaction" of listening to the song can be considered fandom. She pointed out that the artist may only be getting paid pennies for these normal transactions, but when superfans spend hours a day obsessing over the artist, that can be leveraged on the advertising front. "Instead of pennies, it can be much more per fan continuously throughout the year," she said.
This transitioned into a conversation about the attention economy, where Andrea addressed the importance of hitting fans with the right message at the right peak in their attention. "You want to be where your fans are," he said. "Turn that moment of discovery into an actual fan."
At the end of the session, Tom put things in perspective with an important reminder: "The thing that drives the music industry is musicians. Put creatives and their needs first. The label side of things has been hugely important for breaking artists, but artists are now in a very strong position."
Get Linkfire's curated tips straight to your inbox and become smarter in music marketing. Subscribe to our newsletter.