The Deezer partnership is the latest step in our declared mission: Making music streaming data accessible and actionable.
Linkfire is partnering with Deezer, one of the world's leading on-demand digital audio streaming services. The partnership allows artists, managers, and their teams to see streaming data from the service directly in their Linkfire Insights. Learn what actions fans take in Deezer after clicking on a Linkfire smart link, such as playing a song, or adding it to their library or a playlist. Data provided by Linkfire smart links will empower artists and their teams with the ability to market their music in the most effective manner.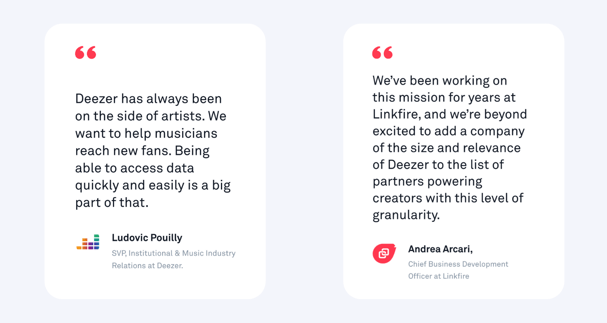 Deezer helps music fans in over 180 countries around the world access 56 million tracks. The platform has a wide range of features to drive listening, including an international team of editors, who curate a wide range of playlists with both local and international tunes. Deezer also offers a highly personalized user experience through its signature feature called 'Flow', which is an endless stream of music that combines recommendations from Deezer's in-house algorithm with editorial recommendations.
Deezer Streaming Insights
The partnership is part of our continuing commitment to make music data accessible, enriching the insights available to our users. Providing insights at this level allows artists and their teams to optimize their music promotions, reach more fans, and grow their careers. These insights are essential to inform ROI on spend and evaluate ongoing campaigns—whether you're an up-and-coming artist or managing a front line release at a major label. Setting clear goals helps you measure what's working and what isn't so you can modify your campaigns ongoing.
Deezer joins our list of existing data partners, including Apple Music and Pandora, with more coming later this year. Other current integrations include Traxsource, Anghami, and Boomplay.
Among the data points the Deezer partnership includes are Streams, Add to Playlist, and for the first time in Linkfire, Save to Library. Linkfire users can now measure the efficiency of their marketing campaigns and attribute the success to specific metrics within Deezer's platform.
For more about exploring Deezer data in your Linkfire Insights, check out this Help Center article.
Get Linkfire's curated tips straight to your inbox and become smarter in music marketing. Subscribe to our newsletter.