Have you seen your favorite artists using short links such as lnk.to to direct people to beautiful landing pages where they promote their latest releases, tours, and other content related to their music?
What is a smartlink?
The online world is built on links, Short for 'hyperlink', a link takes you from one place on the web to another—from a to b. Smart links offer up far more possibilities. Instead of directing visitors to just one site or page, they can take them to multiple different destinations.
For anyone promoting music in the digital age, smart links solve a lot of problems. Audiences across the globe are listening to music through hundreds of different services and apps. One single smart link can reach them all, giving them an experience tailored to their individual needs.
How does a smart link work?
The way a smartlink serves every visitor who clicks through is by taking them to a landing page. This is a microsite which offers the visitors the choice of where to go next.
Let's imagine you're promoting your latest single. You announce the release with a Facebook post, and include a link to the song on streaming. But which streaming site do you pick? Using a regular link, you can only choose one, but your audience streams your music through many different services.
When using a Linkfire smart link, fans are directed to a landing page featuring numerous streaming services to choose from. This makes the experience better for them, while increasing your potential number of streams.
Features of smart link
So what are the elements that make a smart link so…well, smart?
Customizable music landing page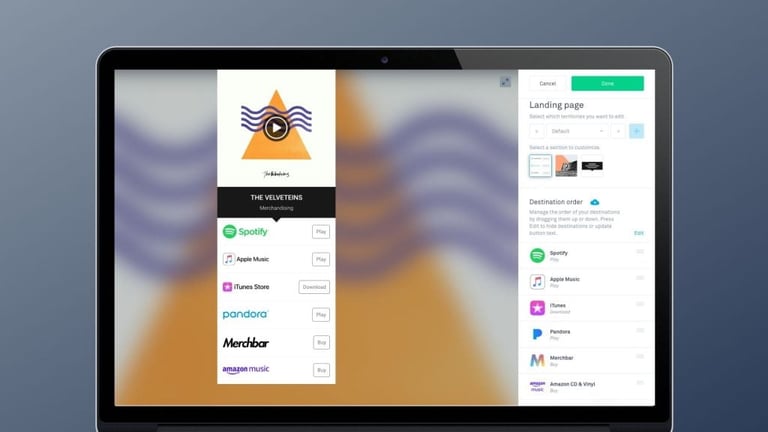 It's easy to align smart links with your style. Most parts of the landing page are generated automatically when the link is generated, but they can all be customized to fit your needs. You can change up:
The artwork
The text
Featured video or audio snippets
The list of services


Powerful automation
Just because smart links do more than regular links, that doesn't mean they're more difficult to make. A smart link platform does all the heavy lifting, automatically scanning for music matches across services. At Linkfire we give our customers the option to choose from over 250 music services and retailers.
This means you don't have to input links to all your release on these services, one-by-one. The smart link app will also automatically create the links' landing pages and social cards (the page previews which load on social when you share a link).
Users themselves can adjust the parameters of the process, giving them full control over link creation with none of the workload.
Detailed audience insights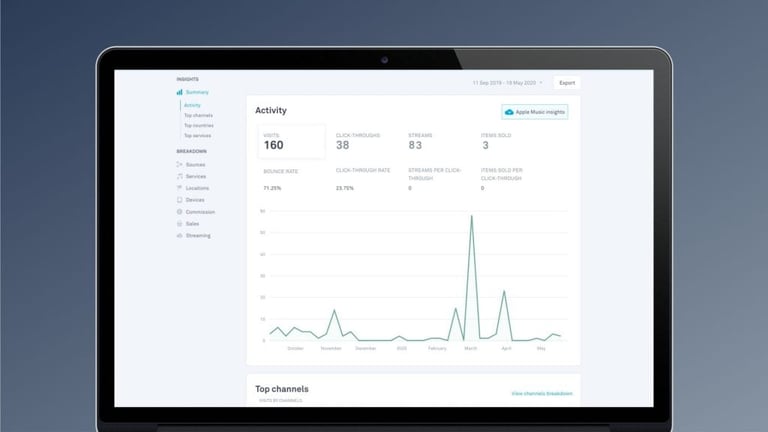 A smartlink can tell you a lot about your fanbase. It collects data points for every visitor who clicks through, giving you the chance to build a detailed portrait of your audience's locations, listening habits, apps of choice, and much more. How deep you go into these analytics is up to you. But it's important to find a smart link tool that presents these stats in a clear, easy-to-navigate way.
Audience insights are crucial for optimizing the way you promote your music online. They can also help you make decisions around touring or even in what direction to take your songwriting.
Customizable domains
With a smart link, you have the freedom to add your own personalized domain or subdomain.
Normal links are often long and composed of random letters and numbers. Edited with your own domain, smart links fit perfectly into your brand. Their low character count also makes them far more shareable across the web, and they appear more trustworthy to visitors.
Smart links for music
There's different smart links to choose from, depending on what exactly you're promoting. They're all customizable, highly shareable, and collect invaluable audience data.
Song link or release link
This is the link to choose if you want to promote a single track, album, or EP. They can also be used for sharing podcasts.
Pre-release link
It's now more important than ever to build momentum for an upcoming release. This way you can maximize your streaming numbers on the day of release.
With a pre-release link, fans authorize streaming services to add a track or album to their music library the moment it goes live. It also collects their email addresses, which you can then add to your mailing list.
Linkfire pre-release links work with Spotify, Apple Music, Facebook Messenger, and Deezer.
Playlist link
Playlists are an increasingly popular way of consuming music. That's why being featured on a major playlist can be a turning point for artists. Learn how to create a smart playlist link.
Tour promotion link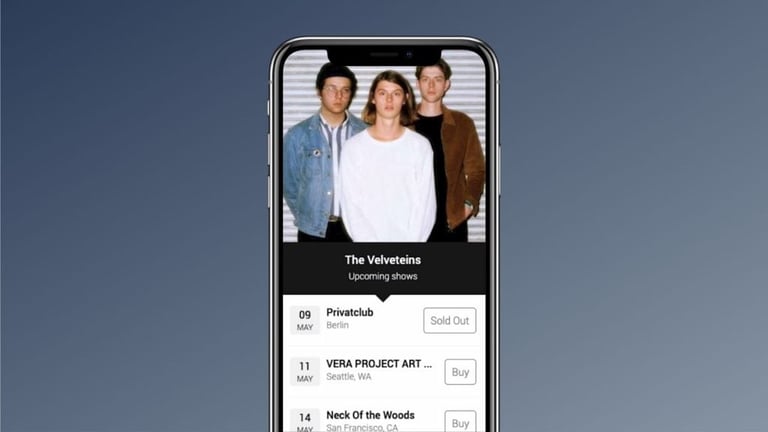 Promoting concerts can get complicated very quickly. Dates in different countries are often sold through different ticket providers. Added to this, your fans need to be kept up to speed with any venue changes or cancellations.
A ticket link routes fans to the concert closest to them, no matter where they are in the world. And it only takes a moment to update your links when your schedule changes. Learn more about smart tour promotion.
Fan link
Across the music industry, there are different terms used for a smart link. These include fan link, song link, and music link. At Linkfire, we prefer to stick to smart link, but all of these names mean more or less the same thing — a type of link that makes for smarter music promotion online.
How to create a smart link for music
If you're ready to create a smartlink, you'll need to sign up to a smart link platform. There are lots of different ones out there, so how do you choose the one that's right for you?
Smart link
It's a good idea to compare the features that smart link apps and platforms have on offer. Here are a few things you should consider:
Link types: You'll need a different type of smart link depending on the content you're promoting. Make sure the platform you choose supports the link types you'll need (e.g. tour promotion links for concerts, pre-release links for pre-saves and pre-adds).
Usability: How easy is it to actually use the platform? If you're an independent artist, you'll probably be the one creating links, so you don't want a platform that's been designed for experienced digital marketers.
Type of insights: There are many different data points to collect through smart links, from click-through rates to conversions. Not every platform will offer the same depth of audience analytics.
Price: You don't want to pay for features that you don't need. Many platforms offer a free tier, while more advanced features will be included in paid plans.
Your smart link is ready to post anywhere, from social to email newsletters. And once you've shared it with the world, your insights let you explore its performance.
At Linkfire, we have plans to fit everyone, from independent artists to major labels. Hit the button below to start creating smart links today!