We've got exciting news that is music to the ears—literally. Linkfire is partnering with TIDAL, an artist-first streaming service that aligns perfectly with what we're all about. TIDAL isn't just offering the highest quality; they're also looking out for artists. So why is this collaboration important? Let's get into it.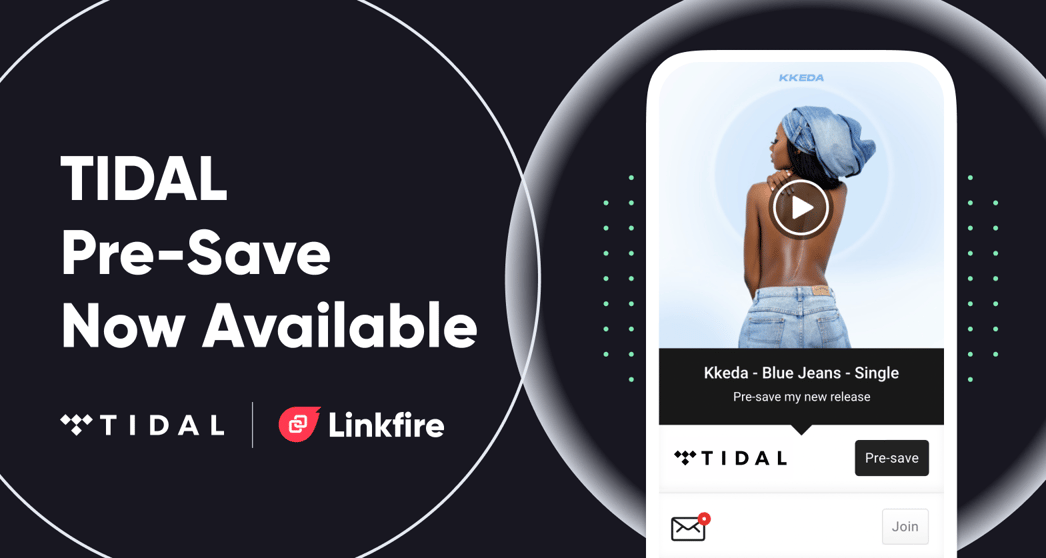 The magic of pre-save campaigns

Before we get into it, let's remind ourselves why pre-save campaigns are so important in the lifecycle of a new music product. Think of a pre-save campaign as the trailer before the movie—it's all about the buzz and anticipation around a new album or track BEFORE it hits stores. You're giving fans a chance to build a relationship with & prioritize your new album or track, even before it drops.
The result? A kick-start to your release cycle that you can't afford to miss. Learn more about the power of the pre-save campaigns.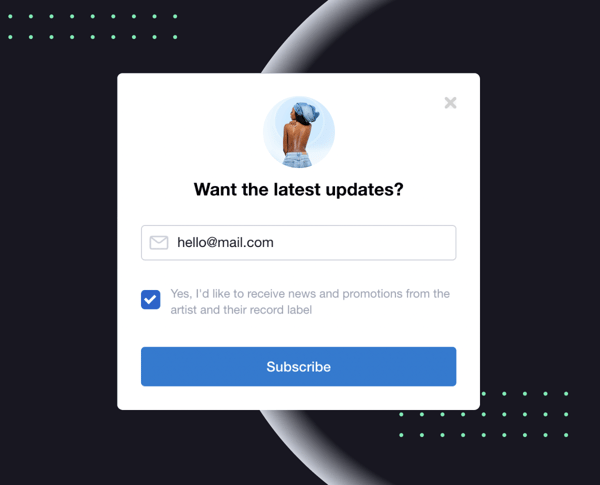 Why should you run pre-save campaigns including TIDAL?
If you think all streaming platforms are created equal, think again. TIDAL is packed with features for superfans and offers exclusive content to give your campaigns that extra edge. Here are some of the standout elements of the platform you may harness during your next pre-release and streaming campaigns:
Fair remuneration (artist payout) policy
One of the standout features of TIDAL is its approach towards artist remuneration. They work hard to encourage a healthy and sustainable music industry ecosystem. For example, TIDAL HiFi Plus pays more per play than most other streaming services. If you drive streams on TIDAL, you're likely to be driving a bit more revenue per individual stream.
High-quality streaming
One other standout feature is TIDAL's premium-audio support. This recently includes offering HiRes FLAC options, as well as MQA (Master Quality Authenticated) support. Streaming hi-resolution master tracks is becoming increasingly important for music fans, and TIDAL is committed to providing the best and highest possible audio quality. TIDAL takes sound quality to another level with additional support for Dolby Atmos and Sony 360 Reality Audio.

Long story short: if you have fans who care about audio quality, TIDAL is one of the best places to drive them.
Vast music and video library
TIDAL boasts a vast music library, which includes over 100+ million tracks, 650k+ music videos, and exclusive content such as live-streamed concerts, playlists, and events. Their platform is dedicated to empowering artists and providing the best possible listening experience for music fans.
Seamless Experience
Another unique feature of TIDAL is its "Exclusive Mode," and TIDAL Connect for wireless speakers. These features allow users to listen to their music uninterrupted and at the highest quality possible.

For music marketers, this means that live listening experiences can integrate well as an experience to promote developing and mature artists. Whether for virtual concerts or listening parties, TIDAL offers an unbeatable experience.
Tactical moves with TIDAL and Linkfire
Now, let's talk action. Here are some tips to make the most of this integration:
Collaborate
Find artists at a similar growth stage on TIDAL and propose mutual shout-outs or even collaborations, playlist features, and more…
Go-Live
If you're already into live-streaming or live performances, TIDAL's Live feature can integrate seamlessly into your existing strategies. With Live, you can create a session playing your new releases, highlight catalogue anniversaries and milestones, or even just show off your playlist curation skills for fans. And, an added benefit is that every listen counts as a stream.
Reshare across socials
Take artist-created, fan-created, and platform-created playlists from TIDAL and spread the word on your social channels. Don't forget to plug your pre-release.
How does the TIDAL pre-save work on Linkfire?
The TIDAL pre-save feature simplifies the way fans get early access to an artist's upcoming album before it's even out on TIDAL.
Artists and marketers can set up a pre-release link on Linkfire. This is where you'll find options for various platforms, including TIDAL, Apple Music, YouTube Music, Spotify, Deezer, and Amazon.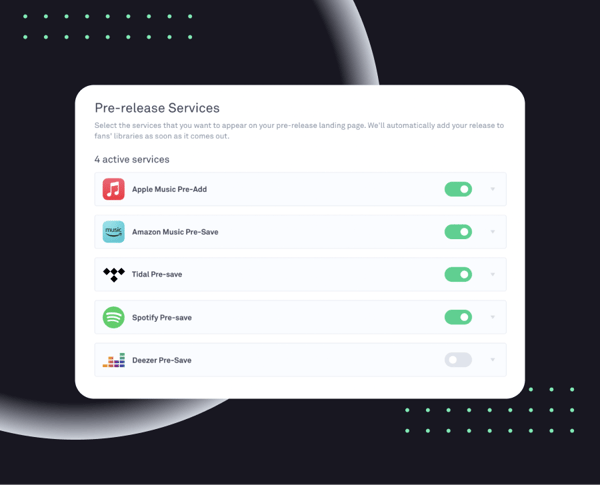 To make sure fans can pre-save the upcoming album on TIDAL, you'll need to activate the TIDAL service within your Linkfire pre-release link.

With TIDAL's artist-centric purpose and next-level audio quality, it's an ideal match for Linkfire's mission to empower creators. Whether you're an artist, a superfan, or somewhere in between, this partnership offers something to get excited about. So, get ready to elevate your pre-release campaigns to a whole new level. Happy listening, and even happier campaigning!
Get started with pre-saves for free
Run your own TIDAL pre-save campaign with Linkfire pre-release links.