Discover nine of the most powerful music marketing tools that will simplify your music promotion and help you grow in your career.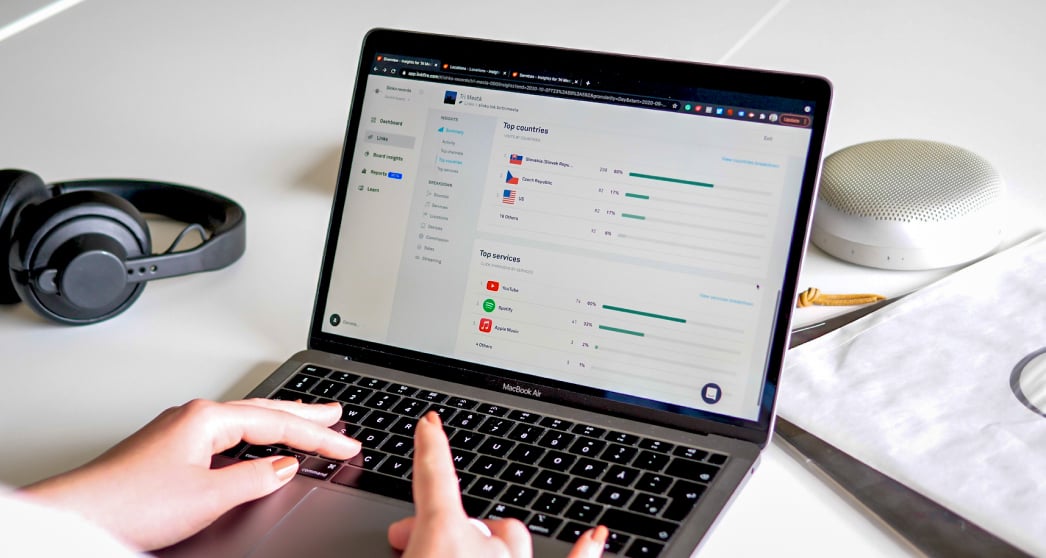 With a social media landscape that's expanding and evolving every second, and a real-life music scene that's regaining momentum, now's a perfect time to evaluate your current arsenal of music marketing tools. Here are nine of our favorites.
1. Google Analytics for artist marketing
Now 15 years old (!), Google Analytics is the granddaddy of all analytics tools not only because of its longevity, but also because it provides you with tons of information—both broad and hyper-specific—about who visits your website.
3 Google Analytics features important to music marketing:
Acquisition → All Traffic: see which social channels, email newsletters, search engines, websites, etc. are driving people to visit your site
Audience → Demographics: learn more about who your site visitors actually are (age, location, gender, language, etc.)
Real-Time: one of the most addicting features of Google Analytics, this lets you watch the real-time traffic flow on your site, which is particularly interesting and important after you, say, release a new single or announce a slew of tour dates
If you want to geek out on audience insights like location, devices, and demographics—especially to inform paid media efforts—Google Analytics will quickly become your new best friend. It can serve as a jumping-off point to inform so many aspects of your career, from where to tour (based on visitor demographics) to how fans and future fans are discovering your website.
However, if you're looking to measure the success of a release campaign and want to understand what happens after fans click through to streaming services, you'll need to use a platform that's specifically designed for music marketing insights, such as Linkfire. (More on that below!)
2. Linkfire for music promotion
Linkfire gives you the intuitive design tools, effortless automations, and unparalleled insights you need to grow your career. It brings together essentials like bio links, pre-save campaigns, contest landing pages, and much more that would otherwise be fragmented across different platforms. As a result, your music marketing efforts become dramatically simplified, streamlined, and less time-consuming.
There are lots of reasons why every major label and over 50,000 independent artists use Linkfire, but a big one is its exclusive data partnerships with music services. Linkfire is the only platform that's able to give you acquisition and conversion data specific to music promotion (e.g., streams, follows, adds, subscribers, and sales), providing a complete picture of the fan journey that you can't get anywhere else.
6 reasons Linkfire is essential for music marketing:
It's a music-specific smart link tool (as opposed to general link shorteners), which means it provides you with the features and insights you need as a musician
Create custom links tailored to different areas of your career (like one linking your new single on streaming services, and another with links to buy tickets for each date of your upcoming tour)
No need to mess with HTML—easily customize your landing pages with your artist branding
Run hyper-specific campaigns to target fans most likely to click your links (like fans in a certain area of the world who might want to attend your concert there)
Virtually everything is trackable (and tweakable!), which gives you valuable insights into what works for your audience and what you can improve
Linkfire also works in concert with other tools like Google Analytics
As you grow in your music career journey, Linkfire is flexible enough to adapt to your changing needs. Track new channels as you grow your online presence, invite collaborators to your workspace as you bring on new team members, and add more advanced features to your account when the time is right.
Since all Linkfire plans come with a free trial (no credit card needed), you can give it a test drive before committing to make sure it has all the features that are important to you.
3. YouTube for Artists
YouTube has greatly evolved since its early days, when musicians just posted a video and crossed their fingers people would actually watch it. Now, there's the Community tab which supports different ways to connect with your audience (via text posts, photos, etc.). Live streams connect musicians to their fans in real time, and watchers can even donate moolah in the form of a "superchat" in the comments.
And as a music-maker, you're probably already taking advantage of YouTube for Artists. Allow us, however, to draw your attention to its recently revamped Analytics feature, which is found inside your YouTube Studio.
3 powerful music promotion features of YouTube for Artists:
Song Detail: See how your music is performing not only on your channel, but across all other user-generated content that features your music (like lyric videos, visualizers, etc.)
Total Reach: In-depth demographic info of video viewers and other YouTube creators using your music
Real-Time Insights: Along with a menu of analytics and metrics about your channel and videos, this feature available from the YouTube Studio mobile app allows you to get real-time notifications and alerts about your music on YouTube
Not only is YouTube for Artists free to use, but you can also monetize your content and generate a whole new income stream for your music career.
4. Spotify for Artists
Although it's been in widespread use since 2017, Spotify for Artists has grown more robust since the pandemic, with most musicians shifting their focus to recording and streaming versus playing live. Obviously, the platform was built to not only facilitate getting music onto Spotify, but also provide insights on how the music and the artist are performing. However, there are also non-analytical features crucial to music marketing.
4 music marketing tools in Spotify for Artists:
Customizable profile: add and update photos, bios, and other aesthetic elements as frequently as you want
Utilize the Canvas feature to add a looping video to tracks
Advertise within the platform with Marquee, which serves a pop-up notification to targeted fans
Create promo cards, which are social media assets both you and your fans can share, featuring a new song, your profile, or even a mention on a certain playlist
While it's free to sign up for Spotify for Artists, some features (like Marquee) should be factored into your digital music marketing budget. Also keep in mind that in other parts of the world, services like Pandora, Deezer, and Apple Music have more users. So depending on where your fans are based and which markets you're trying to break into, you may not want to rely exclusively on Spotify for your streaming insights.
5. Instagram Shop for artist marketing
If you think only stores can benefit from this Instagram feature, start thinking about your profile as a virtual merch stand. An Instagram Shop is a great way to create a solid call-to-action (CTA) for whatever you're promoting. That CTA, of course, is buying whatever it is you're selling.
4 easy steps to setting up an Instagram Shop for your music:
Make sure what you're selling, whether it's T-shirts or vinyl EPs, complies with Instagram's Shop policy (which you can review before launching your shop)
Set up a website domain where you sell from, like your merch or music store on your official website
Convert your Instagram page to a business profile (which you may have already done) and connect your Facebook page
Make your content actionable and clickable by adding shop tags to your Instagram posts
Setting up a shop is currently free, and Instagram has tons of handy resources to guide you through the process.
6. Buffer for music marketing
Buffer remains a tried-and-true social media management and scheduling platform for digital music promotion. As live concerts and touring ramp up in the near future, you'll for sure need a way to simplify your socials while still keeping your fans engaged. Buffer streamlines that process big time.
3 ways Buffer simplifies online music promotion:
Create a set-it-and-forget-it calendar: generate a social media schedule, and Buffer will automatically slot your posts into it
Based on what performs well, levels of engagement, and any actions your followers take, you can tweak the schedule easily and efficiently
Collaborate with other band or team members right in the platform (on some plans), which is much easier than a Gmail thread or group text
While it's free to get started, one of the coolest things about Buffer is its virtually a la carte pricing structure. It allows you to really zero in on the publishing and analytics tools that serve your music marketing strategy.
7. Canva for musicians
Like Buffer, this platform has been around for a hot minute but is essentially a staple for music marketing. Instead of hiring a graphic designer or stumbling through Photoshop, Canva is a super easy web-based platform anyone can use to create promotional materials.
4 music marketing materials you can make with Canva:
Pre-sized social media graphics (think Facebook headers, Instagram Stories, YouTube thumbnails, even Pinterest pins)
"Analog" materials like business cards, flyers, concert posters, tickets, or T-shirts
A brand kit with logos, fonts, custom colors, etc. that's shareable with other band or team members (available via Canva Pro)
Pre-designed video elements with ways to insert your own content (of course)
Many of Canva's robust features are absolutely free, but they also offer several plans as your graphic design needs grow.
8. MusicFibre for music promotion resources
MusicFibre is a one-stop site for links to music marketing resources—like an old-school telephone directory just for musicians.
5 kinds of resources you can find on MusicFibre:
Email marketing platforms
Online collaboration options
Social media insights
Spotify promotion tools
Graphic and web design help
And, of course, there are lots of other great links to things like music distributors, merch suppliers, and even insurance for bands. Whether you look to it as a jumping-off point or a virtual music marketing bible, MusicFibre should definitely be in your browser bookmarks.


9. Chartmetric for music marketing
You may be able to guess by its name what this company provides. Chartmetric not only gives you a wealth of data derived from your performance on streaming playlists, but it also pulls in analytics from local charts, YouTube, Twitch, and your social media platforms.
3 ways to use Chartmetric for music marketing:
Beyond tracking which playlists include your music, you can research other playlists and curators to pitch
Use the "Neighboring Artists" tool to find other artists who have similar metrics, and discover additional ways of marketing your music cross-platform
Terrestrial radio is still a huge way listeners discover and consume music; utilize Chartmetric's "Radio Airplay" feature to track 1,000 of the world's most important radio stations
While it's free to get started, Chartmetric also offers a bevy of other music analytics and reports with its paid plan. Either way, you'll have access to customer support to help you make the most of this awesome platform.
Get Linkfire's curated tips straight to your inbox and become smarter in music marketing. Subscribe to our weekly newsletter.