Want a bio link for your music that gets fans clicking through? Look no further! We've collected some great examples to inspire you.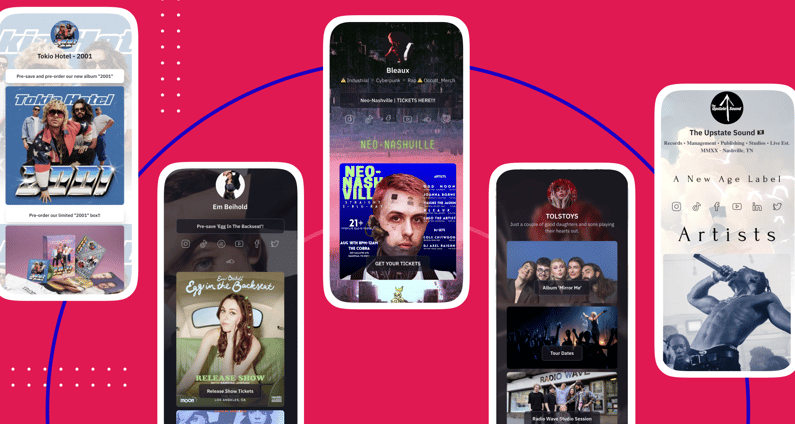 A great bio link will bring all of your most important content together in a single microsite, from releases to gigs to merch. It's the best way to turn social media attention into meaningful engagement on platforms like Instagram and TikTok, where you have to make one link count.
You can create and customize a Linkfire bio link in just a few clicks—no design or coding skills needed. It's easy to share everywhere, and you'll never have to worry about swapping out your bio link again. Plus, Linkfire's best-in-class insights allow you to track everything you can possibly think of, so you can identify your fans' preferences and optimize your music marketing efforts.
Since launching the latest version of our bio link, we've been excited to see how Linkfire customers have made it their own. Here are five of our favorite examples so far—hopefully they'll inspire you, too!
1. Tokio Hotel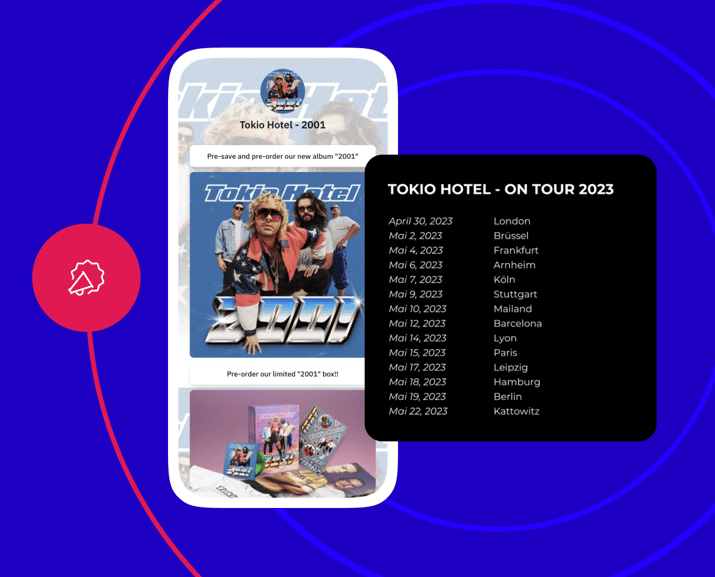 With more than 110 national and international awards, 7+ million albums sold worldwide, and platinum awards in 68 countries, Tokio Hotel is one of the most successful German acts of their generation.
To shine a spotlight on their latest album release, 2001, they've incorporated a mixture of link, video, and image blocks on their bio link landing page. Between their album pre-save, new music video, upcoming tour dates, and limited-edition merch, the band has really used the dynamic nature of Linkfire bio links to their full advantage.
If you hover over the content blocks on their landing page, you'll notice that many of them have "lnk.to" in the URL. That means they're wisely using Linkfire links not just for the bio link itself, but also for every aspect of their album campaign. With all of their marketing data and insights accessible from a single dashboard, Tokio Hotel is able to optimize their promo and get deeper insights about their fans.
2. The Upstate Sound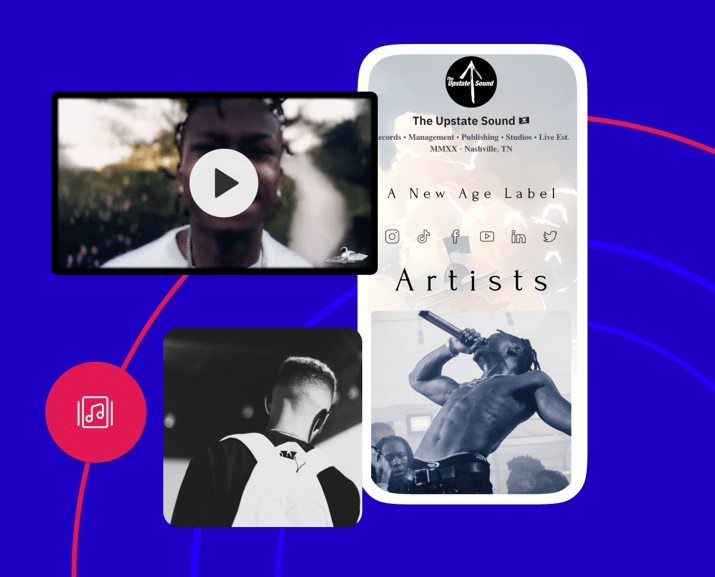 As you probably know, bio links aren't just for artists. The unlimited combinations of content blocks and customizations make it easily adaptable for tons of different use cases.
Nashville-based label The Upstate Sound has spotted the wide array of opportunities that Linkfire bio links offer. They've managed to achieve the perfect balance of promoting each of their artists while also promoting themselves as a new age label.
We love how they use clickable image blocks to showcase each artist they've signed, which makes their bio link much more visually appealing. To further cement their branding, they went with transparent text images instead of text blocks for each heading. This creative approach gives the label more flexibility to use custom fonts that truly reflect their identity. As a result, The Upstate Sound is able to stand out, look more professional, and keep their aesthetic consistent across their entire online presence.
3. Em Beihold
GIFs play a leading role in this impressive American singer-songwriter's Linkfire bio link.
Adding movement to your landing page is a great way to increase fan engagement and click-throughs. You can quickly grab a link visitor's attention using GIFs as Em did, or you can insert a video block if you want them to watch something longer, such as a music video teaser.
Also worth noting is the custom background Em is using for her bio link. The stunning photo helps tie everything on the page together, while keeping the primary focus on her calls-to-action. This ensures that her artist brand is present from top to bottom, but not in a way that's overwhelming to the eye.
4. Bleaux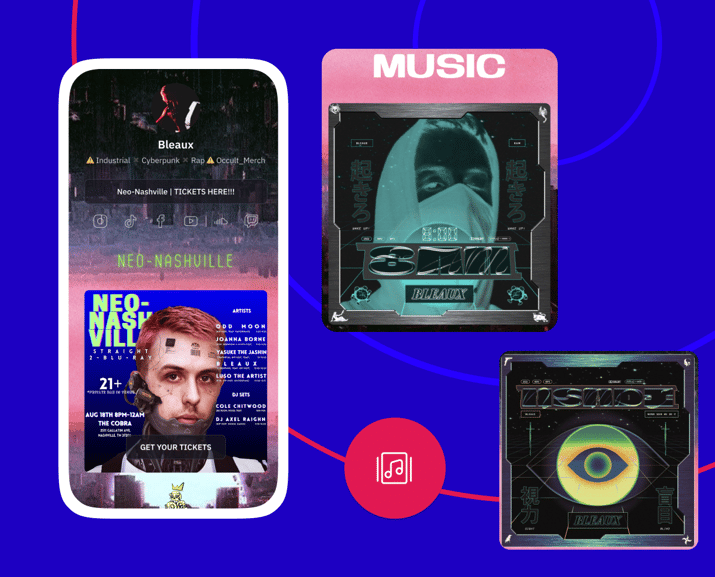 Image blocks, auto-play video blocks, and custom backgrounds are all being used to their fullest potential in Bleaux's eye-catching bio link.
With a sound that's been described as "abrasive" and "volatile," rapper/producer Bleaux is a rising star in the Nashville hip-hop scene. You can't help but be drawn in when you see the striking custom background, unique font choices, and intriguing visuals on his landing page. It's a great reminder that bio links are an opportunity to marry style and substance.
As you can see at the bottom of the page, embedding videos makes it as convenient as possible for fans to watch. And when you use the auto-play feature to pique interest, it's virtually inevitable that your view count will rise.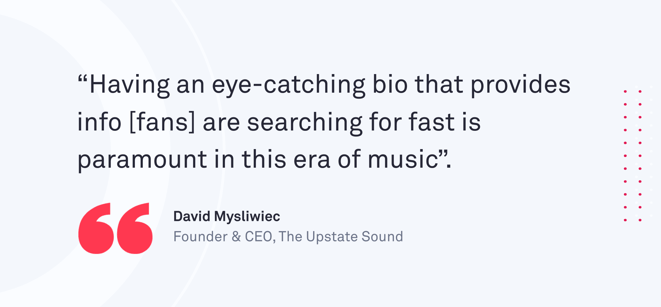 5. Tolstoys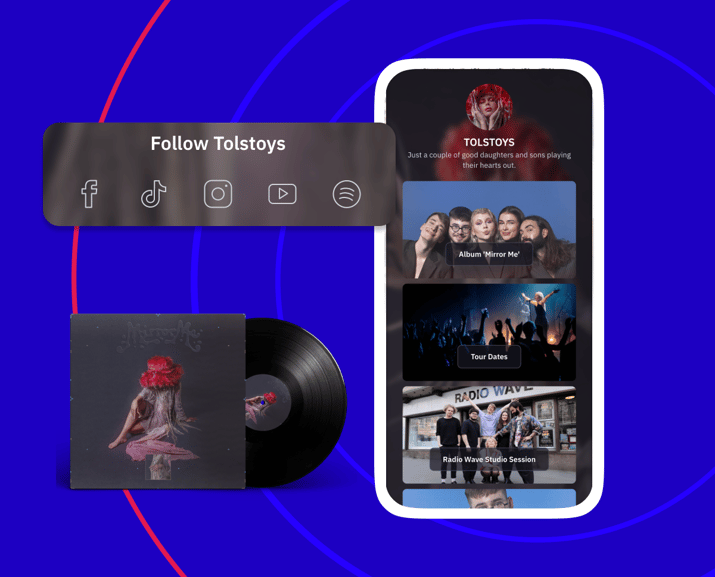 Dream-pop quintet Tolstoys let the images speak for themselves in their creative Linkfire bio link. This one is a great example of how your bio link can show off your artistry and function as a one-stop shop for your fans.
While you'll certainly have periods of time when you'll want to focus all your content around a new release, you can easily transform your bio link into more of an artist microsite when you're not actively pushing any particular campaign. With a bio link solution like Linkfire, it only takes a few clicks to drag and drop content blocks, add customizations, and completely transform the vibe of your landing page.
Tolstoys' bio link cleverly shows off their talent through a live studio session video, which increases the likelihood that fans will check out their tour dates linked right below. The band also includes icons for all of their social media channels at the bottom of the page, which makes it easy for fans from one platform to follow them on others.
Bonus: Linkfire
So, how do we use our own bio link? Since we aren't releasing music, we use a combination of image and link blocks to highlight our latest company news, educational blog posts, and sometimes even new albums from Linkfire artists and labels.
Further down the page, we've included links where people can easily access our Help Center, free trial offer, and current job openings.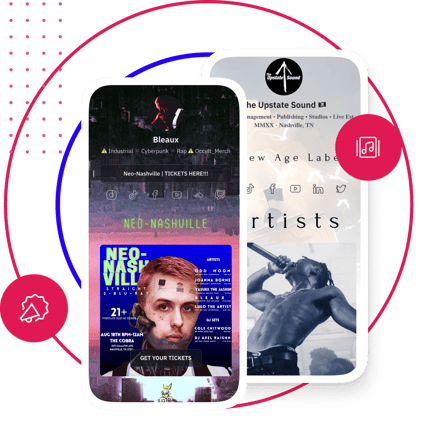 Want your own bio link?
All your content in one highly shareable link. Included in all Linkfire plans.
Get Linkfire's curated tips straight to your inbox and become smarter in music marketing. Subscribe to our newsletter.