When you know which of your smart link traffic sources are performing best, you can use that data to improve your music marketing strategy, learn more about your fans, and optimize your ad budget.

Whether you're releasing a new album, dropping merch, or promoting your latest music video, it's crucial to know exactly where your link traffic is coming from.

If you use Linkfire to create and track smart links, your work will become so much easier when you consistently use channels. It's just one of many advanced features that make our smart links… well, smart.
What are channels, and how do they work in the Linkfire platform?
Let's say you handle digital marketing for a record label, and you want to promote an album release link on both the label's Facebook page and the artist's Facebook page. In addition to the organic posts, you've also set aside some budget to run ads and reach a wider audience.

If you rely solely on referrer data, all of that link traffic will be grouped together as one source: Facebook. So how can you compare visits, click-throughs, and streams that come from the label page, artist page, and ads?

The best way to separate out your data is to create three different channels, called something like "Facebook label," Facebook artist," and "Facebook ads."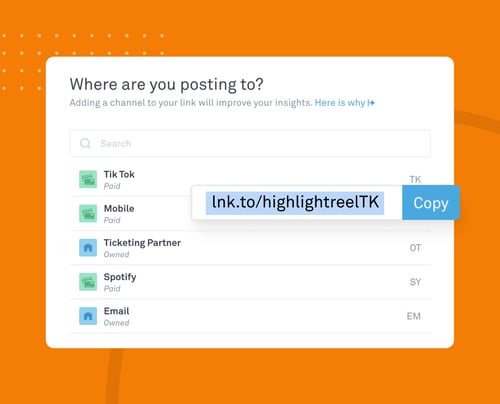 When you copy the smart link for your campaign, Linkfire will prompt you to select a channel. This appends a two-character code to the URL, and you'll use that unique URL only for the corresponding source that you want to track.

Adding a channel tag won't affect anything from the fan's perspective. The only difference is that Linkfire will now keep track of exactly where your traffic is coming from according to the channels you've created.
What are the top 3 benefits of adding channels to every smart link you share?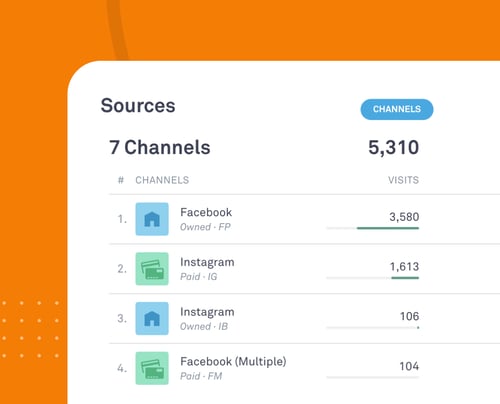 1. Get advanced traffic insights for every link
As you can see from our example above, using channels gives you much more accurate and useful data about your smart link performance than just looking at the referrers.
Set up channels right away that you know you'll use regularly, and be sure to use them every time you share your links to get the most out of your Linkfire Insights. Try channel tags such as "IG" for Instagram, "TW" for Twitter, "NE" for email newsletters, and anywhere else you frequently promote content.
Once you've shared your link and it starts getting traffic, head over to your "Insights" page. You'll see the full breakdown of your channels, and you can filter the data however you'd like.
Over time, these insights will help you improve your marketing efforts, learn more about your fans, and manage your ad budget more efficiently.
2. Compare marketing data across campaigns
Linkfire allows you to analyze your channel data not only on the individual link level, but also across your entire board.
In the "Reports" section of your dashboard, you can view all of your channels broken down by services, and all of your links broken down by channels. This makes it easy to compare marketing data across different campaigns, and will give you a better idea of how your marketing strategy is working overall.
We can't emphasize enough how important it is to plan ahead and create all the channels you think you'll need upfront. You can always add more channels later, but you risk polluting your long-term data if you do so.
The best way to analyze your data over a long period of time is by having consistent and stable parameters for all of your campaigns, releases, and even one-off links. In other words, the more consistently you use channel tags on every link you share, the better!
3. Export a file to easily share all your channel URLs with your team
Whether you're on a small artist management team or a major label marketing team, it's important to stay in sync with your colleagues about your work.
If you want to externally share an overview of all the channels you're using, there's no need to do any manual copy-and-pasting or messy screenshotting. In just one click, you can directly export a CSV file of all channels and their unique URLs for each link you create. You'll see this option when you hover over any link with channels and click "get."
Linkfire's channel management feature is available with the Essential, Advanced, and Enterprise plans. Sign up for a free 14-day trial to explore channels and other pro features.
Get better music marketing data with Linkfire
Sign up for a free trial today.