Smartlinks are perfect for promoting your music everywhere across the web. From social to email, here's where to feature your smart links.
If you're promoting your music online, smartlinks are a must. With a single link, you can route your fans across the globe to their favorite services, whether they're streaming your music, buying your merch, or getting tickets for your upcoming show. And best of all, you collect valuable audience data along the way that'll help you make smarter marketing decisions.
Unless you're already a household name, though, posting a link once is not enough. There are so many ways to build excitement and generate fan engagement, including pre-save campaigns, lyric videos, giveaways, and more.
Posting a variety of fresh content around your release is key for any music marketing strategy. That's why Linkfire offers seven different link types, each tailored to an essential part of your release campaign.
Let's take a look at some ideas for when and why to use each link type:
Remember that no matter what kind of content you share, it's always a good idea to wrap it in a trackable Linkfire link!
Where are the best places to promote smartlinks for music?
Driving more traffic to your smartlinks will lead to more streams and followers—which is why we recommend sharing your links in as many places as you can.
Since Linkfire links work everywhere across the web, the possibilities are truly endless. As a starting place, we've listed nine channels below to help you get the most mileage out of your smartlinks.
1. Social media bios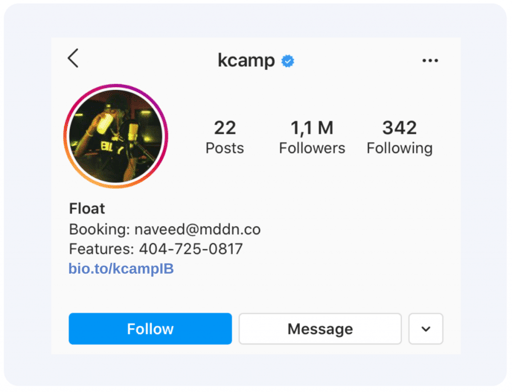 When people land on your social media profiles, your bio section is one of the first places they look to get a sense of who you are as an artist. Smartlinks fit perfectly in your Instagram bio, Twitter bio, TikTok bio, Facebook "About" page, and YouTube channel description. These are where you tell the world who you are and what you're up to, so there's no better place to shout about your latest release.
Linkfire bio links make it easy to turn social media attention into meaningful engagement. In just a few clicks, you can put together a beautiful, highly scrollable microsite that brings all of your content together. It's fully customizable, so you'll never have to swap out your bio link again. Update it anytime to include your latest single, upcoming shows, merch, playlist feature, or anything else you want to promote.
2. Social media posts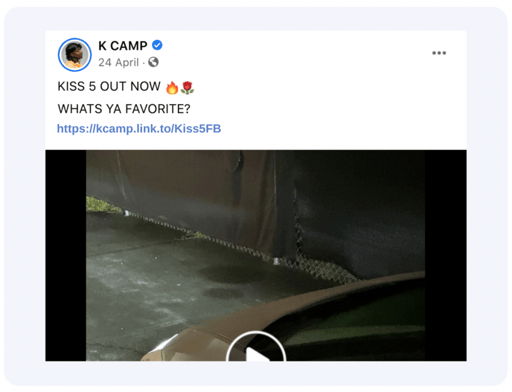 Social media content can be sorted into roughly two categories, and it's a good idea to draw from both.
The first is promotional posts, which should make up roughly 10-20% of your content. Don't be shy about marketing your latest release, tour, merch, or playlist. If you're hoping to build a career, you need to be confident in selling your product.
But we all know that too much self-promotion can be off-putting to followers, which is why the majority of your content should fall in the brand-building/community-building category. This is the kind of content that engages your fans on a more human level and shows off your personality. You could share photos from band rehearsals, a behind-the-scenes video before a show, or even a live Q&A where your fans can ask you anything.
Linkfire links are ready to share across every social platform, for every type of post. Even if you're not directly promoting something, it's always a good idea to use smartlinks with every post so that you can track engagement and better understand what kind of content resonates with your audience.
For more tips on social media marketing, check out "How to promote your music on social media."
3. YouTube video descriptions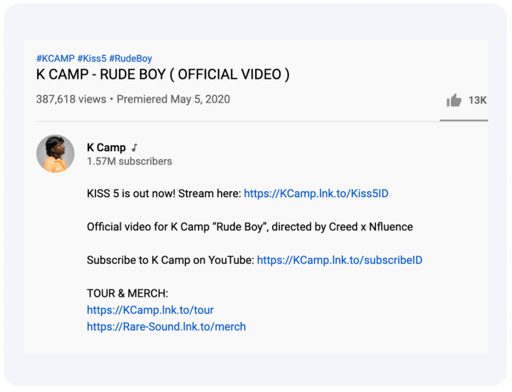 The descriptions under your YouTube videos are crucial. It's what the algorithm uses to determine what your video is about, and good descriptions will help organically boost your videos in search rankings.
Be sure to put your smartlink front and center, alongside relevant keywords. That way, people who discover you on YouTube will be able to quickly find more of your music on any platform they prefer.
4. SoundCloud track descriptions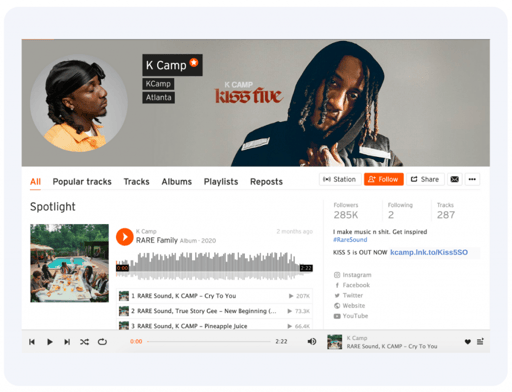 SoundCloud is the place to experiment. Unlike other streaming services, you don't need a distributor to get your music on the platform, so it's great for sharing demos, remixes, and rough ideas with your fans.
But once you've hooked their attention, don't lose it! Include smartlinks in your track descriptions that direct people to your website, merch store, or other social media channels. Make it easy for them to check out your other tracks and albums on any music service.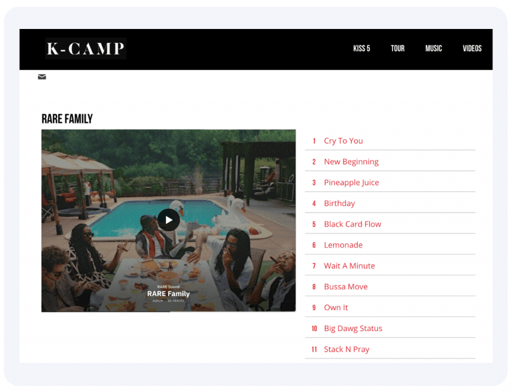 Every Linkfire link can be turned into an embeddable, eye-catching widget for your own website, with different sizes and types to choose from.
You can choose the showcase widget, which displays your album artwork and a play button. Or try out the clickthrough widget, which features a list of services for visitors to choose from (much like a release link landing page).
To get your widget, you'll need to add a small bit of HTML to your website—here's how.
6. Email newsletters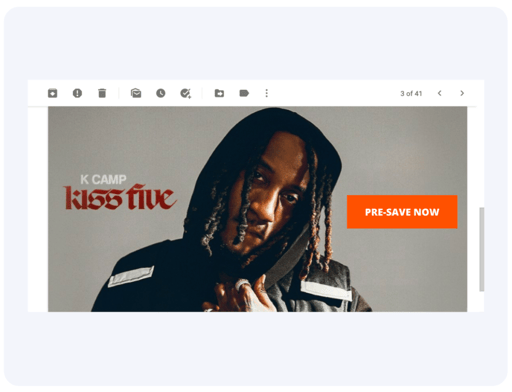 Your email subscribers are your most valuable online audience. Why? Because they've taken an active step to sign up for your latest news—your emails land right in their inboxes, and they want to hear from you. It's a much more direct line of communication than social media posts, which can get lost in the endless scroll of their feeds.
Reserve your email newsletters for the important stuff. Make sure you always include Linkfire links so that you can consistently measure interest in your new releases, merch, and upcoming shows.
7. Reddit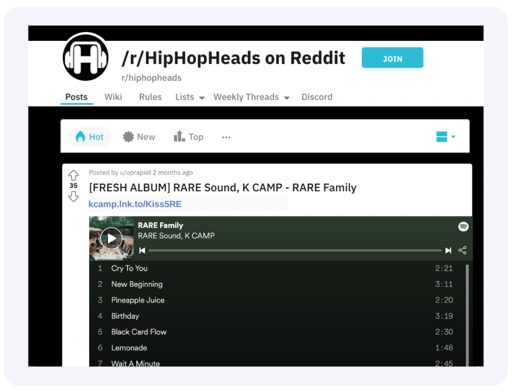 Reddit is one of the most popular sites in the world. It consists of millions of forums called subreddits that cover every topic imaginable. Many of them are devoted to music, and some specifically focus on giving independent artists a platform to share their work.
Whether you're looking for new fans or constructive feedback, sharing smartlinks on Reddit can help boost your music career.
8. Pitches and press releases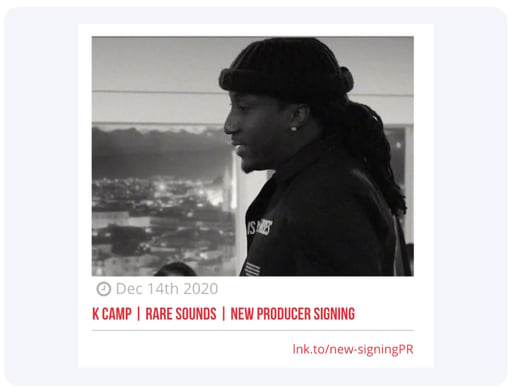 If you're sending out lots of music links to bloggers, editors, or playlist curators, make sure you're always using a Linkfire link. Between press releases, pitch submission forms, and emails, it's easy to lose track of your PR efforts. We'd recommend creating a channel specifically for PR so that you can easily see whether all those links you sent out are getting clicked on.
And if you have a publicist, manager, or other team member who sends pitches on your behalf, make sure they're using trackable smartlinks as well!
9. Electronic press kit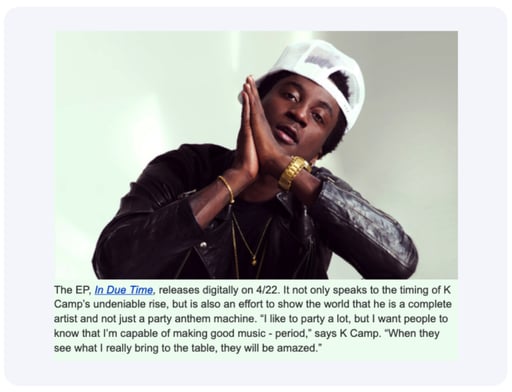 An electronic press kit (EPK) basically acts as a résumé. It comes in handy whenever you connect with a journalist, venue owner, promoter, or other music industry professional who needs up-to-date information about you that they can review in just a few seconds.
A top-notch EPK includes a current artist bio, latest music release, high-quality press photos, videos, tour dates, press, social media links, and contact information. Every link in your EPK should be a smartlink so that you can track visits and click-throughs, and see which sections are resonating the most.
Get Linkfire's curated tips straight to your inbox and become smarter in music marketing. Subscribe to our newsletter.