Want to learn more about music stats but don't know where to start? Here's our guide to the industry's top data sources and music analytics tools.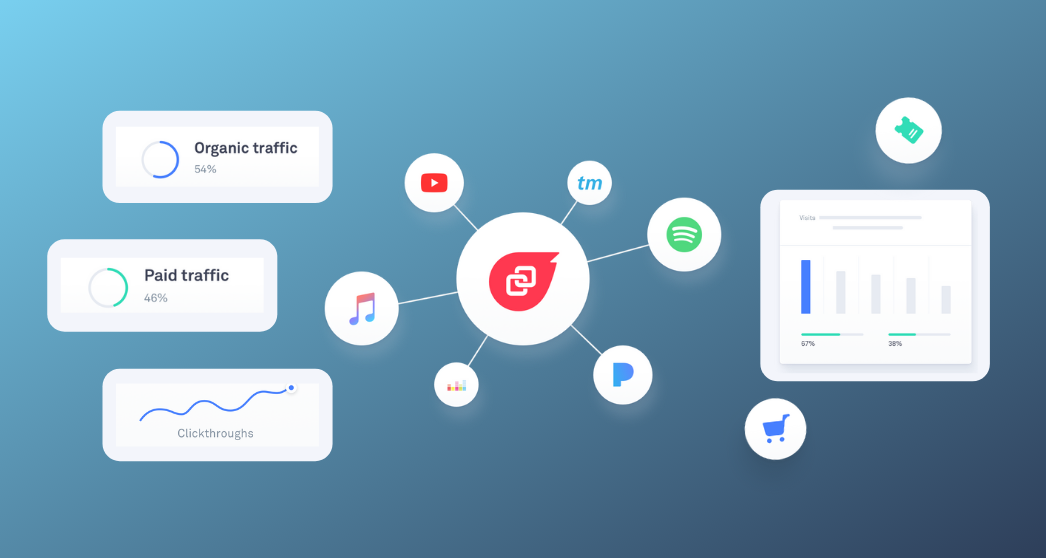 In the digital age, music marketing is becoming increasingly data driven. Fans connect to music across dozens of different platforms and sites—from streaming services to social media—and all these touchpoints provide a richer picture of an artist's listenership.
In this article, we'll give you an introduction to music stats and their place in the modern music industry. And most importantly, we'll explore how you can make sense of all these fan insights with music analytics tools.
Why are music stats so important in 2021?
The last decade has seen a major shift in music consumption. Streaming now dominates the market over physical releases, while the rest of the music ecosystem has also gone digital. Watching music videos, buying concert tickets and merch—all done online. For listeners, there's countless different platforms, services, and mediums on which to engage with their favorite artists.
For artists and their teams, this abundance creates opportunities but also headaches. With so much content out there, how do you rise above the noise? Promoting music by blindly sending out campaigns isn't going to work—your marketing is going to get lost. You need to grow your number of super fans by attracting and engaging with the right people.
This is where a good music analytics setup comes in. It provides you with a near real-time picture of fan engagement across all your marketing, so you can assess, compare, and optimize. Crucially, it lets you attribute success to the right marketing initiative.
Artist music data explained
So what fan insights are actually accessible for artists and their teams? Well, there's lots of data out there, spread across the music industry's different branches. Each artist has a different setup and budget, so there's no universal list of data sources, but we've put together a list of the top ones.
Streaming data
These are figures from inside of streaming services—number of plays, source of play, playlist and library adds, number of followers, and more.
The majority of streaming metrics are platform-specific. If you want to see Spotify stats or Apple Music stats for instance, you'll need Spotify for Artists or Apple Music for Artists. These platforms provide really in-depth data, so it's a good idea for artists to create these accounts. Just be aware that these stats are detached from off-platform activities, and it can be difficult to fit streaming data into a broader marketing analysis.
Streaming services also provide figures on royalties. This data is usually separate from the other metrics, and is reported to an artist's label or distributor on a monthly basis.
Social media data
Social media platforms like Facebook, Instagram, and Twitter are core components of the music marketing channel mix. Social media is used by one in three people worldwide, and most artists are active on at least a couple of platforms. Reach and engagement rates for the content you post are available using these platforms' own analytics tools, which often require a business account to access.
Given the variety of material you can share on social, discovering what types and forms of content perform the best really helps to optimize your posting.
Paid advertising data
Online marketing is a mix of paid and organic. Paid advertising is more targeted than organic, but the obvious downside is that it costs money. So if you're adhering to a strict ad budget, you need access to your ads' performance. Advertising platforms like Google Ads and Facebook Business Manager offer detailed reporting so you can assess if your investment is paying off.
Ad campaigns can be run by an artist's manager (or the artist themselves), but often it will be their label or a marketing agency in charge. Whoever set-up the ads will then have access to their results, inside of the relevant advertising platform. They should also be able to grant access to others, or at least share some of the resulting data.
Email data
Email is one of the most valuable marketing channels out there, as it's a direct line of communication with fans. Not only does it have a larger user base than social, it also has a higher ROI (return on investment).
Fan email addresses can be gathered through a number of different channels. For instance, when fans sign up to receive a newsletter, or via merch or tickets sites. Artists can manage their mailing lists through platforms like Mailchimp, where they can access detailed data on email engagement—such open and click-rates, and which links proved the most popular.
Distribution data
In the digital age, the primary job of distributors is to get artists' music onto streaming services (DSPs). While select DSPs do allow artists themselves to upload music, the major ones will only work directly with distributors.
Most distributors share stats with their artists through a dashboard. This collects stats from streaming services and online stores, giving artists the chance to review their own performance, and make informed decisions around touring and recording. While the distributor's dashboards can be very comprehensive, they fall short at connecting off-platform data sets (social, email, paid advertising) with on-platform results (plays, follows, streams etc).
Merchandise data
If you're selling some sweet tees, you're probably making use of a direct-to-fan (D2F) store. These are platforms where fans can purchase merch and more straight from an artist, eliminating middle men and ensuring artists get a larger cut of the profits. Some of the most popular D2F stores include Bandcamp and Merchbar.
The data on purchases you'll have access to varies between platforms, although at a minimum you'll probably receive the buyer's email address. This can be utilized in your wider marketing efforts, as long as the buyer has been informed about how you plan to use their data.
Ticketing data
Revenue from touring makes up the largest portion of most artists' income. Given this fact, live events now form the backbone of many artists promotions, and data about ticket sales should inform your marketing strategies. It's also incredibly useful when scheduling tours, ensuring you're booking venues in locations with strong enough demand.
Many ticket sellers and resellers offer their own stats if you have an account with them.
Video data
When it comes to listening to music online, YouTube is actually the most popular streaming service. If you upload videos to YouTube, or another major video platform, you'll gain access to analytics inside the service. These stats typically include numbers about view counts and likes, but also details about your audiences' locations and even age/gender.
For more seasoned creators, YouTube offers a partner program through which you can monetize your videos with ads.
Website data
With so much focus on social platforms, having an artist website can seem a bit old fashioned. In fact, it's a brilliant portal to all aspects of an artist's music. And most importantly, it's an online space which the artist (or their management) have direct control over, as opposed to social profiles.
There's a huge number of website builders out there, with WordPress and Squarespace amongst the most popular. These platforms all have their own CMS (content management system) — the application you log-in to to manage and publish your site. A CMS will provide some data about visits to your site, but you can also integrate with a more comprehensive tool, such as Google Analytics.
Affiliate marketing data
With affiliate marketing, you earn commission on revenue that you've generated for a company. For instance, if a fan visits Amazon through a link that you've promoted, you can earn a percentage on anything they buy.
A lot of companies within the music industry run affiliate programs, which pay out commission on purchases or for new subscribers you've referred. These include Apple Music, Qobuz, Impact Radius (used by Ticketmaster). Affiliate marketing data is tracked through affiliate IDs, tokens, or unique links. To access your affiliate data, you'll need to sign-in to the company's affiliate site.

Understanding the power of cross-platform music stats and fan insights
So artists and their teams have a wealth of fan insights at their fingertips. But data isn't useful in itself—it's how you activate it that counts. And building a meaningful marketing strategy is complicated when this information is siloed across services, with data points disconnected from each other and stripped of context.
The value of cross-platform music stats comes from their ability to connect the dots. They collect data from various sources into one tool, and then serve it to you as actionable insights.
Disclaimer: There is no magic tool that will bring all of your artist data in one place. Whenever you hear someone promising that, you should treat it with a dollop of skepticism.
Cross-platform tools are becoming ever more sophisticated, and in recent years we've seen major industry players grow more willing to share data with these services. At Linkfire, we're proud of the partnerships we've made with companies like YouTube, Apple Music, Deezer, Pandora, Boomplay, Qobuz and iHeartRadio.
Let's dive into some of the specific insights that you can draw from cross-platform stats, and why they're useful.
See which of your promotions are generating streams
Streaming services' own stats certainly have their uses, but they're detached from your off-platform activities.
Let's imagine you've just released a new album. You can see all the Spotify stats or Apple Music stats just fine, but how do these relate to your marketing? How many of those release day streams were driven through your Instagram post as opposed to your Facebook ad?
With a cross-platform tool, you can draw these connections. By finding out what's actually generating streams, you can judge where you should be concentrating your marketing efforts, saving you time and money.
Identify which services and devices your visitors use
Understanding your fan engagement and their preferences is key to reaching them more effectively. With a cross-platform analytics tool, you can break down your audience by the apps and platforms they prefer, and the devices and browsers they use.
Let's take some examples: If you find that most of your traffic is going to Pandora and Boomplay, then you might want to give them more visibility on your music landing pages, or try harder to get featured on playlists on those DSPs. And if only a tiny fraction of your visitors are using Microsoft Edge, you shouldn't make optimizing your artist website for that browser a priority.
Discover where your visitors are located
Is an artist more popular in France than in Spain? Have they broken through in South Africa? Mapping out promotions gets a whole lot easier when you can target fans by geographic location. It saves you throwing money away on territories where there's no demand. And the same goes for scheduling tours.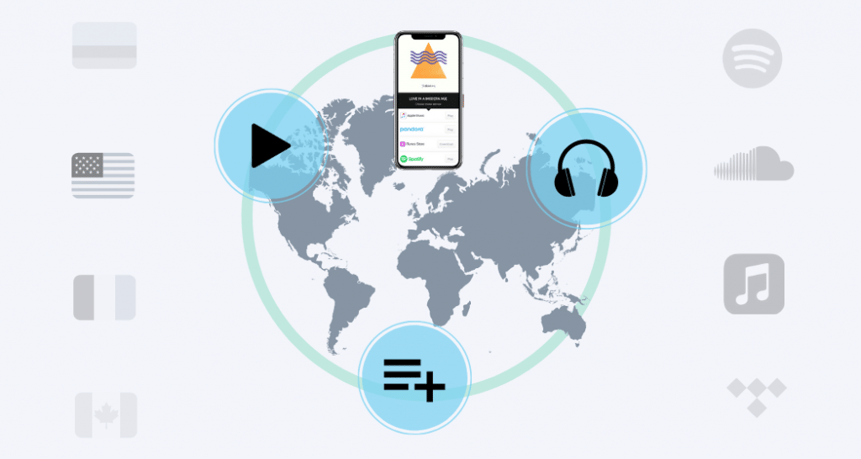 See where your sales are coming from
With all your sales data in one place, you can track your earnings across products and stores. Set revenue forecasts, objectives, and double down on the items which are really proving popular with your fanbase.
Track all your affiliate revenue in one place
If you're earning commission through numerous different affiliate programs, music stats tools can bring all those commissions together into structured affiliate data sets. Keep track of all your tokens, and sort your commissions by store, location, and more.
How to choose a music stats tool
Stats tools come in many shapes and sizes. And when it comes to using, navigating around, and paying for them, there's a world of difference. Here are some factors to consider when you're comparing tools.
Data sets
The real value of music stats tools comes from the data they collect. And some tools' data sets are more wide-ranging than others. Stats from certain services or platforms will only be available with specific tools, such as streaming data from Apple Music which is exclusive to Linkfire. When it comes to optimizing your marketing efforts, more data will give you better insights.
Integrations
Integrations make connecting different software and services a breeze. The more integrations a tool has, the closer it gets to an all-in-one marketing solution, rather than just another tool to add to your long list of bookmarks. Analytics tools can offer a range of integrations, with affiliate programs, ticketing platforms, and pixels.
Usability
Having a wealth of fan insights at your fingertips isn't much use if you can't make sense of it. A good analytics tool should have the needs of the user at the center of its design, with simple ways of filtering, comparing, and navigating through all those stats.
Shareability
Does anyone else need to see your stats? If you're truly a one person operation, then probably not. But if you're collaborating on your marketing efforts, you'll want to give your colleagues access to all your metrics too. This can either be through exporting music analytics as reports, or by adding additional users to your account.
Price
You shouldn't pay for features that you don't need. Most tools offer some degree of stats on their lower priced plans, but reserve more advanced features for more expensive subscriptions. Consider the depth of insights which work best for your budget.
Get Linkfire's curated tips straight to your inbox and become smarter in music marketing. Subscribe to our newsletter.