The answer is a great deal. At Linkfire we've made it our mission to make this as seamless as possible, and have been actively working with Facebook on addressing the challenges and defining best practices.
Let's start with some background: Apple's latest software update means new rules for advertising on Facebook. If you're running advertising campaigns on Facebook, you've probably seen warnings like this one pop up:
It may sound a little scary, but don't worry. We've put together this article to help you make sense of what exactly is happening, how to prepare for the new rules, and what steps Linkfire is taking to ease the burden for you.
What's going on with Facebook and Apple?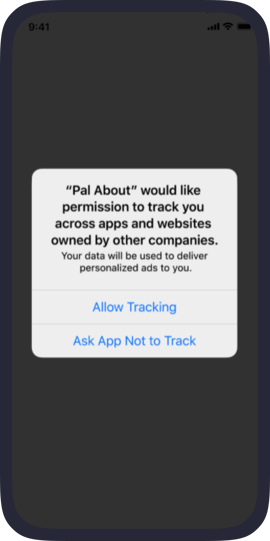 Apple has started rolling out its iOS 14 software update, which comes with some major privacy-related changes that directly affect Facebook advertisers.
All Apps in the App Store are now required to show iOS 14 users a consent prompt like this:
Unless users opt into tracking, Apple will prohibit certain data collection and sharing. Because of this new requirement, Facebook has to change the way it receives and processes conversion events from pixels. This translates into some limitations and extra steps that you'll have to take as an advertiser.












How does this affect my Facebook ad campaigns?
The biggest change is that you'll only be able to run conversion campaigns for website domains that you own.
This means that if you're using a lnk.to link for your ad, you'll be limited to the "landing page view" conversion event. However, if you point the ad to your own domain (e.g., artist-name.com/new-single), you can continue using your Facebook pixel for custom conversion events.
If you'd like to run a conversion campaign using a Linkfire smart link, we're happy to set that up for you. Read our step-by-step guide on how to verify your domain, and feel free to reach out to your Linkfire account manager if you need help.
What other changes should I know about?
Each domain will be limited to eight unique conversion events. If you have more than eight conversion events defined on your domain, you'll have to choose which events you want to prioritize for your campaigns. Learn more about the pixel updates for iOS 14 here.
What to do: Go to Facebook Events Manager and configure your pixel preferences in order of priority. We'd suggest doing this as soon as possible so that your campaigns don't get paused unexpectedly.
The maximum click-through attribution window will be reduced from 28 days to seven days. This change likely won't impact your data too much, as long as your conversions typically happen within seven days of interacting with an ad. Learn more about the new attribution windows and other reporting limitations here.
What to do: Use Facebook's Comparing Windows feature to see how your conversions compare across different attribution windows. This will help you understand any changes you see in your reports moving forward.
We're keeping a close eye on these updates as they roll out. If you're on a Linkfire Business plan that includes pixel management, we'll email you directly with any new developments. As always, feel free to contact your Linkfire account manager or bizsupport@linkfire.com if you have any questions.
Get Linkfire's curated tips straight to your inbox and become smarter in music marketing. Subscribe to our weekly newsletter.
Frequently Asked Questions
How do I know if I need a custom domain?
You need a custom domain if you want to run conversion campaigns on events other than "landing page view."
How do I verify my domain in Facebook Business Manager?
Read our step-by-step guide: https://help.linkfire.com/hc/en-us/articles/360019826699
Does the iOS 14 update only affect Facebook?
No, it affects all platforms that advertise to iOS 14 users. The conversation has been centered around Facebook so far because of how powerful and widely used its advertising platform is.