We're excited to bring to market the first-ever YouTube Music pre-save feature. With this latest integration, artists and their teams can build anticipation for their upcoming album releases and collect valuable insights into who is engaging with their music.
In the ever-evolving landscape of the music industry, capturing attention and building anticipation around new releases is crucial for artists, labels, and music marketers. We are proud to introduce a product update that helps you drive momentum and maximize success: YouTube Music pre-save is now available on Linkfire!
This fresh integration is an extension of YouTube Music's partnership with Linkfire, which also includes YouTube Music Streaming insights. The integration opens up new possibilities for connecting with your audience, monetizing your music, and driving engagement.
In this article, we'll delve into the benefits and features of YouTube Music pre-save on Linkfire, and how it can help you take your music promotion to new heights.
Why should you be excited about growing your presence on YouTube and YouTube Music?
As you might know, YouTube Music is a Google product and is part of the YouTube ecosystem – which by design is both a streaming service (DSP) and a social media platform.
What you might not know is that the team at YouTube Music are working towards the goal of becoming the number 1 contributor of revenue for the music industry by 2025. Looking at the 2022 growth in annual payments to the music industry, one can see that YouTube is on the right track to achieve that goal.
Image Source: Music Business WorldWide
In September 2022, YouTube's Global Head of Music, Lyor Cohen, shared that YouTube paid music rights holders over USD $6 billion in the 12 months to the end of June 2022. (Source). That places YouTube right on the podium of top revenue generators for the music streaming industry, with Spotify holding the 1st place with $1 billion more paid to the music industry.
What's interesting to note is that as of 2022, YouTube Music held an 8.9% market share of the music streaming industry.
Source: Statista, Share of music streaming subscribers worldwide in the 2nd quarter of 2022, by company
So, how is YouTube Music achieving the rapid growth that allows them to generate more revenue for music rights holders?
YouTube's three engines business model
The secret is the YouTube ecosystem that places the service in a unique market position. Specifically, the company runs a monetization model with three engines:
YouTube Music / YouTube Premium subscriptions. Fans pay for accessing the platform content free of ads.
YouTube's ads business. YouTube shared the revenue collected from advertisers with its creators.

YouTube

Creators Music.

Through Creators RevShare or Direct Licencing artists and labels can licence their music by choosing the pricing model that best suits their business goals.
How can you take your music promotion to new heights with our YouTube pre-save
To make the most out of your YouTube and YouTube Music presence, you need to think and approach the platform differently than most DSPs. Through the YouTube ecosystem, fans can discover, consume and participate in music, through both audio and video.
Source: YouTube Music for Artists, New Shorts Best Practices for Artists & Labels
Additionally, a crucial aspect of YouTube Music is the creation of an environment that attracts and engages passionate fan bases, capable of rivalling the communities formed on platforms such as TikTok and Instagram. By fostering an inclusive and vibrant community, YouTube Music strives to become the go-to destination for fans, offering them a unique and immersive experience.
The Linkfire - YouTube Music pre-save is a tool that helps you drive discovery, while also building anticipation, deepening connection, and enabling consumption. Here are a few notable gains:
Build anticipation with pre-saves and shorts
Creating a buzz around upcoming releases is crucial for achieving a strong debut and sustained success. While anticipation is usually built outside of DSPs, YouTube Shorts offer an integrated format you can leverage to promote your releases directly in the YouTube ecosystem. Think about using your YouTube content creation, editing, and repurposing strategies in complementary ways, and utilise on-platform opportunities to tie back to the pre-save campaigns and pre-save links you care about most.
Pro Tip: Artists who share shorts and long-form videos are seeing better overall watch time and subscriber growth relative to those only uploading long-form.
Amplify release-day impact
The first day of a release is crucial for garnering attention and climbing the charts. Music pre-saves can significantly impact these early metrics, boosting your chances of chart success, playlist placements, and overall visibility. Supplementing pre-save messaging by offering a release day YouTube Premiere and chat room for fans to engage with can add additional weight to the "event" of the day.
Pro tip: Trending tracks are displayed in order of popularity in Shorts Music Picker
Increase your email list
By giving fans a way to commit to listening to their new music, you not only grow your fan base but also create deeper connections with your listeners. One of the benefits of the YouTube ecosystem and its evergreen content is that older videos can be updated with new messaging, call-to-actions, and Linkfire links in the descriptions long-past release day. Don't be afraid to update old inventory with new pre-save messaging, especially if your data is telling you where fans are tuning in most!
Create a base for a lookalike audience
Pre-save campaigns allow you to gather valuable data insights about your audience. You can learn who is interested in your music, where your fans are located, and which platforms they prefer. This data enables you to tailor your marketing efforts, plan targeted advertising campaigns, and make informed decisions about future releases and promotional strategies.
How does the YouTube Music pre-save work on Linkfire
The YouTube Music pre-save feature makes it easier for fans to discover an artist's upcoming album before it is available on YouTube Music.
Artists and marketers create a pre-release link on Linkfire. Among the services available, they will find YouTube Music, Apple, Spotify, Deezer and Amazon.

To ensure that fans can pre-save the upcoming album on YouTube Music, one must enable the YouTube service on the Linkfire pre-release link.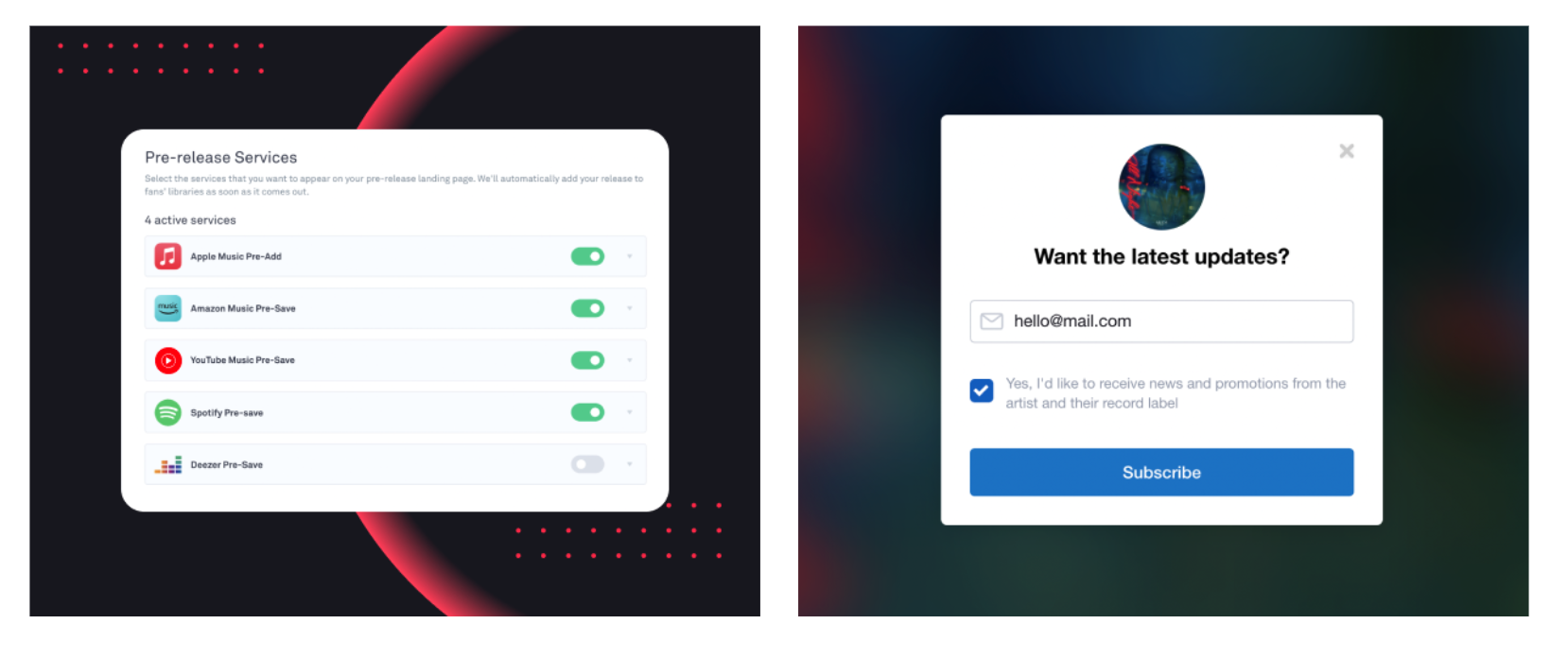 Once the fans visit your pre-release landing page, they will be asked to authorise the pre-save by approving some permissions. This allows YouTube Music to add the album to the fan's library on release day, and for the artist team to collect fans' data.


Get started with pre-saves for free
Run your own YouTube Music pre-save campaign with Linkfire pre-release links.