It's no big secret that the music and entertainment businesses are noisier and more complex than ever before. If you're an artist looking for support, you might be left wondering "Which way is up?" when it comes to adding new layers of support to your mission. Whether you're looking for advice on your artist journey, or for your next global independent label to pitch, we've got you covered this time!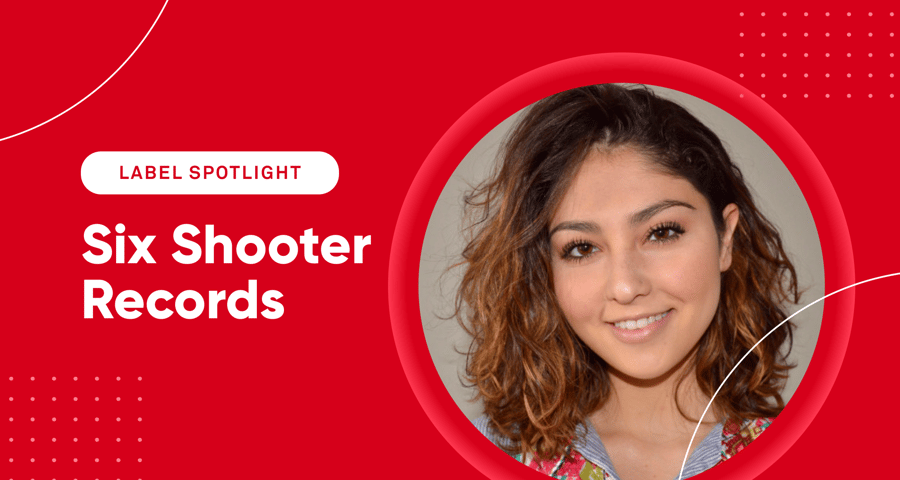 In a whirlwind of a week in Austin, Texas, at the 2023 SXSW Showcase Music and Media Festival, our own Senior Marketing Manager, Lou Pratt, tagged along in awe of Andrea Aguilar, the Director of Digital Strategy and Marketing for Toronto, Canada based Independent Record Label Six Shooter Records. We sat her down for a brief moment of rest between sets to discuss what makes Six Shooter special, what it means to be a part of such a special scene, and tips for the next up-and-coming creators.
Female founded, fiercely inspirational

With diversity, equity, and representation raising their hands as critical topics in today's working world, it felt wonderful to follow an empowered team like Six Shooter Records. Led on the ground by label founder, Shauna de Cartier, Andrea, and the team worked tirelessly to showcase some of the best work and talent their international label and artistic incubator could present.
Founded back in 2000, Shauna and her team have "released more than 150 albums, and own the master recordings of more than 1,200 songs." Their artists have been consistently recognized in national award programs, including the JUNO Awards, Polaris Music Prize, SOCAN Awards, Canadian Folk Music Awards, and others.
The level of care and excellence the SSR team takes with them was evident both in the environments around the wonderful Six Shooter Records Showcase at Swan Dive, but came pouring out of the mouths of every artist and artist manager that crossed my path.

Six Shooter Records' mission statement reads, "To achieve the highest level of artistic excellence by delivering inspired marketing campaigns and rock-solid business services that will connect our artists with audiences around the world."
Shauna, Andrea, and the wider crew can rest assured that they left their incredibly positive mark on the fans and patrons of SXSW in 2023.
Adapting to constant change
With a packed schedule across two weeks in Austin, Andrea, and the rest of the Six Shooter Records team ran themselves ragged in the best kind of way. They hustled day and night, making sure their roster soaked up every last drop of what the SXSW showcase festival had to offer. Supporting an eclectic group of authentic global artists, the SSR team embodied the idea that in order to succeed in the business of music, you need to be flexible, and ready to adapt at a moment's notice!
*The roster of rockstars performing at SXSW 2023 included: William Prince, Boy Golden, Mauvey, Skye Wallace, T. Thomason, and N'Famady Koyate.*
There were enough surprise sets and opportunities arising that we were lucky enough to steal 15 minutes of Andrea's time just before a private showcase kicked off at a vibey venue off the beaten path.
A common theme of awareness and presence of changes in the industry was present in our conversation. Whether we were discussing the changes in expectations for artists from fans, updates to social media platforms coming left and right, or differences in technology and distribution methods for the art of tomorrow, Andrea was certain that presence and resiliency amongst the changing currents are more important than ever.
Nowadays, an artist's job doesn't end after leaving the studio. artists now need to be significantly more involved in the business side of things, maintain a strong online presence, and face the public. This added responsibility can be a challenge, but it's also an opportunity for artists to connect directly with their audience.
Advice for the next wave
The music industry throws all that invest in it through the highest of highs and the lowest of lows. To successfully navigate this dynamic environment, artists and young professionals need more than talent alone. As our Six Shooter representative rightly noted, it is crucial to cultivate a particular mindset and set of skills that will enable long-term resilience and adaptability.

The first piece of advice from Andrea emphasized the importance of passion as a foundation for your venture. Music, and other creative pursuits in general, unlike other professions, often require a level of personal and emotional investment that goes beyond a typical 9-to-5 job. It may demand late-night studio sessions, lengthy tours, and continuous creative engagement. Therefore, those aspiring to carve out a niche in the industry must genuinely love what they do. The journey can be challenging, and it is this undying passion that will serve as fuel to help you overcome obstacles and setbacks along the way.

The road to success in the music industry can be long and filled with hurdles. To overcome this unpredictable path, what is needed by all is Perseverance, or as Andrea referred to it - grit. It is an indispensable quality that aspiring artists and industry professionals need to develop. The path is rarely linear, and setbacks are often part and parcel of the journey. Having the grit to keep going, even in the face of adversity, can make the difference between a dream that fades and a career that takes flight.
Finally, how do we express this passion, creativity, and grit as artists? With our unique perspective!

The unique perspective that each artist brings to the table, whether it's a fresh take on songwriting, a different approach to performance, or a personal backstory that shapes the music, is like the thumbprint of an artist's identity. They add depth, character, and originality to the music and entertainment brand and products delivered to market, which can captivate audiences and make a lasting impression.

Our interviewee from Six Shooter Records encourages artists to discover their unique perspectives and be fearless in sharing them. By owning this individuality, artists not only create a stronger connection with their audience but also set themselves apart in an industry teeming with talent.

Cultivating a unique perspective isn't just a creative exercise; it's a strategic move. It allows artists to carve out a distinctive space in an ever-crowding landscape, fostering a deep sense of engagement with their audience and, ultimately, building a sustainable, successful career.
We're thankful that Six Shooter Records chose Linkfire!
When asked why Six Shooter decided to use Linkfire, Andrea underscored our platform's data tracking capabilities and the variety of tools it offers, from contesting features to diverse forms of data capture.

She mentioned how Linkfire's lead value proposition of "empowering entertainment everywhere" was highlighted as a key benefit for Six Shooter. The platform's ability to provide fans with a choice to stream music from any service, alongside its interactive features like bio links, contesting, and ticketing options, all contribute to a more streamlined and efficient operation.
We can't wait to tag along on the next Six Shooter Records adventure, and recommend you check out the label and their presence on social media and streaming platforms as soon as you can!
Get Linkfire's curated tips straight to your inbox and become smarter in music marketing. Subscribe to our newsletter.