Austin, Texas, and Linkfire have one thing in common: Artists and Creators are the lifeblood of our respective communities. Linkfire's own Lou Pratt, Senior Marketing Manager, was lucky enough to tag along with some inspiring artists and music business professionals during the yearly SXSW Showcase Music and Media Festival.

Through setups, breakdowns, performances, and more, Linkfire reveled in the energy and delight that circulates in rooms that share live music and culture with diverse audiences.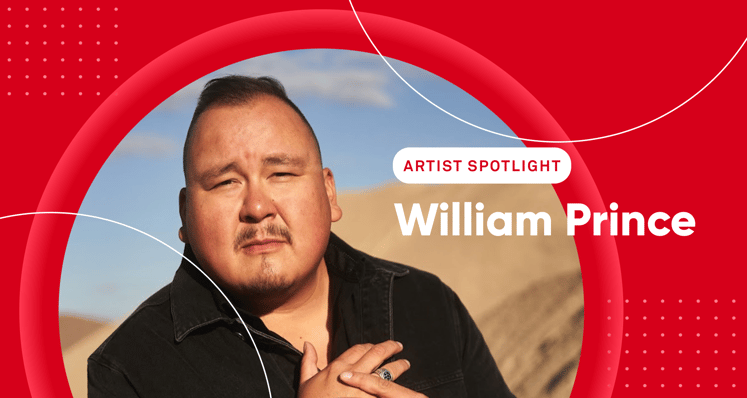 We're thrilled to introduce one of the magnificent capstone artists we supported, and celebrate the release of his brand new record! Without further ado, please enjoy our spotlight story on William Prince, and listen to his new album "Stand In The Joy" wherever you'd like to.
The journey so far
Hailing from the Great North of Winnipeg, Manitoba, Canada, originally by the way of Treaty One Peguis First Nation, William has traveled far and wide sharing his talent by way of singing, songwriting, and storytelling.

Sitting down in a brief moment of rest before opening the Canada Day Showcase at Swan Dive Bar, William walked us through his family's history of musical service to his community. He reveled in imitating the greats he heard through the speakers of stereos in his youth. Anne Murray, Whitney Houston, the Beach Boys, to name a few.

At this stage in his career, William's craft and dedication have easily earned him the right to share the stage with some of these very legends that came before him. William performed Willie Nelson's revered "Three Sister's Potluck" event, not long before closing the house down at the Six Shooter Records showcase in the wee hours of the early morning.

No matter the hour you catch William Prince performing, you'll be greeted with the sweet sounds and smiles of a man who genuinely lives and radiates authenticity. We observed and joined audiences in swimming through his sweet melodies and catchy choruses, accompanied by his own splendid acoustic guitar playing. Complemented by another electric guitar player to his side, William wrapped up the room with his words for almost 30 minutes, before we all begrudgingly agreed to resume our days without his graceful notes and beats.

Philosophy and recent career developments
William made himself out to be a simple man in our conversation. We know better than most that simple songs are usually the most layered and complex underneath it all. William shared,

"Sticking with authenticity is pretty easy because the truth is just easier to remember, you know, and I try to give the most accurate, current representation of what I'm feeling, any given album or any given night.

And from that, I hope something grows and is born that affects somebody in a positive way so that I can maybe become part of their life in some small way going forward."

From experience, it was easy to incorporate William Prince into my life as a fan, and it seems it was just as easy for Six Shooter Records to partner with the wonderful Americana artist for his latest album, "Stand In The Joy."
"...it's just a great place, great place to put out records and to be. I just feel like everybody there is on the level where I want to be in terms of the seriousness in which we treat music and the regard that we hold it in because it's one of the most important things going on… So it's been a really positive experience being with Six Shooter and the care that my music and message and just myself are handled with,it feels like home."

Lou and the Linkfire team were thankful to shadow Six Shooter Records' own Andrea Aguilar as she ran the grounds of SXSW in support of William and the extended label roster. It was obvious that there was a trust and a gratitude shared by those team members involved across camps, and that care was taken in bringing these important stories and musical moments to masses of people everywhere.
Challenges and positive outlooks
In an ever-evolving landscape of artists and creators, many genuine folks like William are working hard to stay true to themselves while finding success in this business.

"How do we make something that will stick with you in the shortest amount of time?
Everybody's elevator pitching these days in a way. And I'm still just trying to make my home around the campfire."

Artists like William Prince show the power in leading with authenticity, love, and appreciation. For music, for stories, and for community.

This is most apparent in his latest body of work. We're thankful that his latest album, "Stand In The Joy," has finally arrived for us to enjoy from start to finish, after having several strong singles like "Tanqueray" roll out ahead of the album's release.

Featuring new classics like "Goldie Hawn," "When You Miss Someone," and "Easier and Harder," William has hand-delivered us sing-along jams for years to come. We hope you all enjoy the album as much as we do!
Looking ahead
Reflecting on the past and looking ahead into the future, William stayed as positive as ever:

"This is another one of those big years for me, where I'm trying to teach myself something. And that's to be happy and joyful, and breathe all of this in for what it is.

So, my horizon looks like practicing positivity and really leaning into the good that surrounds me day to day."
We encourage our whole Linkfire Community to resonate with this thought and practice that same positivity as we all pursue our own musical, media, and promotional goals in our respective journeys.

Taking some of William Prince's advice, think about how you can "cast your hook a bit farther upstream" and differentiate yourself and your brand through your authentic voice, messaging, and storytelling.
Get Linkfire's curated tips straight to your inbox and become smarter in music marketing. Subscribe to our newsletter.