Independent musicians often face a multitude of challenges, from balancing time and finances to creating a brand and engaging with fans. Elizabeth Cregan, an up-and-coming Texan musician, has experienced these challenges firsthand.
Elizabeth Cregan: A Journey of Independent Artistry
Elizabeth's journey as an independent artist began with a passion for music and a drive to create something meaningful. The NYC-based artist started writing music when she was 15, back in Texas; and has since released three EPs.
'No Cigar', her most recent EP, is an ode to her journey as an artist and showcases her growth both musically and personally. Elizabeth's passion for creating music is evident in every note, lyric, and melody of 'No Cigar'. Listeners can expect to be taken on a journey of self-reflection and emotion as they experience the EP's captivating sounds.
The challenges of being an independent artist
Independent musicians often face a multitude of challenges, from balancing time and finances to creating a brand and engaging with fans. Elizabeth has experienced these challenges firsthand.
I think the main challenges of being an independent musician are sort of that balance of time and carving out enough space to really do it properly, and create something that you're really happy with and really proud of.
Recording, mixing, and mastering an album can be expensive, and finding the time to balance studio sessions with day-to-day responsibilities can be a challenge. However, Cregan's perseverance and dedication to her craft paid off. Her latest EP, 'No Cigar,' was created over the course of 10 months and showcases her talent as a songwriter and musician.
Building a brand as an independent artist
One of the key elements of being an independent artist is creating a brand that resonates with your audience. Elizabeth believes that artist branding should happen organically but acknowledges that visibility is crucial. She shares that her brand evolved as she continued to create and share her music, and that being authentic and genuine is key to building a connection with her fans.
The question of creating a brand has been on my mind a lot. [...] I think it's really crucial to promote yourself and get this visibility and have people hear your songs and learn your style [..] I think for me at least, I really want it to happen organically, otherwise, I feel like that can sort of come to the foreground and be a distraction from the joy I feel when I'm playing these songs, and playing this music.
The importance of building and engaging with your fanbase
Engaging with fans both online and offline is also essential for independent artists, according to Elizabeth. She believes that creating a community around your music is crucial for building a loyal fanbase. Social media platforms like Instagram and Twitter provide artists with an opportunity to connect with fans and share their journey as a musician. However, Cregan also stresses the importance of engaging with fans offline, whether it be through live shows or meet-and-greets.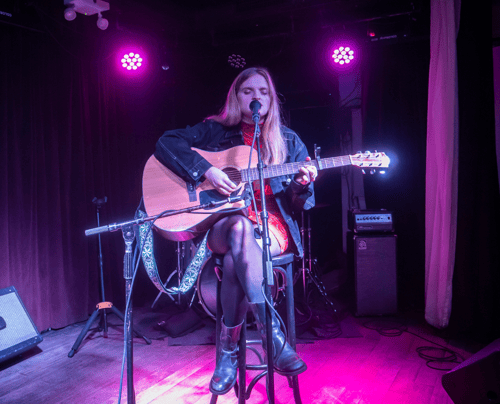 How Linkfire helps independent artists
Being an independent artist requires more than just talent and hard work. It also requires access to the right tools and resources. That's where Linkfire comes in. Linkfire provides independent artists like Elizabeth with easy-to-navigate tools and analytics that help them connect with their fans and promote their music more effectively.
I think it's very easy to get lost in the noise of being online .. so to have one home for everything related to your music, everything related to your shows is so important. And also people won't get fatigued because you're just directing them to one single place. So for me, the artist bio is crucial.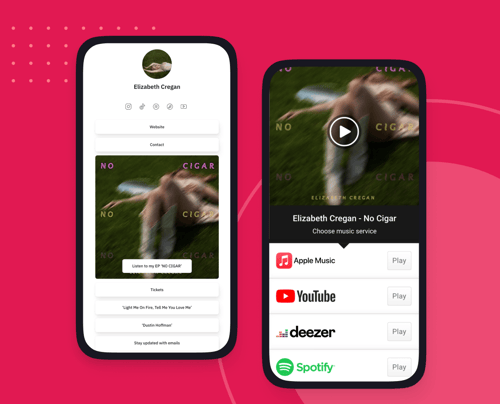 How Elizabeth uses Linkfire insights?
As an independent musician, Elizabeth often finds herself diving into music analytics to better understand her audience and position her music amongst other artists. This not only helps locate herself within the broader music landscape but also serves as a source of encouragement.
Elizabeth finds it s highly motivating to discover that she has listeners from distant places like the Philippines. She cherishes these moments and uses analytics to make informed decisions about her music.
For instance, there was a song on her EP that she truly adored, but it wasn't receiving the attention she felt it deserved. So, Elizabeth decided to make it the focal point of her next social media promotion campaign, enabling people to understand its significance and why they should give it a listen. In this way, music analytics has proven to be incredibly helpful.
In an industry that can often feel overwhelming and cutthroat, Elizabeth Cregan is a shining example of what an independent artist can accomplish with hard work, dedication, and a commitment to authenticity.
Get Linkfire's curated tips straight to your inbox and become smarter in music marketing. Subscribe to our newsletter.