Linkfire Wallet (Beta)
Earn money with your smart links
Get paid when people visit your release, bio, pre-save or ticket links.
Linkfire Wallet (Beta) gives you a unique opportunity to monetize your smart links and landing pages by serving ads when people click on your links.
Our ad products are crafted through extensive collaboration with labels and digital creators. We understand the importance of respecting the user experience. Our suite of ad products is tailored to blend perfectly with your landing pages without being intrusive. Our primary focus is your main campaign objective, ensuring productive and seamless advertising.
How much will you earn?
Your earnings depend on how your ads perform and are affected by which ad products run on your links, which countries your fans click from and other factors. If you are eligible for our Beta program, we'll tell you how much you can expect to earn based on past performance.
How you can become eligible
To join the Linkfire Wallet Beta, you must meet certain eligibility requirements. For example, your content has to be verified by a Linkfire specialist to ensure it's compliant, you must meet a minimum monthly threshold of authentic visitors. You must hold an active Linkfire account, and be above 18 years old.
What ad placements can you expect?
Artist Notifications
Artist notifications come in two formats: Open State and Close State.
Open State Artist Notification is a type of ad that's placed directly on the landing page as an overlay, and it includes the advert, a button, and a button to close the ad. E.g. walletads.lnk.to/OSAN
Close State Artist notifications is a discreet notification placed at the top corner of the landing page. Upon clicking on it, the visitor has the same experience as on the Close State Artist Notification. E.g. walletads.lnk.to/CSAN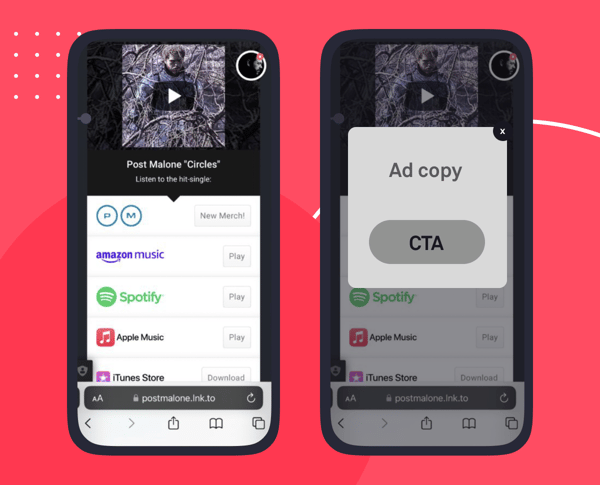 Interstitial ads
Interstitial ads appear during the transition from one website or app to another. The Linkfire interstitial ads are showing in between the source of the link click (e.g. YouTube/Facebook) and the link's landing page. E.g. walletads.lnk.to/0point5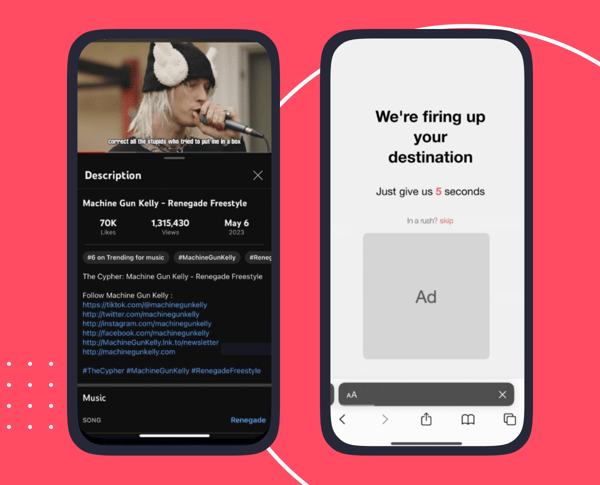 How to get started
1. Application submission
Tell us about yourself and your motivation
A Linkfire specialist will review your profile
You get a reply within 7 working days
We enable the ads on your landing pages and you start monetizing
How do ad products become active on the landing pages?
The activation of ads products on your landing pages sits with the Linkfire team and it's done through an automated set-up. It's quick, simple, and efficient, and it does not require any work on your part
When do ads become active on the landing page?
Once your campaign has been launched, we ensure that ad products are carefully integrated into the user experience and don't distract from your primary goal of driving streams.
Therefore, no ad products will be shown in a 7-day post-release window.
The type of ad products and the length of time they show on your landing pages may vary based on the agreement that you have with Linkfire. As your campaign grows older, we will increase the visibility of ad products to maximize incremental revenue while still allowing your main goal to remain a priority.
When do artist notifications become active on the landing page?
The artist notification ad product comes in two versions Open State Artist Notification and Close State Artist Notification. The ads product becomes active at different times of the campaign:
For Linkfire Creators customers:
Close State Artist Notification: at 7-day post-release date
Open State Artist Notification: at 14-day post-release date
For Linkfire Business Essential Customers
Close State Artist Notification: at 14-day post-release date
Open State Artist Notification: at 21-day post-release date
For Linkfire Business Advanced Customers
Close State Artist Notification: at 14-day post-release date
Open State Artist Notification: at 30-day post-release date
When do interstitial ads become active on the landing page?
Interstitial ads become active on landing pages at:
14-day post-release date for Linkfire Creators customers
30-day post-release date for Linkfire Business Customers
How to boost your Wallet's Revenue?
If you have been trying to increase your earnings with the Wallet program but haven't yet seen significant results, don't worry. Here are some strategies that could enhance your revenue.
The golden rule of online earnings is simple: the more traffic you generate, the higher your earnings! This principle applies to the Wallet program as well.
Sharing Your Links
One of the best ways to boost your traffic is by sharing and re-sharing your links across all available channels. Whether it's TikTok, Meta (formerly Facebook), Instagram, Youtube, or any other platform—leverage wherever you have a substantial following. Remember, the key here is consistency. Regular updates and posts can help keep your audience engaged and drive more traffic to your links.
Understanding RPM and how to improve it
RPM (Revenue Per Mille) is a metric that measures the revenue you earn for every 1000 visits on your links. While the average RPM for the Wallet program tends to hover around $3-4, it can fluctuate significantly.
To improve your RPM, consider the following strategies:
Favor Certain Services: When ordering your services, prioritize platforms like Apple Music, Amazon Music, and Spotify. These platforms often fetch higher RPMs, leading to increased earnings.

Avoid Unnecessary Redirects: Conditional redirects and direct-to-service-links can sometimes hinder your RPM. Unless necessary, try to avoid these. However, always keep in mind your main objectives while making this decision.
Remember, improving your earnings with the Wallet program is a gradual process. It requires persistence, patience, and a keen understanding of your audience's behavior. By employing these strategies, you can not only increase your traffic but also optimize it to secure better earnings.
How to claim a Linkfire Wallet payout?
If you have reached over $100 on your Linkfire Wallet, you can go ahead and claim a payout.
To do so, you simply need to send an email to our support team (help@linkfire.com) mentioning that you'd like to withdraw your earnings.
Your payout will be processed within 90 days, and you will have the option to either receive a credit to your Linkfire subscription or a payout via bank transfer.