Smartlinks for

In a fragmented world, we help you bring entertainment closer to people. Your content. Your insights. Your team. All in one powerful platform.
ROCKING THE MIC OR PUSHING RECORDS
Unleash your creative potential
Find smart links for all entertainment professionals' and creators' needs.
Bio links
Pre-saves
Podcast links
Ticket promotion links
Music release links
Reward links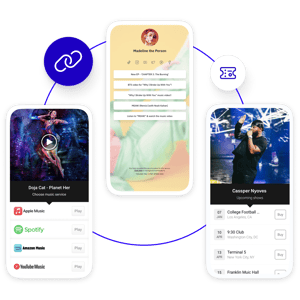 Create connections in seconds
Craft audience experiences that match your brand and goals.
You're in control. Linkfire's automation tools & customization options make personalization effortless.
Read More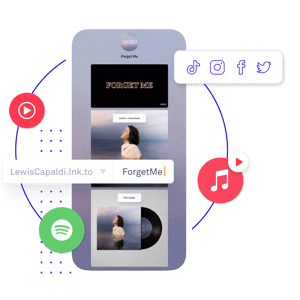 Collect Data, Drive Results
Understand fans like never before
Entertainment industry-leading analytics and attribution data. Unlock insights on your customer journeys and amplify your marketing efforts.
Read More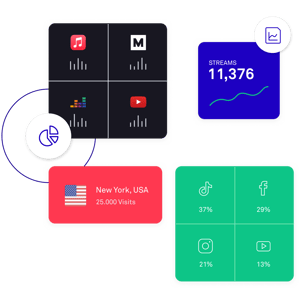 YOU'LL BE IN GOOD COMPANY
See how the best use Linkfire
You'll be in good company
Linkfire customers' spotlight
"We use Linkfire to connect the dots, and we had one of the most successful tour campaigns ever.
It was a big part of our first week numbers, as well as putting the music in the fans' hands."
"Linkfire made handling all our artist accounts much easier. Everything is in one place. With the Linkfire board feature, each artist essentially has their own account so our links don't get cluttered. It's brilliant!"
"My favorite feature of Linkfire is the automatic scan. I definitely appreciate that automated feature from Linkfire. It has helped me tremendously, especially when midnight strikes different territories at different times.
Linkfire cuts down on time and it just shows us a lot. So I'd say, you know what, get a Linkfire account today. Trust me, you're gonna love it as much as I do."
"Linkfire has made a huge difference. I've used other landing pages and they don't really report as well.
Linkfire shows a very strong analytic system. If you're running ads, it helps you because you don't want to see your money being wasted. My favorite Linkfire feature is the Apple Music Insights. You get a good amount of traps to Apple Music and how many streams you get."
"One of the coolest parts about Linkfire is that it gives you so much important data. It is extremely useful.
It helps you find the right markets in the right place and where to push your music. I love Linkfire and I'd recommend it to anybody."
"Linkfire has helped my record label Where The Heart Is's releases dramatically.

Of course, it's nice to be able to share our releases across various networks all in one clean link, but the time it's saved me and my team is really the invaluable part."
"Linkfire brings together the best of both worlds for artists and audiences. Artists can promote their releases with just one link.

In addition, the platform is very simple to use, and generates landing pages with beautiful designs!"
"We are very happy to use the Linkfire bio link.

It provides our Instagram followers with all the info we need them to see in one place: new releases, music videos, tour dates, and our merchandise. Plus, it's fully customizable."
"I've been using Linkfire for a few months now and I am in love with the platform.

I've seen a ton of growth since using it—my Spotify monthly listeners are now at 126K."
"Linkfire has increased my streams and made it easier for fans to find my music on streaming platforms.

It's also a great tool to keep track of visitors, clicks, and to identify where my fans are located."
"Selling tour tickets with Linkfire is more effective for us and easier for our fans. The data and insights that we got throughout the whole campaign were very helpful for our next steps in communication and budget optimization."
"I chose to use Linkfire because it's a very user-friendly platform. It's very quick and easy to get links to share my music with the world.
Linkfire provides my social media platforms on my website with that extra level of professionalism because my audience is able to be directed straight to the streaming service of their choice. So it's a win-win both for me and for them."
"Signing up for Linkfire has been one of the best decisions I've done for my music career.
I've tried all the other smart link providers.
Linkfire has been really good with helping us optimize our creatives, what kind of visuals are shown, and how different demographics react to different visuals.

If you have a strong ad buying team and you're giving them these links, they can actually see where the traffic is coming from and retarget and double down on those platforms."
"Linkfire saves much time and the links look professional. My favorite Linkfire feature is that all service platforms are found by itself on release day when you rescan your link."
"Linkfire is, for me, the core of where much of my work is accessible through and is aggregated.
My philosophy in my work is that I choose a singular best-in-class product that handles all possible work-related and professional needs—and for link management, music promotion, and much more, that is Linkfire."
"My favorite part of Linkfire's bio link is that you can edit it, however, you'd like.
Customizing it has been able to look really nice for fans to just go to one place and have every single thing that they want, whether it's streaming a song or YouTube video, or even buying merch."
"What Linkfire has been able to help us do is that it informs us about how past campaigns have performed for our artists. That gives us some insight into how they're going to perform in the future for upcoming releases, whether they're singles albums or EPS."