What is a song link?
A song link (or songlink) is the easy way to route fans to your music on whatever service they use. Artists in the age of steaming face a huge challenge when promoting music—fans across the globe are listening to their music in many different apps and services. Some are Spotify users, while others subscribe to Apple Music, Deezer, Pandora, Boomplay, or Amazon Music.
So when you shout about your new album on Facebook, you have to choose to share the link to that album on one service. That means you're missing out on lots of traffic and streams from fans who use a different service. Internet users need as frictionless experiences as possible. So when an Apple Music user clicks on the link you've shared to find it's a Spotify link, they're unlikely to stick around.
Song links solve this problem by directing visitors to a landing page (a kind of mini-website) that features all the services on which your music is available. So your fans have an easy way to choose the service they use.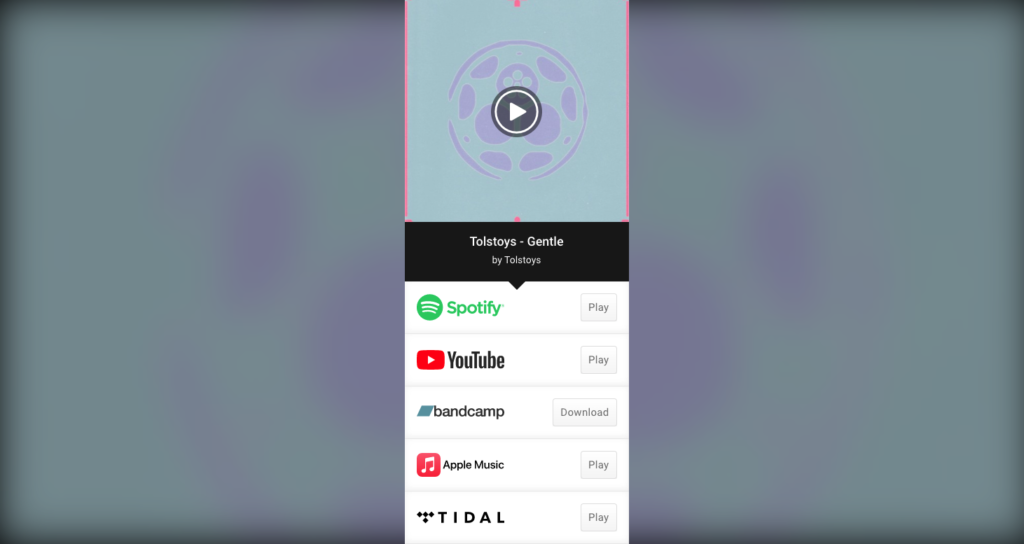 What does a song link look like?
A song link is shorter and cleaner than a regular link. Instead of long strings of numbers and letters, song links are customizable to feature owned domains, the name of the artist, or the name of a specific campaign that you're running.
Here's an example of a song link from the Slovak electro-pop band Tolstoys, promoting their latest release:
Once your fans click on a song link, they are routed to the landing page. Linkfire landing pages work seamlessly on both mobile and desktop, ensuring your music is shown off in the best way possible. Alongside a list of services (or destinations) for fans to choose from, landing pages also feature customizable artwork, titles, descriptions, and audio or video clips.
Customise your own song link
Domain
Landing page artwork
Service destinations
Social media thumbnail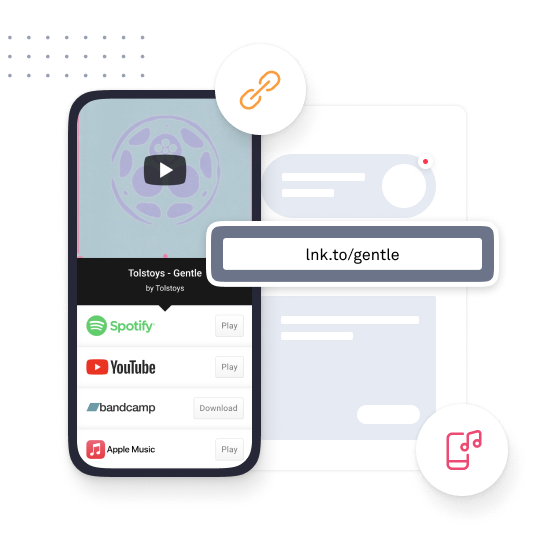 What are the benefits of using a song link?
They boost your fan engagement
Smart links make it really easy for fans to start listening to your music. They can choose which service they want to use, and don't face the frustration of clicking on a service to which they're not a subscriber.
This means that your engagement rates are going to go up when compared to posting a regular link to one specific service or posting multiple links to every service (which also looks really messy).
You can collect data
Song links help you get a better picture of your fans by giving you access to detailed audience stats. Whenever fans click on your smart link, their behavior is tracked and then collected in your Linkfire Insights.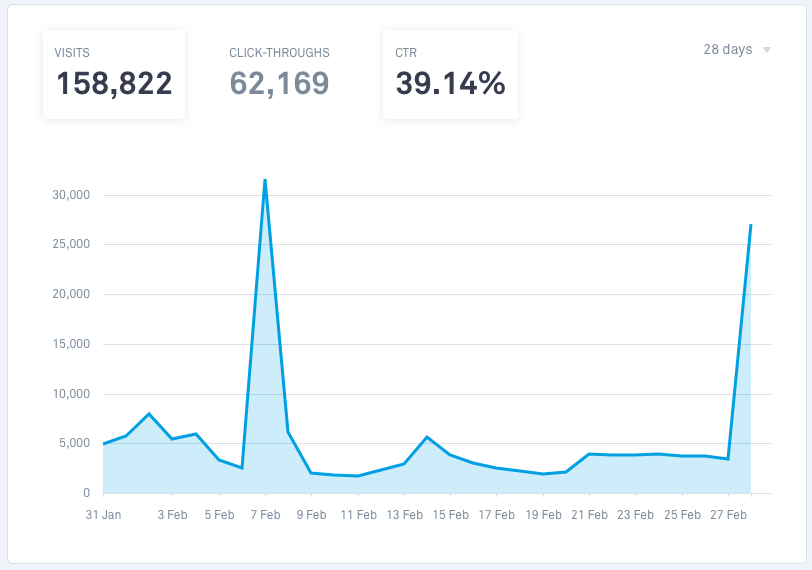 The data can be broken down into numerous metrics, allowing you to explore:
Where your fans are located.

Which of your links are generating the most traffic.

Which music services your fans use.

Which links lead to the most streams inside services like Apple Music, Pandora, Boomplay, and Anghami.

Affiliate commission and sales
All these insights let you make informed decisions about your music marketing. You can identify which marketing channels (e.g. Facebook, email newsletters, your own website) are performing the best, and then optimize your promotions going forward.
You can also use this data to help you plan tours or even influence which direction your songwriting is heading in next. All in all, understanding the performance of your song links will empower you to take data driven decisions and optimize your marketing campaigns.
They're professional

You've probably seen lots of your favorite artists using song links on their socials. By using a song link, you immediately signal that you're taking your career seriously, which can be a major plus when managers or labels are thinking about working with you.
You'll be in good company
Customer spotlight
"With Linkfire, we are now able to create landing pages for all our releases faster than ever before. On top of that, the support team is responsive whenever we need them."
"We are very happy to use the bio link by Linkfire. It provides our Instagram followers with every info we need them to see in one place: recent releases, music videos, tour dates, as well as our merchandise. Plus, it's fully customizable. "
"Linkfire brings together the best of both worlds for artists and audiences. Artists can promote their releases with just one link. In addition, the platform is very simple and generates landing pages with beautiful designs! "
"Linkfire has helped my record label Where The Heart Is 's releases dramatically. Of course, it's nice to be able to share our releases across various networks all in one clean link, but the time it's saved me and my team is really the invaluable part. "
"Linkfire has increased my streams and made it easier for fans to find my music on streaming platforms. It's also a great tool to keep track of visitors, and clicks and to identify where my fans are located."
"I've been using LInkfire for a few months and I am in love with the platform. I have seen a ton of growth since using it - my Spotify monthly listeners are now at 126K."
"With the LInkfire platform, we've significantly improved our internal processes and simplified the communication for our touring artists.
Fans are now only two clicks away from buying a ticket to a show, and with insights, we know what works best - which varies quite a bit from artist to artist."
it's simple
How do I create a song link?
Copy a valid music URL
Find the album or track you want to make your song link for on a streaming service. Then copy its share link (where to find this varies between services – more info here)
Click "Create link" on Linkfire
Create a link with Linkfire. You'll be asked to paste in the share link. Linkfire will then scan this link and find that same album or track on all the different services it's available.
Customize your song link!
You can then edit the song link to fit your needs. You can customize the domains, and the landing pages' artwork, text, and media snippets.
Share it with your fans!
When you're happy with your song link, simply copy it and share it anywhere you want.
Analyze the results
Sign in to your Linkfire account and head to the "Links" tab. Hover over your link and select Insights. Then you can explore your link's performance, and optimize your marketing going forward.
Where can I share a song link?
Song links can be shared across the web—basically, anywhere you're promoting your music.
Social bios
Social posts
Soundcloud track descriptions
Youtube video descriptions
Emails
Owned websites (using this widget)
Reddit
No matter where they're posted, song links will collect insights about all the visitors who click-through. For more tips about where you can share your song link, check out this video.
Is a song link just for music?
No! While song links are perfect for sharing albums and tracks, there are a lot of other things you can share with them.
Linkfire has specially designed different link types, which should cover any piece of content you'd like to post.
Check out the different types of song links that you can create with Linkfire below:
Linkfire link types
Release link
This is the link to choose if you want to share a single track, EP, or album. You can also use it for podcasts. Read more.
Ticket link
As any touring musician knows, promoting live events is tough.
For one thing, tours are spread across the globe. That's multiple dates in different countries— sometimes sold through different ticket sites—which need to be promoted to specific audiences.
And secondly, touring schedules can be changed. Illnesses, poor sales, and logistical errors can all lead to concerts being rescheduled or even canceled.
Linkfire ticket links take care of both of these problems. It's easy for fans to choose their preferred date from your ticket link's landing page (wherever they are in the world) and you can schedule rescans of your link so the touring schedule is always kept right up to date. Read more.
Playlist link
Playlists are becoming an increasingly popular way for fans to consume music. Indeed, landing on a major Spotify or Apple Music playlist can give new artists huge exposure. Read more.
Pre-release link
The best music marketing begins way before music is actually released. By building hype around an upcoming album or track, you get your fanbase excited and ensure a maximum audience on release day. With Linkfire, you can create pre-release links for Apple Music, Deezer, Spotify, and Facebook Messenger. Read more.
Content link
These are 'direct links' that take visitors to one destination—skipping a landing page. The advantage of using a content link vs a regular link is that you can still customize the link and collect audience analytics.
You might want to use content links for routing your fans to a social profile, an article you like, a video on Youtube, your merchandise store, or a review of your new album. Read more.
Bio link
Bio link is perfect for platforms where you have to make one link count, like your Instagram bio. Think of it as an ever-evolving microsite where you can promote everything you have going on, from new releases to gigs to merch.
Bio links are available on all Linkfire plans.
Create your own song link
Sign up for a Linkfire account and create a link in less than a minute.