Simplify your artist promotion
Take advantage of Linkfire's time-saving tools, designed with labels. Use data to drive your marketing strategies, optimize your music marketing campaigns, and increase your conversions.
Get the essentials of music marketing right
Quickly set up geo-localized smart links for releases, tours, merch, and content
Build hype with pre-saves and collect fan emails
Bring all of your artists' content together in highly customizable bio links
Take advantage of advanced music analytics and exclusive streaming insights
Maintain your artists' branding across marketing channels and activities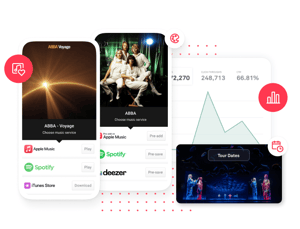 You'll be in good company
Customer spotlight
"Linkfire made handling all our artist accounts much easier. Everything is in one place. With the Linkfire board feature, each artist essentially has their own account so our links don't get cluttered. It's brilliant!"
"What Linkfire has been able to help us do is that it informs about how past campaigns have performed for our artists. That gives us some insight into how they're going to perform in the future for upcoming releases, whether they're singles albums or EPS."
"Linkfire brings together the best of both worlds for artists and audiences. Artists can promote their releases with just one link. In addition, the platform is very simple and generates landing pages with beautiful designs! "
"Linkfire has helped my record label Where The Heart Is 's releases dramatically. Of course, it's nice to be able to share our releases across various networks all in one clean link, but the time it's saved me and my team is really the invaluable part. "
"My favorite part of Linkfire's bio link is that you can edit it, however, you'd like. Customizing it has been able to look really nice for fans to just go to one place and have every single thing that they want, whether it's streaming a song or YouTube video, or even buying merch."
"Signing up for Linkfire has been one of the best decisions I've done for my music career.
I've tried all the other smart link providers.
Linkfire has been really good with helping us optimize our creatives, what kind of visuals are shown, and how different demographics react to different visuals.

If you have a strong ad buying team and you're giving them these links, they can actually see where the traffic is coming from and retarget and double down on those platforms."
"With Linkfire, we are now able to create landing pages for all our releases faster than ever before. On top of that, the support team is responsive whenever we need them."
"We use Linkfire to connect the dots, and we had one of the most successful tour campaigns ever. It was a big part of our first-week numbers, as well as putting the music in the fans' hands."
Save time and collaborate effectively
Manage several artists at the same time, and keep all of their assets and data organized
Share different access levels with stakeholders depending on their needs
Collaborate with your colleagues and share file exports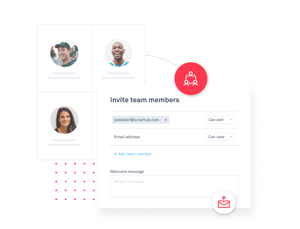 Make data-driven decisions for earned and owned channels
See which ads are driving traffic and conversions
Find the right markets and double down on your efforts
Integrate your retargeting activities across Facebook, Instagram, Google Ads, Snapchat, TikTok, and more
Build first-party data audiences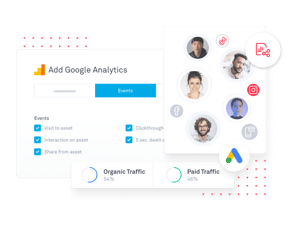 Monetize with affiliate marketing
Generate more revenue from every campaign with affiliate marketing integrations.
Use automated affiliate programs with all your links
Earn commissions through Apple Music, iTunes, Google Play, Amazon, and more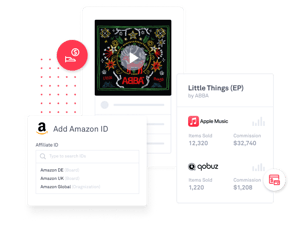 We are here to help
Onboarding sessions personalized to you
Dedicated account manager to support your growth
Ongoing training to make sure you're taking advantage of all the features