Fine-tune your artist's marketing
Optimize campaign performance, increase conversions, and learn about audience diversification in the process.
Create versatile landing pages
Pre-save link: Drive momentum to get a big boost on release day.
Release link: Create one trackable link for every music service and market.
Reward link: Increase fan engagement with contests, coupon codes, and secret pages.
Bio link: Bring all of your content together in a beautiful and highly scrollable microsite.
Tour link: Promote a tour or any ticketed event.
Content link: Send fans to merch stores, articles, social profiles, and more.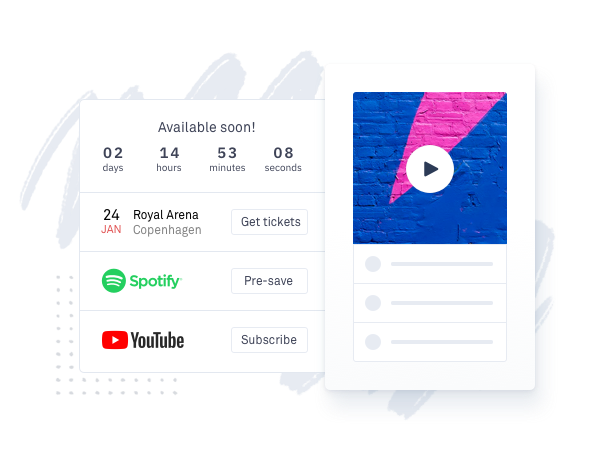 Tailor your fans' experience
Automatically route your global audiences to their preferred music services.
Match the look and feel of every landing page to your artists' branding
Customize your smart links with branded domain names
No coding or design skills needed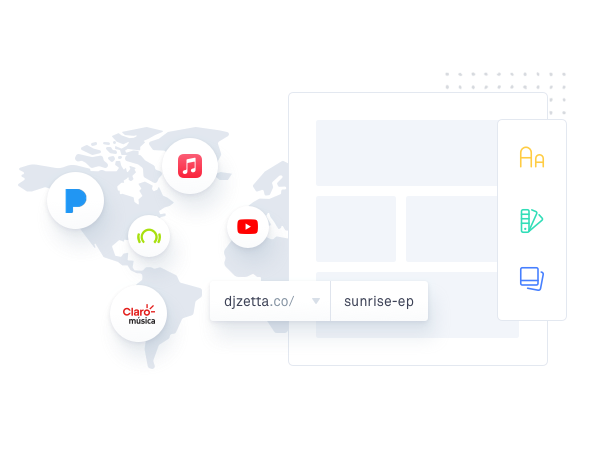 You'll be in good company
Customer spotlight
"With Linkfire, we are now able to create landing pages for all our releases faster than ever before. On top of that, the support team is responsive whenever we need them."
"We are very happy to use the bio link by Linkfire. It provides our Instagram followers with every info we need them to see in one place: recent releases, music videos, tour dates, as well as our merchandise. Plus, it's fully customizable. "
"Linkfire brings together the best of both worlds for artists and audiences. Artists can promote their releases with just one link. In addition, the platform is very simple and generates landing pages with beautiful designs! "
"Linkfire has helped my record label Where The Heart Is 's releases dramatically. Of course, it's nice to be able to share our releases across various networks all in one clean link, but the time it's saved me and my team is really the invaluable part. "
"With the Linkfire platform, we've significantly improved our internal processes and simplified the communication for our touring artists.
Fans are now only two clicks away from buying a ticket to a show, and with insights, we know what works best - which varies quite a bit from artist to artist."
"With the Linkfire platform, we've put selling tour tickets on a higher level and made the way of buying them more effective for us and easier for our fans.
Thanks to the data and insights, which we got during the whole campaign were very helpful for our next steps in communication and optimization of the campaign budget."
"Linkfire made handling all our artist accounts much easier. Everything is in one place. With the Linkfire board feature, each artist essentially has their own account so our links don't get cluttered. It's brilliant!"
"Signing up for Linkfire has been one of the best decisions I've done for my music career.
I've tried all the other smart link providers.
Linkfire has been really good with helping us optimize our creatives, what kind of visuals are shown, and how different demographics react to different visuals.

If you have a strong ad buying team and you're giving them these links, they can actually see where the traffic is coming from and retarget and double down on those platforms."
"Linkfire saves much time and the links look professional.
My favorite Linkfire feature is that all service platforms are found by themselves on release day when you rescan your link."
Drive marketing decisions with data
Track every step of the fan journey with smart link analytics you won't find anywhere else.
Understand how your campaigns impact streaming behavior with our industry-exclusive data partnerships
Benchmark marketing actions across paid and owned media channels
Integrate third-party retargeting programs, including Facebook, Instagram, Google Ads, Snapchat, and more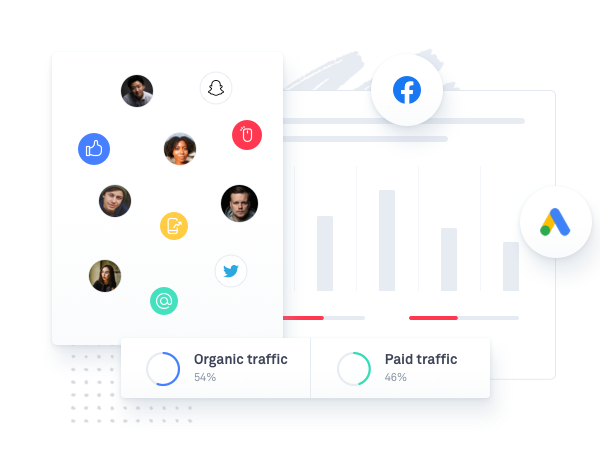 Monetize with affiliate partners
Generate more revenue from every campaign with affiliate marketing integrations.
Use automated affiliate programs with all your links
Earn commissions through Apple Music, iTunes, Google Play, Amazon, and more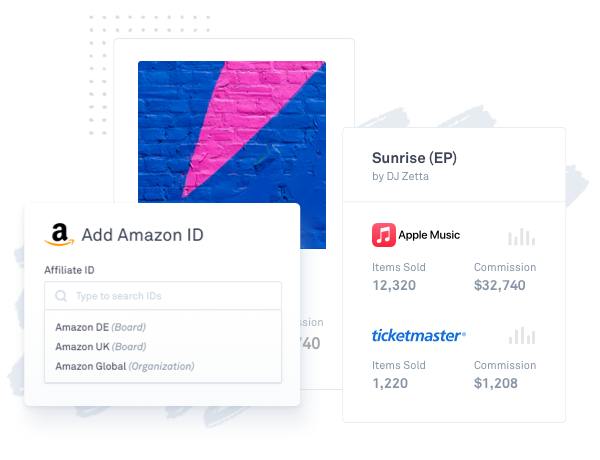 Collaborate more efficiently
Work together easily with team members, partners, and artist teams in a secure dashboard.
Assign colleagues different roles and permissions
Share insights with artists and management