Promote your music like an expert
Make it easy for your fans to find all your music and content online. From pre-saves to bio links, you can reach bigger audiences and get better fan insights at the same time.
artist marketing
Bio link
No need to build a website or EPK from scratch. Simply add the most important links to your bio link.


Include your music, latest videos, gigs, merch, and newsletter signup
Customize the look and tell your own story
Understand what makes your fans click through and engage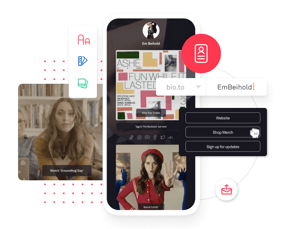 You'll be in good company
Customer spotlight
"With Linkfire, we are now able to create landing pages for all our releases faster than ever before. On top of that, the support team is responsive whenever we need them."
"We are very happy to use the bio link by Linkfire. It provides our Instagram followers with every info we need them to see in one place: recent releases, music videos, tour dates, as well as our merchandise. Plus, it's fully customizable. "
"Linkfire brings together the best of both worlds for artists and audiences. Artists can promote their releases with just one link. In addition, the platform is very simple and generates landing pages with beautiful designs! "
"My favorite part of Linkfire's bio link is that you can edit it, however, you'd like. Customizing it has been able to look really nice for fans to just go to one place and have every single thing that they want, whether it's streaming a song or YouTube video, or even buying merch."
"With the Linkfire platform, we've put selling tour tickets on a higher level and made the way of buying them more effective for us and easier for our fans.
Thanks to the data and insights, which we got during the whole campaign were very helpful for our next steps in communication and optimization of the campaign budget."
"Linkfire has increased my streams and made it easier for fans to find my music on streaming platforms. It's also a great tool to keep track of visitors, and clicks and to identify where my fans are located."
"I've been using LInkfire for a few months and I am in love with the platform. I have seen a ton of growth since using it - my Spotify monthly listeners are now at 126K."
"Linkfire has made a huge difference. I've used other landing pages and they don't really report as well.
Linkfire shows a very strong analytic system. if you're running ads, it helps you because you don't want to see your money being wasted. My favorite Linkfire feature is the Apple Music Insights. You get a good amount of traps to Apple Music and how many streams you get."
"I chose to use Linkfire because it's a very user-friendly platform. It's very quick and easy to get links to share my music with the world.
Linkfire provides my social media platforms on my website with that extra level of professionalism because my audience is able to be directed straight to the streaming service of their choice. So it's a win-win both for me and for them."
"Linkfire saves much time and the links look professional.
My favorite Linkfire feature is that all service platforms are found by themselves on release day when you rescan your link."
"Linkfire made handling all our artist accounts much easier. Everything is in one place. With the Linkfire board feature, each artist essentially has their own account so our links don't get cluttered. It's brilliant!"
"Signing up for Linkfire has been one of the best decisions I've done for my music career.
I've tried all the other smart link providers.
Linkfire has been really good with helping us optimize our creatives, what kind of visuals are shown, and how different demographics react to different visuals.

If you have a strong ad buying team and you're giving them these links, they can actually see where the traffic is coming from and retarget and double down on those platforms."
Artist marketing
Reach more fans
Give your fans a personalized experience with geo-localized smart links.
Customize your album covers
Change the CTA button text
Gather important data about your fans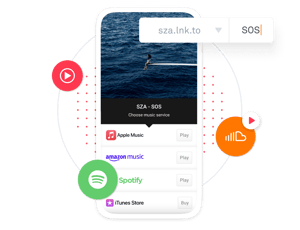 Artist marketing
Build hype in a more interactive way
It's tough to break through the noise of social media today. Set up your new releases for success.
Let your fans pre-save your new single or album
Keep your artist branding consistent with a high level of customization
Make it easy for fans to pre-save, and increase your chance of getting playlisted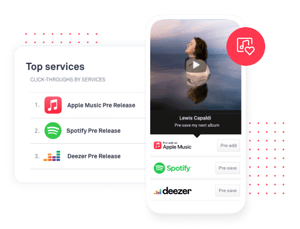 Artist marketing
Get your own music analytics
Linkfire makes it easy for you to understand all of your marketing data, so you can learn and improve your online music promotion.
Clear high-level performance dashboards
Break down your data by city, country, device, operating system, and more
Exclusive streaming insights on all plans, so you don't need to switch between platforms